110-key Gavioli at Euclid Beach Park
by Tim Trager (MMDigest 990316)
From: trager@idt.net.geentroep (Tim Trager)
To: rolls@foxtail.com
Date: Mon, 15 Mar 1999 23:33:04 -0600
Subject: Photo of 110-key Gavioli at Euclid Beach Park
Recently I have had requests from MMD readers for a photo of my 110-key
Gavioli fair organ. I have therefore decided to send in this historic
old photo of the organ to the MMD Gallery. This massive instrument,
which is America's largest fair organ, weighs four tons and has over
1000 pipes.
The photo shows the organ in its original location at the Euclid Beach
Park roller skating rink which was located on the shores of Lake Erie
in Cleveland, Ohio. For over fifty years the Gavioli played on a stage
in the center of the rink.
On top of the organ behind the upper facade is an extra set of brass
trumpets, piccolos, melody pipes, and percussion. You can see one of
the trumpets peeking out on the right side.
On each side of the stage are shelves holding the book music library.
Each book weighs about 25 pounds!
Tim Trager
Trager@idt.net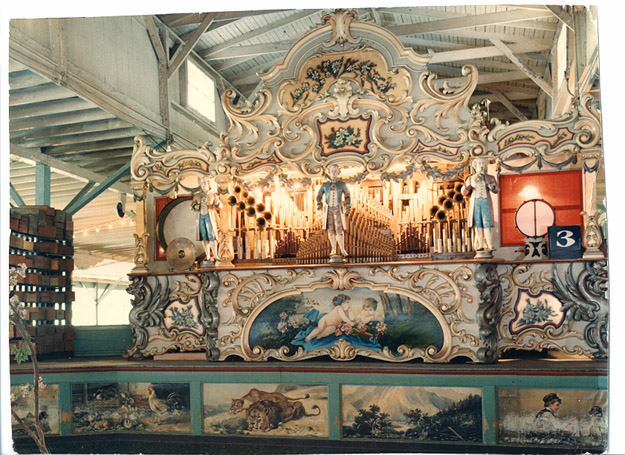 ---
16 March 1999