Santa Cruz Beach Boardwalk Buys Wurlitzer 165
by Matthew Caulfield (061227 & 070217 MMDigest)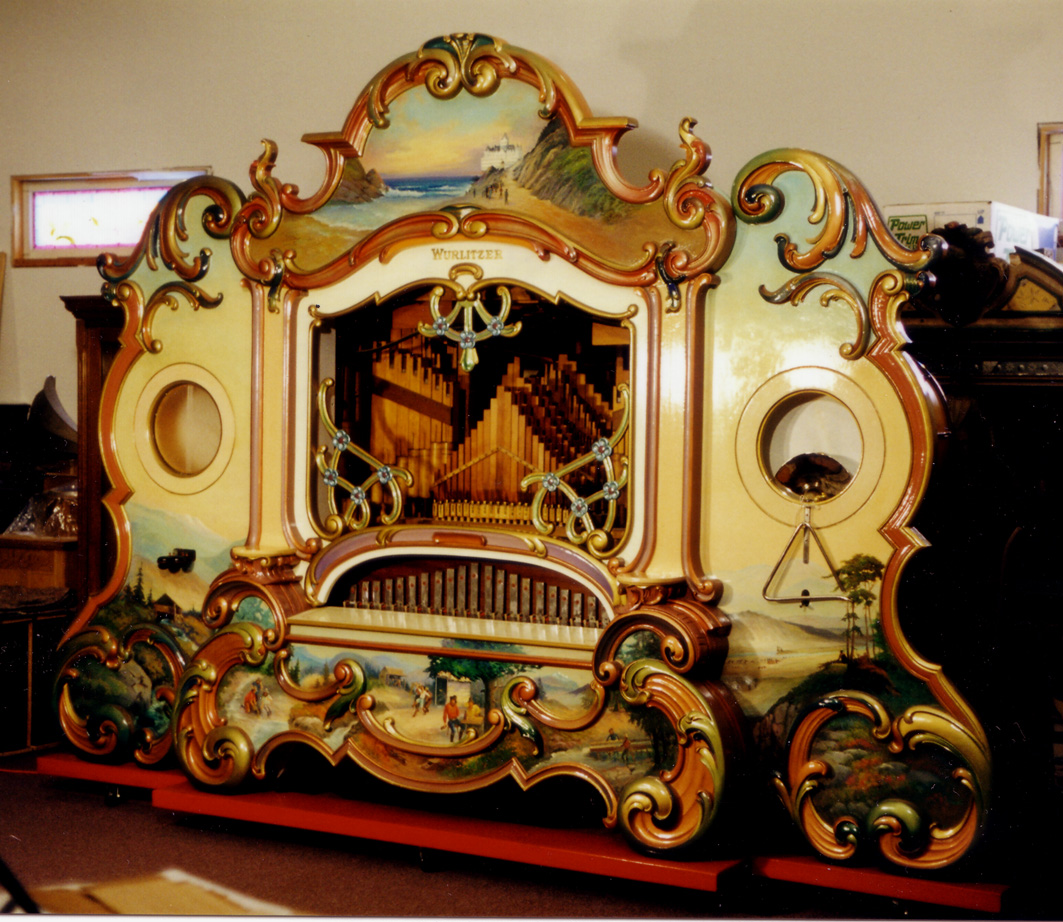 Wurlitzer Style 165 Band Organ, Serial No. 3124, shipped December 28th, 1918,
from the Wurlitzer factory to San Francisco, California
The 1918 Wurlitzer 165 Band Organ (serial no. 3124) that used to be at San Francisco's Playland-at-the-Beach until it closed in 1972 is finally going back to California. The organ will not only return to California, but it will be used in an operating amusement park. The Canfield family, owners of the Santa Cruz Beach Boardwalk, bought the band organ in a transaction brokered by Tim Trager and others. Company president Charles Canfield says they plan to make the organ a centerpiece of the park's centennial celebration in 2007. The sale puts a Wurlitzer 165 band organ back in California, which had several in the days of Ross R. Davis but for the past few months has had not a one, with the sale this year of John Malone's 165 to the Arnold Chase collection in Connecticut.
The Playland organ has been owned for the past 2+ decades by Hayes McClaran, formerly of Fresno, California, now residing in Batesville, Indiana. Hayes has been wanting to see the organ return to use in California, and he had the facade beautifully repainted in the Wurlitzer style, with the oils showing scenes from California landscapes and history. I've always been impressed by the facade painting, but Hayes said it is not original. The original factory scenes were stripped away long ago, before he got it.
Because of its California background, Hayes had an old MGM scenery painter redo the facade with California gold-rush scenes, based on the 19th century drawings or paintings of someone whose name I didn't catch. The left scene has no people in it; they had all left town to join the gold rush. The middle scenes are mining camp scenes. The right scene is an Indian on a hill pondering what the miners did to his land. The scene at the top of the organ shows the old Cliff House, the one that burned down in 1907.
Donaven Staab is in charge of the organ's installation at Santa Cruz Beach Boardwalk and hopes to have it running by the end of March. In the meantime the park's A. Ruth & Sohn band organ is being sent for refurbishing to the Stinson Band Organ Company, Bellefontaine, Ohio. When the Ruth returns and both organs are playing, the park will be able to brag of two magnificent organs in top musical and mechanical condition, a boast not many amusement parks can make today. The only original Wurlitzer 165 operating today in a park and on a carousel is at the Federally-owned Glen Echo Park, outside Washington, D.C.
Matthew Caulfield
Irondequoit, New York
27 Dec 2006 10:34:07 -0500
17 Feb 2007 13:56:15 -0500
---
20 February 2007