Steam Calliope Valves
by Karl Petersen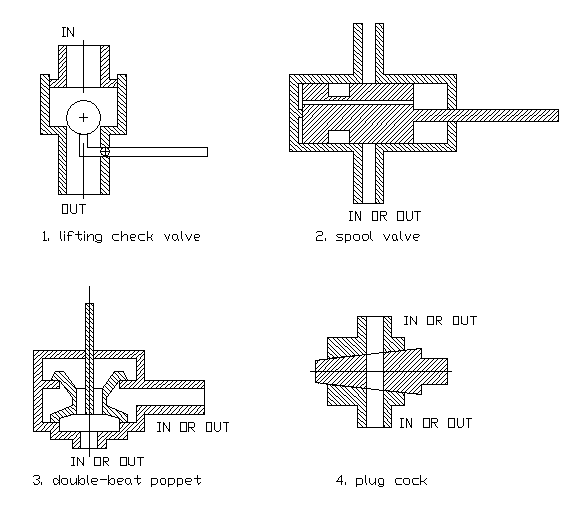 I attach a sketch of four types of valves. The typical whistle valve was usually a variant on the first, being a simple check valve unseated by a moving pin. Unless you have very large steam requirements, this is easily applied. If the force gets too high, use a multiple ball arrangement making the perimeter of the seat seal total the original for the same flow at the same lift.
The second design is my favorite: the balanced spool valve. In this configuration it leaks downstream rather than overboard, not counting the small leakage at the actuating shaft. If a soft seat and stem seal are absolutely required, the spool and bore can be stepped so that the larger part of the spool can seat on the smaller part of the bore.
The third type is a double-beat poppet which is also balanced but has been known to leak a bit. Both these balanced valves leak downstream rather than overboard, so perhaps the leakage can be tolerated.
The fourth valve is a plug cock, the oldest valve I know not counting corks, and it is also balanced. It is not happy with wear and thermal variation.
Karl Petersen
karlp@firedragon.com.geentroep [delete ".geentroep" to reply]
18 Jul 2004 01:11:19 -0600 (MDT)
---
20 July 2004