Welcome to
the
Mechanical Music Digest's
Calliope Home Page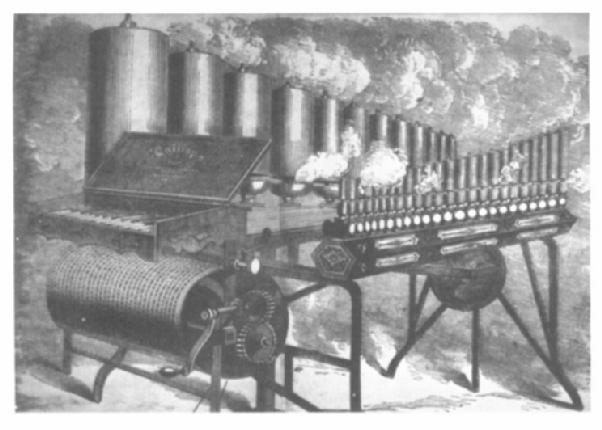 Illustration from Encyclopedia of Automatic Musical Instruments, by Q. David Bowers, page 840
An account of Joshua C. Stoddard's invention is reprinted in "Player Piano Treasury", by Harvey Roehl:
" ... The first instrument consisted of 15 whistles, of graduated sizes, attached in a row to the top of a small steam boiler. A long cylinder with pins of different shapes driven into it ran the length of the boiler. The pins were so arranged that when the cylinder revolved, they pressed the valves and blew the whistles in proper sequence. The different shapes enabled the operator to play notes of varying length. Later, Stoddard replaced the cylinder with a keyboard. Wires running from the keys to the valves enabled the operator to play the instrument like a piano."

---
Here's a collections of images and articles on Steam Calliopes and Air Calliopes. For the time being, there's no particular order. Check back from time to time for additional entries.

Calliope articles





Links





System Design







---
Click to hear a calliope playing "Stars and Stripes Forever"
MIDI file startrio.mid (8 kb)
or MP3 file StarsTrio.mp3 (582 kb)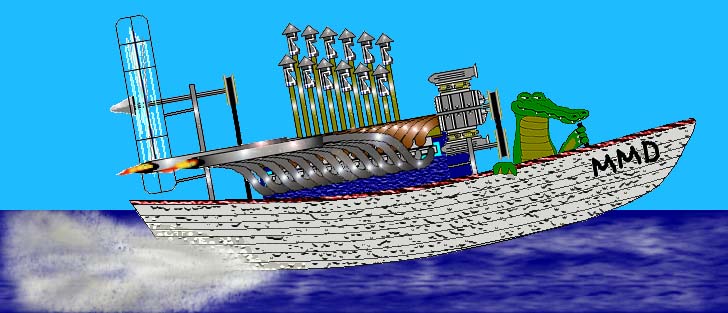 MMD Alligator Airboat Calliope
Copyright (C) 1998 by J. L. Stubbs, used by permission.
http://www.web-access.net/~airpig/
Click HERE to return to MMD Home Page.

---
5 July 1999, 24 April 2001, 14 August 2001, 10 December 2003