Mechanical Music Digest(tm)Auctions

France - Chartres - Galerie de Chartres
Prix payés / prices paid
Important auction of Automatas and
Mechanical music instruments
Sunday May 18th, 2003, beginning at 14 h (2 pm).
In the "Galerie de Chartres", 300 yards from the Cathedral.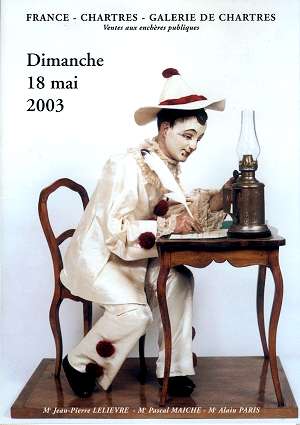 Paris, May 18th, 2003
Below are the complete results of the auction of mechanical music, etc., in Chartres, France, May 18th, 2003
All prices are hammer prices in euros. Add 15 % as premium, all taxes included.
(May 2003 : 1 euro (1 €) = approximately 1.15 US dollar).
Lots not mentioned were inexistant, withdrawn or unsold.
---
N° 701: 100 €
N° 702: 140 €
N° 703: 40 €
N° 704: 50 €
N° 705: 60 €
N° 706: 150 €
N° 707: 110 €
N° 708: 200 €
N° 709: 120 €
N° 710: 120 €
N° 711: 40 €
N° 712: 30 €
N° 713: 70 €
N° 714: 20 €
N° 715: 160 €
N° 716: 450 €
N° 717: 260 €
N° 718: 30 €
N° 719: 30 €
N° 720: 20 €
N° 721: 50 €
N° 722: 15 €
N° 723: 20 €
N° 725: 150 €
N° 726: 130 €
N° 727: 150 €
N° 728: 45 €
N° 729: 40 €
N° 731: 260 €
N° 732: 120 €
N° 733: 320 €
N° 735: 700 €
N° 736: 750 €
N° 737: 1200 €
N° 738: 2500 €
N° 739: 3600 €
N° 740: 4000 €
N° 741: 4500 €
N° 742: 3800 €
N° 743: 3750 €
N° 744: 1700 €
N° 745: 1400 €
N° 746: 1000 €
N° 747: 1700 €
N° 748: 3600 €
N° 750: 3700 €
N° 751: 17000 €
N° 753: 2800 €
N° 754: 2500 €
N° 755: 2200 €
N° 756: 13000 €
N° 757: 4200 €
N° 758: 4000 €
N° 759: 3200 €
N° 760: 2800 €
N° 763: 12000 €
N° 766: 3800 €
N° 769: 4400 €
N° 769 B: 11500 €
N° 773: 1200 €
N° 774: 3800 €
N° 775 B: 5000 €
N° 776: 400 €
N° 777: 4000 €
N° 779: 2800 €
N° 780: 3800 €
N° 781: 3600 €
N° 782: 3600 €
N° 783: 550 €
N° 784: 600 €
N° 785: 2200 €
N° 786: 8000 €
N° 787: 13000 €
N° 789: 600 €
N° 790: 360 €
N° 791: 9100 €
N° 792 B: 150 €
N° 792 T: 70 €
N° 792 Q: 180 €
N° 793: 450 €
N° 794: 400 €
N° 795: 300 €
N° 796: 180 €
N° 798: 2000 €
N° 799: 750 €
N° 799 B: 500 €
N° 799 T: 950 €
N° 801: 850 €
N° 802: 200 €
N° 803: 150 €
N° 805: 800 €
N° 807: 650 €
N° 808: 1500 €
N° 809: 80 €
N° 810: 30 €
N° 811: 90 €
N° 812: 110 €
N° 813: 80 €
N° 814: 80 €
N° 815: 80 €
N° 816: 10 €
N° 819: 100 €
N° 820: 200 €
N° 820 B: 20 €
N° 821: 30 €
N° 822: 60 €
N° 823: 180 €
N° 824: 20 €
N° 825: 100 €
N° 826: 30 €
N° 827: 100 €
N° 828: 100 €
N° 829: 100 €
N° 830: 240 €
N° 831: 680 €
N° 832: 50 €
N° 833: 90 €
N° 833 B: 90 €
N° 834: 300 €
N° 834 B: 240 €
N° 835: 700 €
N° 836: 700 €
N° 837: 950 €
N° 838: 550 €
N° 841: 2400 €
N° 842: 4600 €
N° 843: 2400 €
N° 844: 2800 €
N° 845: 550 €
N° 848: 1400 €
N° 849: 1400 €
N° 851: 1800 €
N° 852: 800 €
N° 855: 300 €
N° 862: 20 €
N° 864: 70 €
N° 865: 50 €
N° 866: 100 €
N° 867: 120 €
N° 868: 100 €
N° 869: 140 €
N° 870: 100 €
N° 871: 30 €
N° 872: 100 €
N° 873: 600 €
N° 874: 250 €
N° 875: 100 €
N° 875 B: 1050 €
N° 876: 260 €
N° 877: 60 €
N° 878: 140 €
N° 879: 65 €
N° 880: 220 €
N° 881: 700 €
N° 882: 750 €
N° 883: 70 €
N° 885: 70 €
N° 886: 210 €
N° 887: 420 €
N° 889: 180 €
N° 890: 220 €
N° 892: 1400 €
N° 893: 1400 €
N° 894: 1800 €
N° 895: 850 €
N° 896: 2400 €
N° 897: 400 €
N° 898: 550 €
N° 899: 3500 €
N° 900: 1600 €
N° 901: 260 €
N° 902: 1050 €
N° 903: 1000 €
N° 904: 1500 €
N° 905: 620 €
N° 906: 340 €
N° 907: 420 €
N° 908: 200 €
N° 909: 300 €
N° 910: 200 €
N° 911: 180 €
N° 912: 160 €
N° 913: 4000 €
N° 914: 400 €
N° 921: 1200 €
N° 932: 400 €
N° 933: 200 €
End of sale
---
19 May 2003