MECHANICAL MUSIC AND QUALITY ANTIQUES AUCTION
Mechanical Music & Quality Antiques Auction
SUNDAY, NOVEMBER 7TH, 2004 12:00 NOON
CINCINNATI, OHIO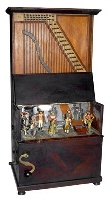 OVER 125 MECHANICAL MUSIC MACHINES
DISC MUSIC BOXES: Regina Orchestral Corona Style 3A; Regina Orchestral Corona Style 8A, as is; 27-1/2" upright Symphonion with 12 bells; 24-1/2" Polyphon upright with base; 15-1/2" Reginaphone style 240; 18-1/2" Mira console; 15-1/2" Regina changer style 36; Regina Rococo style 9 & 19; 15-1/2" Regina serpentine style 50; several other 15-1/2" Reginas including some with stands; Rare Regina model 42 serpentine console; 20-3/4" Regina Style 26; 20-3/4" upright Regina Style 25; 11" Regina; 19" upright Symphonion with stand; 11, 13, 14, & 17" Symphonions; 14-1/2" Polyphon with 12 bells; 13" Komet; 9-1/2" Britanica with clock; 16" Kalliope; other disc boxes.
CYLINDER MUSIC BOXES: Large 26" X 4" 8 tune box; large 22" Paillard box; 13" cylinder box with serpentine case and clock in front; Paillard 11-1/2" interchangeable box w/4 cylinders; Mermod Freres 17-1/2" cylinder box; 7-1/2" cylinder interchangeable box w/10 cylinders; 6 tune cylinder box with bells; 13" organ cylinder box with elaborate case; early Decommun Girod cylinder box; early LeCoultre box; 6" & 13" orchestral boxes; 10 tune cylinder box; 13" 12 tune cylinder box; several other cylinder music boxes.
PHONOGRAPHS: Zon-O-Phone disc phonograph with two beveled glass sides; early Gramophone hand-driven Berliner; Two Victor VI disc talking machines with wooden horns; Victor V with wooden horn; other disc phonograph with wooden horn; round floor Model Modernola with fringed ostrich feather lamp shade; Talk-A-Phone disc phonograph with brass bell horn; Edison Model D cylinder phonograph with nickel morning glory horn; Edison Triumph with wooden cygnet horn; Victor Schoolhouse with wooden horn; Columbia Graphophone with small nickel horn; early Victor by Johnson type B disc phonograph, as is; Victor Humpback II; Edison fireside Model A with brass cygnet horn; other Edison cylinder phonographs; Columbia grand piano Grafonola phonograph; Phono Grand; red Model C Phono/Lamp with shade; Phon D' Amour upright with carved violin front; several other table model and upright phonographs;
OTHER: Rare George Hicks barrel piano w/automata figures; coin operated 44 note Wurlitzer Pianino w/leaded glass front; Muzzio monkey organ; two style A cuff boxes; early upright barrel organ w/4 barrels, other barrel organs, musical ship automata; small symphonion musical clock; gold musical watch fob; musical birds in cages; several music cabinets; also Carved Furniture; Fine Silver; Lamps; Clocks; Slot Machines; plus much more.
Terms & Conditions: Cash, Check with Bank Letter, Visa & MasterCard w/proper ID.
Buyers Premium 10%. Color catalogs $25.00.
PREVIEW: November 6th, 6:00 P.M. to 8:00 P.M., and November 7th, 9:00 A.M. to 11:45 P.M.

---
27 October 2004