Ernest J. Wilde Steam Calliope in Sacramento, Calif.
by Marc Kaufman (MMDigest 990630)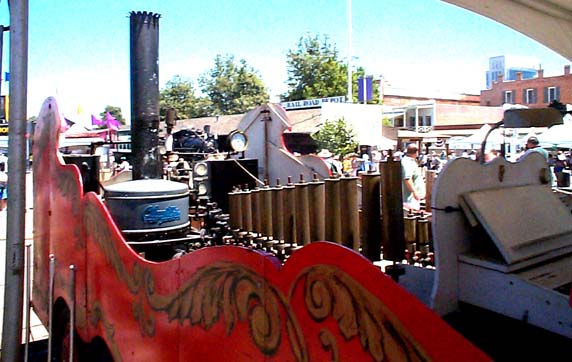 higher resolution image wilde1.jpg (271kb)
A steam calliope was spotted last week at "RailFair 99", the festival of the California Railway Museum in Sacramento, California. The calliope was playing on the wharf in Old Town Sacramento, a short walk from the museum. The hand-lettered sign said:
"The Wilde steam calliope (32 whistles)
"Built by Mr. Wilde in the mid 1930's, Cincinnati, Ohio.
After Mr. Wilde had died, it was sold to B & B Riverboat in
Cincinnati. Then in 1996 [?] it was sold to Hal Wilmunder
in the Sacramento area."
The calliope is on a trailer for parade use. I don't think it was running at full pressure, because wasn't in very good tune, and you could stand next to it while it was playing (it's hand played only). I have attached a couple of pictures for the MMD web site.
Marc Kaufman
Travis Vasconcelos, who keeps track of riverboat calliopes, says that hobbyist Ernest J. Wilde built at least three similar calliopes before his death in the 1960s. His widow kept one instrument (which may be the one seen in Sacramento), and one is now owned by Capt. Gabriel Chengary, of the steamer Delta Queen out of New Orleans. The whereabouts of the other instrument(s) is unknown.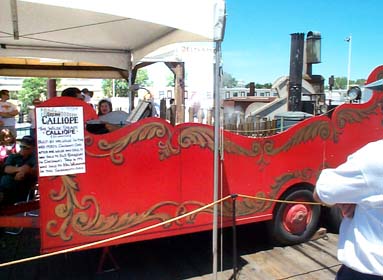 higher resolution image wilde0.jpg (288kb)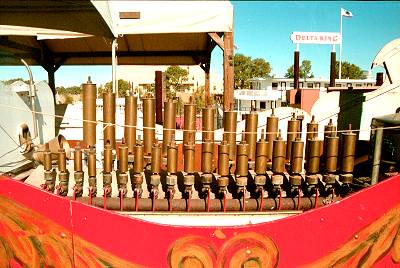 photo courtesy John Haskey
higher resolution image wilde2.jpg (185 kb)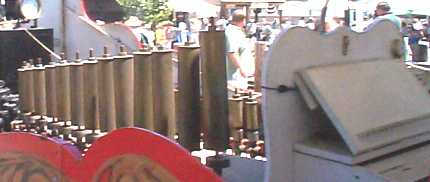 Whistles of the Wilde calliope seen in Sacramento.


See http://www.mmdigest.com/Pictures/getz_calliope.html
Could Getz's instrument be another calliope built by Mr. Wilde?
---
30 June 1999, 29 June 2004
Return to MMD Calliope site