The

1998 AMICA convention was held July 8-12, 1998 in Niagara Falls, Ontario, Canada.

The AMICA committee members met all day Wednesday amongst themselves. For most of us, the day was spent travelling to Niagara Falls. I drove from the Boston area, a bit over 8 hours. After being checked through customs by the jaded border guard, we proceeded directly to the convention hotel, the "Skyline Brock Hotel", a 1920ís hotel with kind-of art neuveau decor with many pictures hanging in the corridors of events and figures of the area. The hotel was directly across the falls, and even from my cut-rate room, the view was great.

Upon signing in we were given a packet of information weíd need for the events. Other activities were occurring in the hotelís "Elizabeth Room" - Harold Hodgkins was working with a tuner tuning the two pianos he brought, an Ampico upright, and a Canadian brand Heintzman foot-pumped upright piano.

Thursday morning started with a buffet breakfast in the Grand Ballroom, after which we were shuttled by bus to different attractions in the US. The weather was perfect - hot and sunny, the whole time.
| | |
| --- | --- |
| | |
| QRSís Dan Wilke greeting members at QRS | Fixing End-labels on boxes at QRS |
My busís first stop was the QRS factory. Greeting us at the door was Bob Berkman (COO), and Dan Wilke (Roll Auction Coordinator). Bob showed us a 20 year old but still relevant slide show on the history of rolls and QRS, some of the photos shown can also be seen in Roehlís "Player Piano Treasury".
| | |
| --- | --- |
| | |
| Side-view of the QRS "Marking" Piano | Front-view |
Also demonstrated was the QRSís "Marking Piano" - a grand piano that is pneumatically connected to an adjacent machine similar in size and shape to a "push up" player that marks a traveling blank piano roll with graphite markings as the piano is played in real-time. This instrument was soon retired from regular production use relatively shortly after itís initiation. It was found that the "stop-tab" arranging piano - a device that allows the arranger to hold more keys down that they had fingers - was a more efficient use of time. The marking piano is still used for celebrity roll recordings.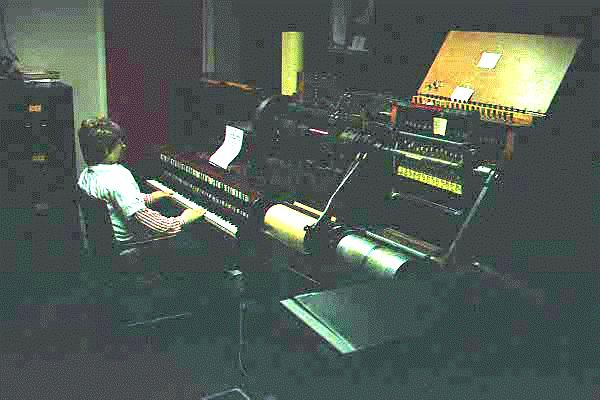 The "Stop Tab" Editing Piano at QRS
The stop-tab arranging piano is no longer used, as computers have taken over this job. This equipment is now set up behind glass (complete with dummy propped at the piano bench) as a tour display. The tour operator throws a hidden switch, and a motor brings the stilted display to operate as it might be seen for real. When it was used, it took only 4 to 8 hours to master a standard 3-minute length roll - faster than the marking pianoís process.
The computer setup now used by Rudy Martin to do all music arranging is kept in a room above the factoryís stenciling operation. Mr. Martin also has a copy of this software at home, so he need not necessarily be at QRS to work.
| | | | |
| --- | --- | --- | --- |
| | | | |
| The QRS Perforator in action - paper moves about a foot every 10 seconds | The paper rolls feeding the perforator | Fresh off the perforator - placing end tabs on the rolls | Words being stencled onto each roll - stencil is the rubber conveyor belt. |
A Tour of each segment of the manufacturing operation was made. The perforator was in operation while we toured. It is a mass of pneumatic tubes running from a controller that is directed by an old Apple computer running proprietary software. Four perforators are running at once from this single controller. The mechanical master roll reader of old was not present that I can remember - the Apple computer now sits where it used to. It was fascinating that so many aspects of roll production are still manual - the stenciling, labeling, end-tabs, all done as the rolls come off the perforators.
I stopped to talk to the woman who ran the roll stenciling machine. She had been with QRS since 1969. I asked her what were the good/bad aspects of working at QRS. She said the bad was the heat in the summer, the good was that her job is stress free, that Bob was a great guy to work for! Many of the employeeís appeared to be cross-trained to perform multiple operations as required.
| | |
| --- | --- |
| | |
| One of the buildings at the Darwin Martin House | Frank Lloyd Wrightís been here! |
Next bus stop was the Darwin Martin House, designed by Frank Lloyd Wright. The home, previously owned by a local university, is typical Wright - layered, 3-dimentional earth-toned, distinctively American. The roof leaks, as do many of Wrightís creations. His response to this problem was "Well, thatís what happens when you leave a work of art out in the weather ..." Also typical of Wright were the rectangular-shaped designs of the stained glass windows throughout the entire house. Some of the windows were sold off to private collection, and the owners of the property are actively seeking there whereabouts to place them back into the house. A large section of the dining room floor was made out of tiles of pigskin!
After a buffet lunch at a local restaurant, we proceeded to the Riviera Theater in North Tonawanda NY where they had recently finished renovations.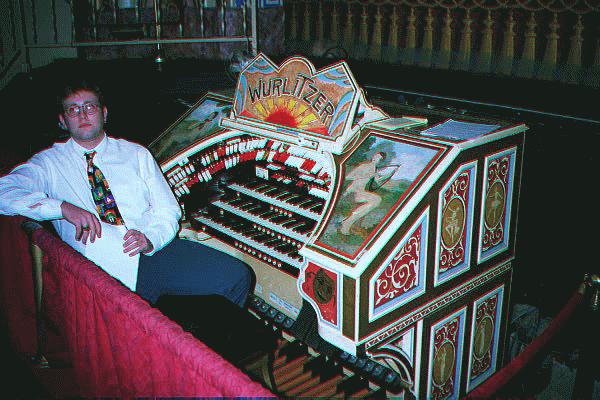 The Wurlitzer Organ Console at the Riviera Theater, North Tonawanda, NY
A III/17 Wurlitzer was showcased with many additions made to it, including a non-standard Ďtoy counterí, that was spread out in the orchestra section. Many orchestra pit "traps" and "toys" were fitted with 45 degree mirrors on top so the audience could see thee devices operate from their auditorium seats. The 16í pipe ranks were fitted outside of the chambers because there was no room for them inside. It was unfortunate that half of the swell shades didnít work. The organist played for us, and we saw a silent short feature accompanied by the organ. I spoke with the organist and found out the 21 year old was completely self-taught and barely could read a note of music!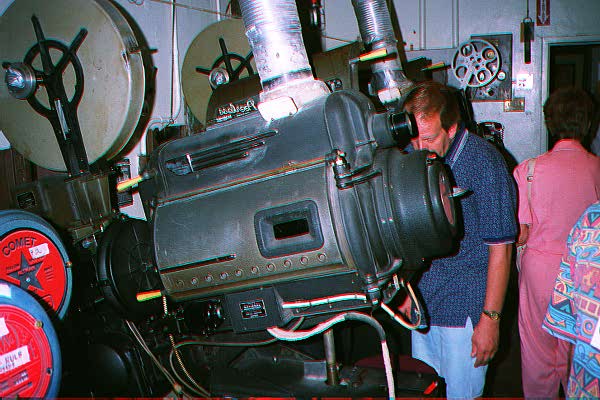 The 1940ís vintage projectors of the Riviera
The theater allowed us to tour the property, going back stage, in the basement to see the two organ blowers, and up to the projection booth where 1940ís vintage projectors are still used. Because of the antiquity of the projectors, they are unable to show some current movies because of the advanced sound formats found on todayís film.
The Herschell Spillman Carrousel Museum in N. Tonawanda NY, from the outside, looked to be in need of attention; itís facade was a building-side sign with much of the paint missing or peeling. I wouldnít have given it a second look, but inside - wow! You enter into the wood workshop, where people are restoring or making carrousel horses. Craftsmen and women were using hand tolls to shape the individual wooden horses, with many specimens in various states of repair or construction. Also present were some of the perforators and all of the master band organ rolls from the Wurlitzer Company. One perforator was operational, one was used for parts. Another room of the museum had a wonderful display of carrousel horses, and another room had a working full-sized carrousel, where attendees were treated to a few rides.
| | | |
| --- | --- | --- |
| | | |
| George Bogatko and Durrell Armstrong watch the Pumper Contest | Antics during the Pumper Contest - Hi Babbit in the red shirt, Larry Norman in the tux. | Whatís this? A Pumper contestant tries to be a one-man band. Disqualified! |
That night was the foot-pumper contest. All the pieces were enjoyable. QRSís Dan Wilke was present to judge. QRSís Hi Babbit was in the audience of about 100 people, and contestant Larry Norman (dressed in a full Tux) played one of his rolls. One contestant walked up to the piano with a roll in one hand, and his trumpet in the other! Of course, he immediately disqualified himself, and it was rather difficult to express a roll while playing the trumpet, but it was all in fun. In the end, Julian Dyer won with his own Percy Granger roll that was so new, he had the only copy that was yet to be themed and pedaled. Julian did a fine job expressing this piece - as Julian put it - "... by an Australian composer, played by an Englishman on a Canadian piano." Howís that for international?!
| | |
| --- | --- |
| | |
| The PowerRoll ... | ... In action on the Ampico ... |
Also displayed at the convention was the PowerRoll, demonstrated by Broadmoore Research Corp. salesman and fellow music enthusiast Gary Rasmussen. The function of this device is to open and close tracker-bar holes via a MIDI signal, allowing the pneumatic piano owner to play pneumatic music. The signal can come from any MIDI device, your PC, a CD player, a floppy disk, etc. It worked flawlessly. The only problem, unrelated to the device, was the enthusiasm of the onlookers allowed the Ampico to play for over 60 minutes straight without a break, causing a bit of a motor burn smell to emanate from the instrument - NOT the PowerRollís fault! These instruments apparently donít fare well when used constantly.
Other fun instruments were Dave Kerrís 1950 Pianola - a keytop unit that connected to a blower unit the size and shape of an old portable sewing machine case (that weighed even more!). Dave has many of these instruments at his home in various states of repair. He also brought a Theremin he built and shoehorned into an old radio console to make it look as close to the real thing as possible. Also present was a Violano Virtuoso (see picture on the cover of Bower's "Encyclopedia of Automated Musical Instruments") owned by Bill & Janie McCleary that was played a few times the first few nights - it was fun!
Friday was workshop day. Each scheduled workshop ran 3 times in 3 hours, allowing you to attend 3 sessions of different workshops.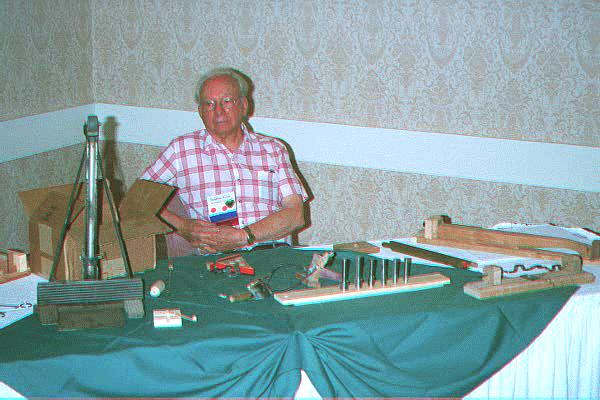 Harold Hodgkins
Bob Taylorís "Ampico A to B conversion" workshop was entertaining and informative, using slides from Douglas Hendersonís ARTCRAFT studios, and physical props. Harold Hodgkinís "Tools and Techniques for Player Piano Rebuilding" filled the hour with a presentation of gizmos, gadgets and techniques designed to make repairs easier. Bob Berkmanís "Pianomation MIDI" (as opposed to the older Pianomation Type-1) workshop was mostly a discussion of QRS history and Sales, since Bob admitted he wasnít up on the extreme technicalities of the device. Mostly modern music is made for the Pianomation unit - there isnít much of a market for "nostalgic" music for this device. Actual recorded music comes out of a speaker (in mono) to accompany your piano. The Pianomation MIDI uses one side of the stereo channel for recorded music, and the other track for the MIDI signal to the piano. Bob brought with him a keytop "Playola" unit, very low profile, sitting on the keyboard of a piano. As displayed, the unit retails for about $US5000. These were just 3 of the 6 or so that I attended.
| | |
| --- | --- |
| | |
| Dan Wilke at the mart - putting the squeeze on a prospect | The gang at the mart |
Friday afternoon was the mart, held on the U.S. side for duty ($) purposes. I was told it was one of the better ones. My cash didnít last as I quickly scanned the room for both new roll issues and other older treasures. In the very tight room, the energy high. Vendors included Bennett Leedy, Keystone, QRS (Dan Wilke) , Slottime (table manned by Durrell Armstrong and George Bogatko, who signed his rolls if you asked), Broadmoore Research Corp (makes the PowerRoll), BluesTone Music Rolls (Robert DeLand), and many other private sale tables.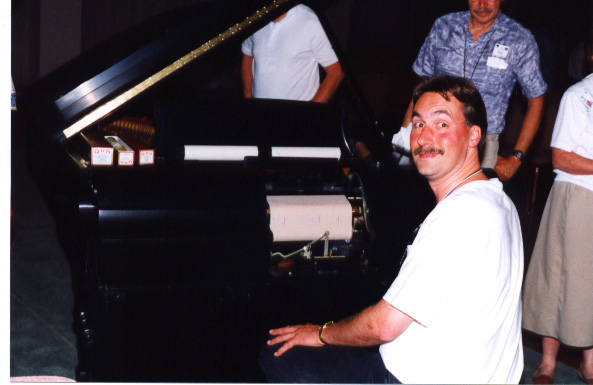 Karl Ellison trying Bob Berkmanís push-up player
Friday night was a Welland Mandolin Orchestra concert held in the great ballroom, which I heard, was beautiful. I did step in to see it briefly - a full orchestra, comprised mostly of (surprise?) mandolins. Later that evening, Bob Berkman and his "push-up" attached to a wonderful ebony grand gave an entertaining presentation of a non-published 2 roll story roll of "Peter and the Wolf". This event was titled "QRScapades". The music played, and Bob read the penciled-in story off the roll into the microphone. The presentation was filled with humorous sidelines, and in between rolls, Bob performed an satirical commercial message for "Khrushchev Cookies" on his crank music box.. Fun! An encore followed his standing ovation - I forget what the piece was that he played, but it was so beautiful on that grand piano, it was a near tear-jerker. Fireworks over the lit Niagara Falls completed the evening.
Saturday was "Canada Day", where we were bussed around in 1960ís British-styled red double-decker city busses to sites and events.
The Butterfly Conservatory was first on the list for my bus - an astrodome-like structure filled with rare, lush plants to simulate a lush forest, filled with many species of butterflies. Everywhere you looked, there were butterflies in the air, on the plants and all around you.
Lunch was at a beautiful restaurant in Niagara-on-the-Lake, Canada, after which we were given time to walk though the neatly-kept town. What followed was a tour of one of three area wineries, depending on which bus you were on. The specialty in the area is "Ice wine", made when the grapes are frozen, it yields a very sweet wine that I liken to a cordial. $CAN59 per half-liter.
Saturday night was the banquet, not your usual rubber chicken dinner - quite good. Max Moranth presented a show on "Ragtime", incorporating historical lecture with music he played. All of the banquet attendees received convention souvenirs - A butterfly paperweight, and a QRS convention roll (CU-632). The roll has three songs, the first of which is "A Trip To Niagara" - but with words that are a spoof on the convention and itís activities itself. Sounds like Bob Berkman had a hand in this!
Sunday morning was a farewell buffet breakfast followed by an AMICA business meeting. This was a time for officers and anyone to approach the microphone to make comments or announcements. Concluding the meeting was Boston AMICA member Dorothy Bromage giving a short slide presentation of sights they will see if they attend the Boston AMICA convention in 1999. Events are well under way for this event, and it is hoped that the turnout will equal or exceed that of this yearís convention.
This being my first AMICA convention, I had a lot of fun, and I urge the reader to consider attending next yearís convention. Where else are you going to find more fun-loving people than those who derive joy from automated music?!
- Karl Ellison
Ashland, Massachusetts
KarEllison@aol.com