The Coupleux Brothers & Aeolian Co. SA of France
by Douglas Heffer (MMD 020208)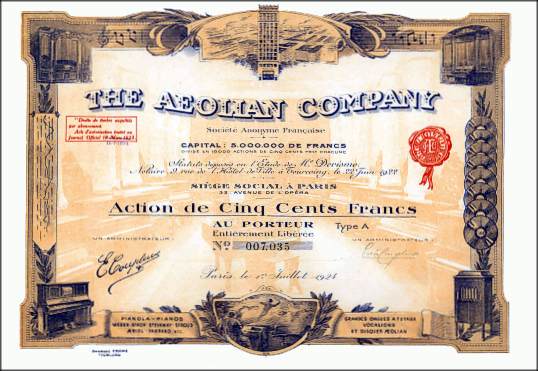 At the left is the bold signature of Edouard Eloi Coupleux.
Certificate images courtesy of Bob Kerstein, http://www.scripophily.net/
Click here for the large image (1637 x 2426 pixels, 763 kilobytes -- it's huge ! )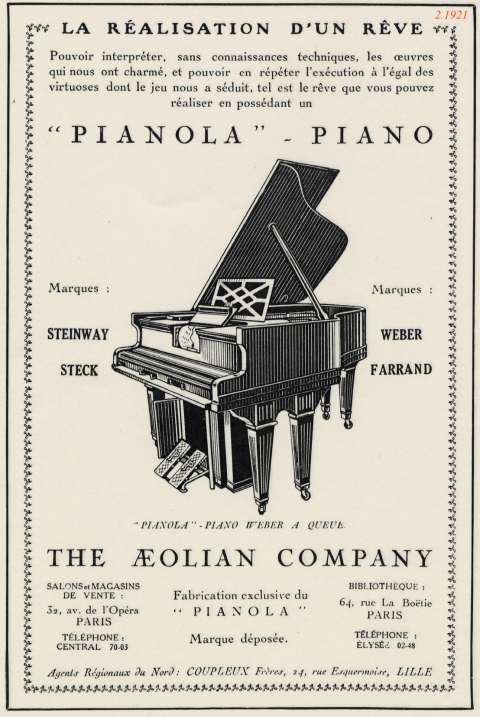 "Regional agents for the North: Coupleux Frères, 24, rue Esquermoise, Lille"
1921 advert image courtesy Lorraine Aressy.
I have a very interesting book in front of me: "1900-1935 L'aventure industrielle des frères Coupleux", by Olivier Carpentier. The brothers Coupleux were the people who imported the instruments and ran the Aeolian business in France.
It was in 1901 or 1902 that Aeolian came to France in two ways: they opened an agency at Avenue de la Opéra in Paris, and at the same time the brothers Coupleux met in Bruxelles a piano maker, Léon Delgay, who advised them to take the Pianola business over to France. A contract was made which gave the Cie Coupleux a Lille (Coupleux Co. of Lille) the exclusive representation for Northern France to start with -- this developed into a rather fantastic business.
The book has 283 pages filled with very interesting photos from the remarkable activities that the brothers Coupleux created: phonograph business, music recordings, cinéma, exhibitions, Aeolian Hall of Lille, their piano-making and Pianola making. Many Pianolas were made in France and some pneumatic stacks for the Duo-Art too.
In 1929 they joined with Armand Givelet to go into the field of electronic organs. The Coupleux-Givelet synthesizer is well mentioned in the book with an illustration. In fact, the brothers Coupleux and their sister, Heloise, were some kind of universal geniuses, reminding me of the brothers Lumières, Thomas Edison, etc. The electronic organ was really a remarkable technical development and an artistic success which unfortunately put them into bankruptcy -- it was too early for the market.
The books author, Olivier Carpentier, 22 years old, is a really brilliant writer coming from the Coupleux family. The book was created as a memory of the Coupleux frères for a university diploma -- which was received with the highest mention. This work has moved Olivier into a great interest for the Pianolas and reproducing pianos, although we have decided with a base of my experiences and huge archive to write a book together, which will include much information which evidently no one knows about.
The actual book is a real gold mine in the automatic piano field in France, and I recommend it to everyone reading French. We are looking for a printer to make a reasonable number of this, so at the moment I can't say when we can deliver the book. If we can find enough interest it could be translated of course, but it's a question of economic support.
Best regards from Montmartre,
Douglas Heffer
France
7 Feb 2002 20:41:23 +0100


The Aeolian Company
Société Anonyme Français

The Aeolian Company
French public company

"Droits de timbre acquittés par abonnement.
Avis d'autorisation
inséré au
Journal Officiel
18 Mars 1923 12 Juillet 1924

CAPITAL : 5.000.000 DE FRANCS
DIVISE EN 10.000 ACTIONS
DE CINQ CENTS FRANCS CHACUNE

Statuts déposés
en l'Etude de Me. Devisme
Notaire, 9, rue de l'Hotel de Ville
à Tourcoing,
le 22 Juin 1922

Siège Social à Paris
32, AVENUE DE L' OPÉRA

Action de Cinq Cents Francs
Type A

Au Porteur
Entierement Liberee
No. 007,898
Paris, le 1er Juillet 1924




PlANOLA-PIANOS
WEBER - STECK - STEINWAY
STROUD - AERIOL - FARRAND, etc.

GRANDES ORGUES
A TUYAUX VOCALIONS
ET DISQUES AEOLIAN

Georges FRÈRE
Tourcoing

"Rights of stamp fulfilled by subscription.
Announcement of authorization
inserted in the
Official Journal
18 March 1923 12 July 1924

CAPITAL: 5,000,000 FRANCS
DIVIDED INTO 10,000 SHARES
OF FIVE HUNDRED FRANCS EACH

Status deposited as evidence
in the survey of Maître Devisme
Notary, 9 City Hall Street
at Tourcoing,
22 June 1922

Social Seat in Paris
32, AVENUE OF THE OPERA

Share of Five Hundred Francs
Type A

To the Bearer
Fully Released
No. 007,898
Paris, July 1st, 1924




PlANOLA-PIANOS
WEBER - STECK - STEINWAY
STROUD - AERIOL - FARRAND, etc.

GRAND VOCALION
PIPE ORGANS
AND AEOLIAN DISCS

Georges FRÈRE
Tourcoing
---
9 February 2002