Nickelodeons That Play Style 'A' Rolls
by Don Teach (040306 MMDigest)
I cannot predict the future of the player piano but I hope everyone in this group loves their piano (pianos) as much as I do.
I have been a lifelong collector of the player piano, with my focus on the nickelodeon piano. I have some nice pianos, such as a Coinola X and a Coinola C-2 as well as a Seeburg G and Wurlitzer CX. I have over 30 nickelodeon pianos in my collection, which I don't consider a large collection when compared to the large collections up in the northern part of the country. I ate canned beans and cheap food for months while in college in order to buy a Mills Violano. I still have it and it is a prized piece for me, although it is a common single Mills. It was $1600.
I have visited several collections in the past 40 years that have had some super machines, such as the Wurlitzer PianOrchestra. I was just at a collection, one of the largest in country, that has four PianOrchestras, three Hupfeld Violinas, and most of every "dream piano" someone could desire. I had planned on spending a couple of hours at most, but I let eight hours slip by before I left the collection.
I have to say that the highlight of my visit was a beautiful Seeburg E with the xylophone. It was the most pleasant machine just to turn on and listen to the music. The 'A' roll that was on the Seeburg had a very listenable sound with nice arrangements. I have always liked A-roll pianos so I am a bit prejudiced toward the 'A' roll. In my own collection I tend to listen to a Seeburg K with flute pipes more than any other piano.
I realize that to many people these A-roll pianos may seem like high priced toys so that they can't justify spending the money. I admit they cost more than the free 88-note player piano that you see so often. I have often wondered why some of the people that collect the 88-note player piano don't just add a xylophone to their player piano.
There were many 'A' rolls cut, that were never issued as 88-note rolls, with some of the finest playing you will ever find. So please consider adding the ever popular A-roll player piano to your want list.
Don Teach - Shreveport Music Co.
Shreveport, Louisiana
6 Mar 2004 11:02:09 -0600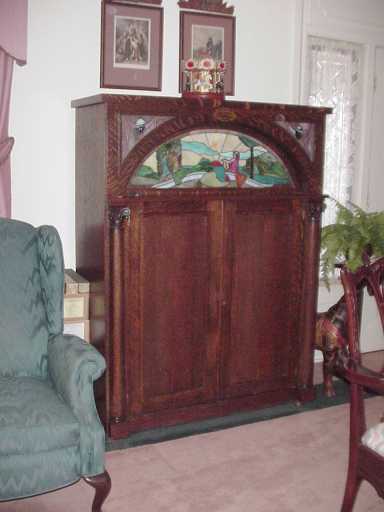 Seeburg K with flute pipes with a rare type of glass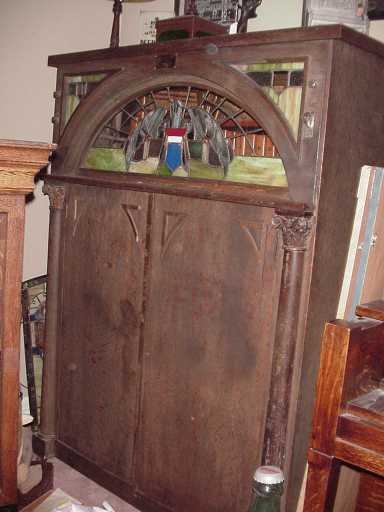 Seeburg K with eagle art glass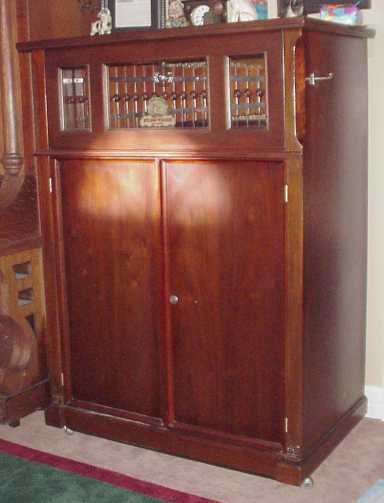 Nelson-Wiggin playing the repeating xylophone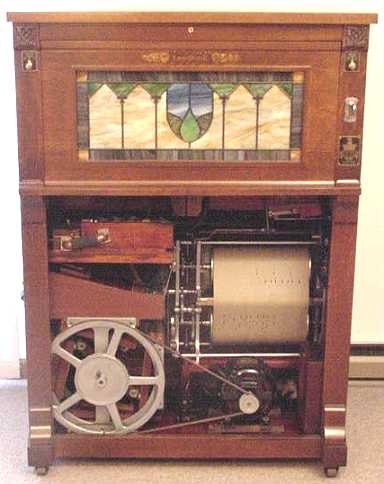 Engelhardt 54-note cabinet nickelodeon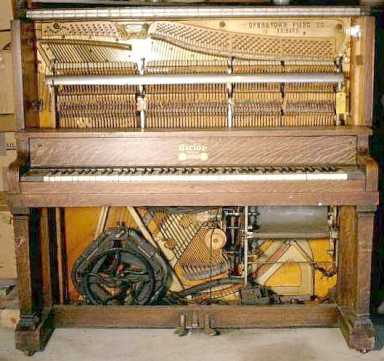 "Victor Coin" nickelodeon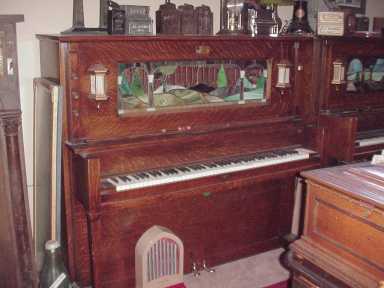 Seeburg E with xylophone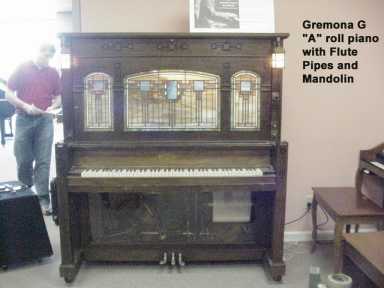 Cremona G with flute pipes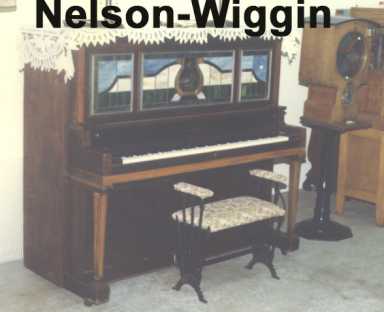 Nelson-Wiggin A-roll piano with keyboard
---
10 March 2004