Gebrueder Bruder "Airophon" Music Roll Organs
courtesy Tim Trager (990607 MMDigest)
From: trager@idt.net.geentroep (Tim Trager)
To: rolls@foxtail.com
Date: Wed, 07 Jul 1999 00:09:54 -0500
Subject: Gebrueder Bruder "Airophon" Music Roll Organs
Gebrueder Bruder introduced the roll-operated organ in 1926. It was
available in either a single tracker or duplex roll format. The
Gebrueder Bruder company called the new roll system the "Original
Airophon System". Single roll players sometimes had an optional
mechanism which cleaned the roll of paper lint while it rewound.
Some organs also had a pinned barrel device which played the drums
while the roll rewound. Best of all, these late organs feature 40
years of arrangements by Gustav Bruder. I have included a picture of
the brochure of my duplex roll Airophon Bruder for the MMD Gallery.
Tim Trager
Trager@idt.net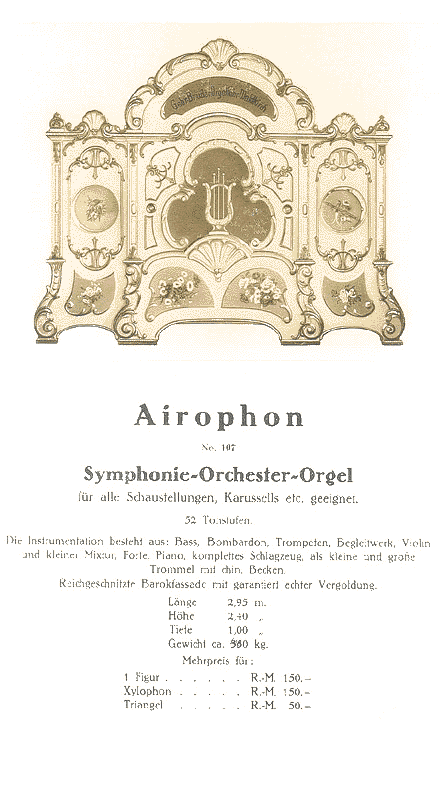 ---
7 July 1999