Sankyo 20-Note Paper Strip Movement in Model Organ
by Christian Greinacher (040412 MMDigest)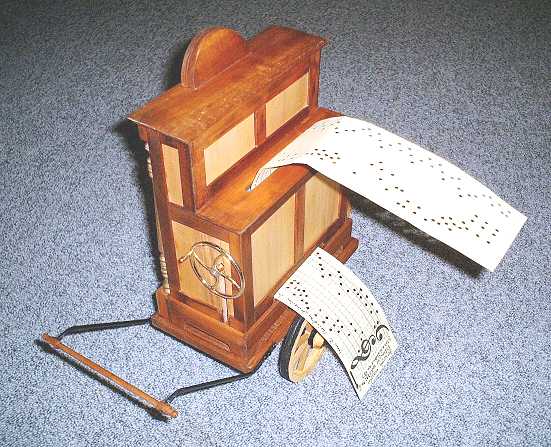 In MMD 040410 the cost of custom-made music box movement was discussed and it was stated, "That's very expensive!"
I would suggest a very good and cheap solution: Take a Sankyo 20-note movement and punch your own paper strips with your music of choice. This movement is sold in Germany for less than 40 euros (i.e., less than 50 USD).
This movement is hand cranked, which I see as an advantage (in some respects) because the player can express his personal interpretation of the tune by varying the speed of cranking. For those who don't like hand cranking, it should not be too much a problem (for a skilled amateur) to add a small spring-wound motor to the movement.
I personally enjoy composing the music (done by a friend of mine), punching the strip (boring!) and playing "my own music" from a small monkey organ wherein I mounted the Sankyo movement. The organ kit for this small model was sold from a Dutch company named "Authentic models, Holland." Don't know whether this model is still available from them. See the attached pictures.
Greetings from Bavaria
Christian Greinacher
11 Apr 2004 15:14:16 +0200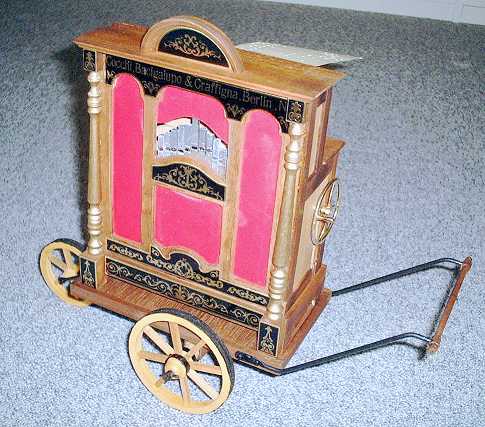 Angelo Rulli wrote in 961024 MMDigest, "I would guess this is the model kit of a Cocchi,
Bacigalupo and Graffigna (Berlin) organ owned by the National Museum from Musical Clock
to Street Organ in Utrecht, Holland." See also "Personal Perforated Paper Manivelle",
indexed at http://www.mmdigest.com/Archives/KWIC/M/manivelle.html and the articles about Sankyo
20-note paper strip movement, indexed at http://www.mmdigest.com/Archives/KWIC/S/sankyo.html
---
13 April 2004