Kelley Automatic Music Co. of Albany, New York
by T. J. Fisher (090713 MMDigest)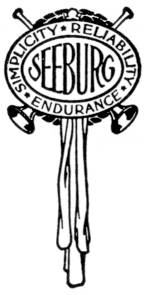 Greetings all: I spent a very pleasant Saturday afternoon at Wells Auto Museum (Route 1 off the Maine Turnpike), which I would highly recommend to all MMDers or anyone interested in "old stuff". It has a really fascinating collection of antique cars, antique coin-operated games which are quite fun, and a band organ, three music boxes, and six orchestrions.
My question stems from one of these orchestrions, which to me looked and sounded pretty similar to a Seeburg L with which I'm familiar, with some mild cosmetic and instrumentation differences (which are to be expected between machines). A sign made by the museum atop the cabinet encouraged people to insert a quarter because "This *Seeburg* has a great roll!" (** Emphasis mine.)
The manufacturer's indicium plaque on the cabinet, however, read "Kelley Automatic Music Co., Albany, NY." The motto to the left was identical to the Seeburg "motto horn" (as I call it), except that the name Kelley is in the middle rather than Seeburg and the surrounding words are "Dependability-Reliability-Endurance," which I believe differs slightly from the Seeburg motto.
Obviously I cannot ask for help identifying the machine without a picture or better identification (and I didn't feel comfortable bringing my Encyclopedia of Mechanical Music with me on the plane from Washington, although most of my mechanical music exploits occur up here in New England).
I am just extremely curious as to this Kelley Automatic Music Company. A Google search on that name (in different variants) yields nothing, nor does a search of the MMD subject archive. With no information of which to speak except the indicium plaque, I have two guesses: that Kelley was a "ghost company" of Seeburg (a la Western Electric) or that Kelley was a successor in some manner of Seeburg, adopted Seeburg's general trade dress, and continued to sell instruments of the Seeburg line. Any information would be very much appreciated.
Sincerely,
TJ Fisher
12 Jul 2009 21:24:55 -0700 (PDT)
Ed. note: Maybe Mr. Kelley was the route operator, who changed the music rolls, but he had visions of someday competing with Seeburg in a big way! -- Robbie
---
Kelley Automatic Music Co. of Albany, New York
by Bruce Clark (090716 MMDigest)
Regarding 090713 MMDigest, Kelley Automatic Music Co. of Albany, New York, I think Robbie is correct. Mr. Kelley was the route operator. On our Seeburg L, the plate at the coin slot reads "H. L. Kelly, Albany - Syracuse".
When an elderly neighbor lady, Edna Johnston (now deceased), saw our Seeburg L nickelodeon and the name plate, it brought back memories to her. She told me that she dated H. Lloyd Kelly during the 1920s and remembered accompanying him a few times on his various routes in Syracuse, and collecting nickels from various machines.
Bruce Clark
16 Jul 2009 07:37:19 -0400
---
Kelley Automatic Music Co. of Albany, New York
by Don Teach (090716 MMDigest)
I have seen several dealer name plates on Seeburg pianos that used a plate identical to the Seeburg plate but with the dealer's name in place of Seeburg. It could have been an option that Seeburg offered some of the dealers.
Don Teach
16 Jul 2009 10:13:35 -0500
---
Kelley Automatic Music Co. of Albany, New York
by Eric Stott (090716 MMDigest)
In doing newspaper research, years ago, I believe I saw advertisements for this firm. Their building was pictured with a large vertical electric sign reading "The Automatic Piano Co." As the coin operated phonographs became a large part of the trade it was altered to "The Automatic Music Co."
Eric Stott
17 Jul 2009 15:31:26 -0400
---
Kelley Automatic Music Co. of Albany, New York
by Craig Smith (090720 MMDigest)
It seems that there is a lot of interest in the Kelley Automatic Music Company, located in Albany, New York. Here are a couple ads from the Albany Evening News in 1929 that show the relationship of Kelley Automatic Music with Seeburg and Edison. The Edison ad is rather interesting since it contains a discussion of the 50th anniversary of the invention of the light bulb and it shows pictures of their buildings.
I found these on a wonderful web site that is run by a fellow in Fulton, New York. He has accomplished the enormous task of scanning and also indexing over 10 million pages of early newspapers from New York State, starting back in the 1820s. This is a personal accomplishment, non-commercial and not government funded. Consider that if he worked 8 hours a day, 5 days a week for 10 years, without a vacation, he would have to do one page per second to accomplish this. What he has done is close to impossible.
Just go to Old Fulton NY Post Cards http://www.fultonhistory.com/ and type in "Kelley Automatic Music" and click <Search> and you'll get 31 hits, the last of which is about the installation of an "Orchestrope" at a local amusement park.
A word of warning -- don't type in 'orchestrion' unless you have plenty of time to kill. The first hit is about the sale of the famous Powers Orchestrion in Rochester, New York. After you peruse that one, you'll have another 2600+ more to read.
Regards,
Craig Smith - "world's foremost authority" on the Powers Orchestrion
18 Jul 2009 18:09:04 -0400
P.S.: In case you wondered how I became the "world's foremost authority" on the Powers Orchestrion, it's because I'm probably the world's _only_ authority on the Powers Orchestrion. There are over 1300 responses to D W Powers and the orchestrion. And, yes, I did read them all. It took three days!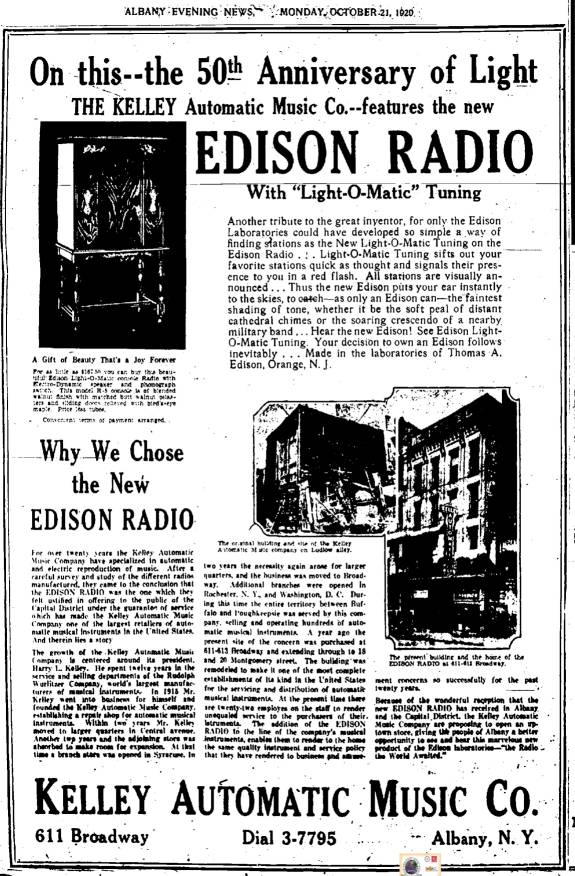 Monday, October 21, 1929 Click here for original image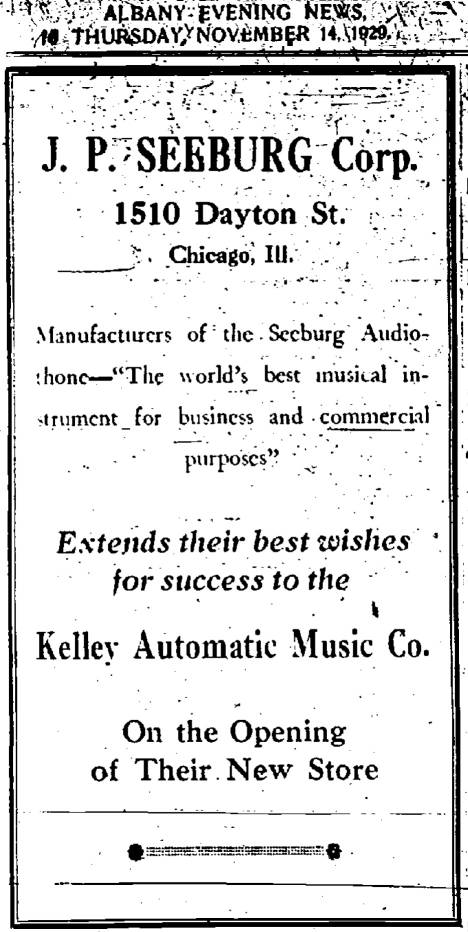 Thursday, November 14, 1929
---
21 July 2009