MBSI Exhibit at Lockwood-Mathews Mansion Museum, Norwalk, CT.
contributed by Jere Ryder

A Secret Treasure Within The Beauty !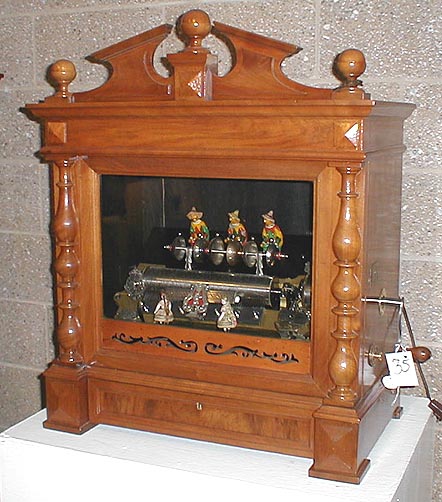 For those of us living in or passing by Norwalk, CT. on Rt. 95 each day, many have not discovered or appreciated one of this Nation's most noted of 19th century majestic, 2nd Empire Mansions, which can be seen immediately off to the North side of Exit 15. The Lockwood-Mathews Mansion Museum is one of the earliest of these majestic homes (c.1865) built by those who acquired vast wealth following the Civil War and on into the 20th Century. This large home is indeed a beauty, rising 4 stories in height and featuring a magnificent octagonal rotunda surrounded by over 60 beautifully decorated rooms. Artists and artisans from Europe as well as here in America were brought to Norwalk to ply their craft and create the rich variety of carved, gilt, fresco, marble, inlaid woodwork and etched glass found throughout the building. It has been featured on the TV program "America's Castles" and is worth a special trip just to see all by itself.
But, for those searching for even more of a "hidden treasure", there is yet another surprise to be found here, namely the 5 upstairs, Herter Brothers designed bedroom suites which are filled to overflowing with the finest collection of Antique Musical Boxes, Automata and Street Organs dating from the early 1800's to early 1900's! There are over 60 mechanical music instruments currently on display, owned, sponsored and organized by the Musical Box Society Int'l., an educational, non-profit collectors group, founded and chartered back in 1949.
This collectors' Society recently had large exhibits in both Charlotte, NC. and another in Camden, NJ. in affiliation with both Rutgers University and the Center for the Arts. As both of these major displays ended, many new and exciting music machines have been newly added to the offerings here on display at Lockwood-Mathews Mansion. Moving from room to room, visitors can see, trace and actually hear (in person) these rare instruments play music of centuries past, coming from the Black Forest region of Germany to the Jura Mountains of Switzerland and even those that were made right here in the New Jersey, New York metro area, over 100 years past. These photo's should give you a 'sampling' of what 'treats' await your visit here.
If this wonderful display of instruments and automata has been a secret to you, it needn't be any longer. You owe it to yourselves to pay a visit to Norwalk, CT., where you will find the Museum located at 295 West Ave., just off of exit 15 of I-95 (then follow signs). Normal operating hours are 12 noon to 5pm., Wednesday through Sunday, mid-March through New Year's Day. Other times by appointment. Yet another special treat is that most every Sunday the Musical Box Society Int'l. has one of their local members at the museum helping to answer questions and giving informative personal tours of the Musical Box exhibition rooms!
This coming weekend is the special Fall Antiques Show which takes over the entire ground floor rooms of the Mansion, then don't miss out on the Christmas Season decorations and festivities. Get signed up on their mailing list so that you can keep up with all the Special Events!
You may call the Lockwood-Mathews Mansion Museum at (203) 838-9799 or check their web site at http://www.lockwoodmathews.org/ , then go enjoy!
Photo's: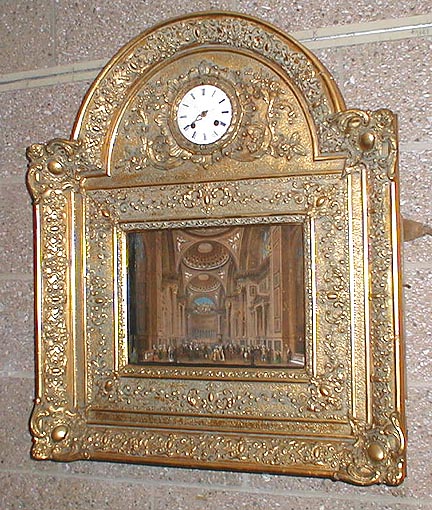 # 1203 - Large and ornate, Animated and Musical Tableau
showing a moving Wedding Procession.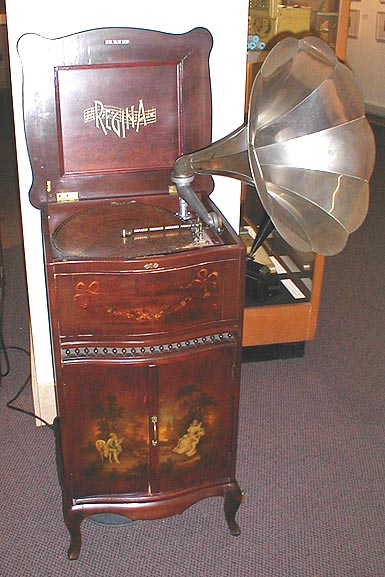 # 1137b - Reginaphone 15 1/2" console Musical Box with Rookwood finish with cameo scenes.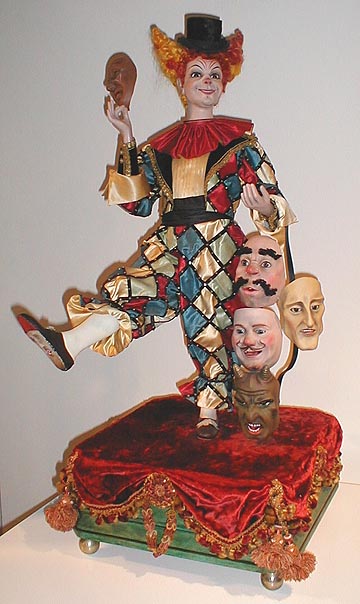 Mask Seller Automaton - Extremely fine and ahighly animated Automaton
made in Paris, France by Roullet et Decamps, dating from about 1910.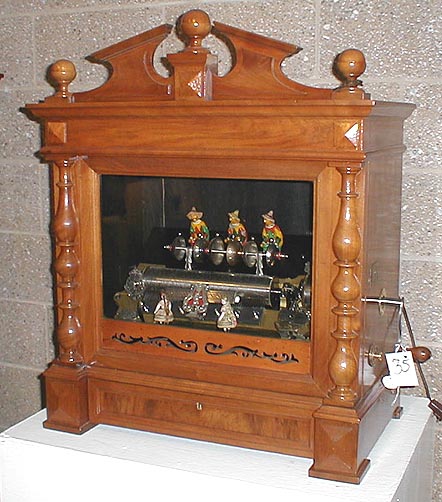 # 1187 - A Railroad "Station" box with moving Chinamen Bell strikers and dancing automata.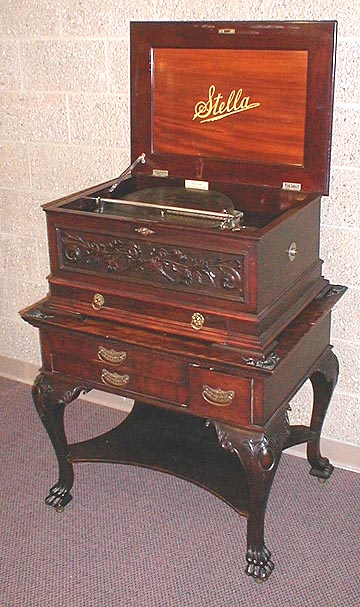 # 1129 - Swiss-made Disc Playing "Stella" Musical Box on original matching table.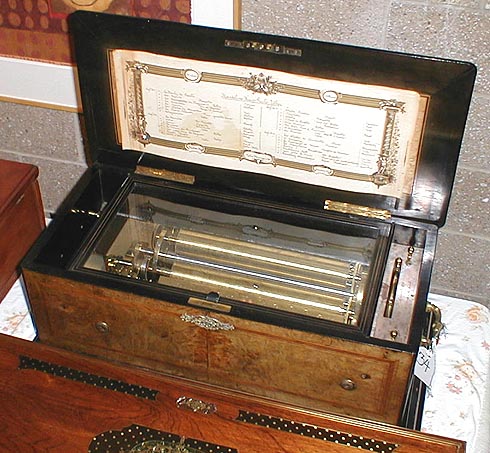 # 1194b - Rare, 4-cylinder cluster, "Revolver" type Musical Box
made by George Baker & Co., Geneva, Switzerland.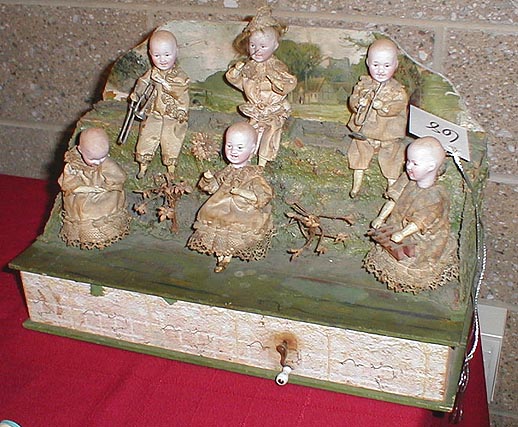 # 1200 - Child's Automaton Manivelle (hand-crank) with 6 animated musician figures.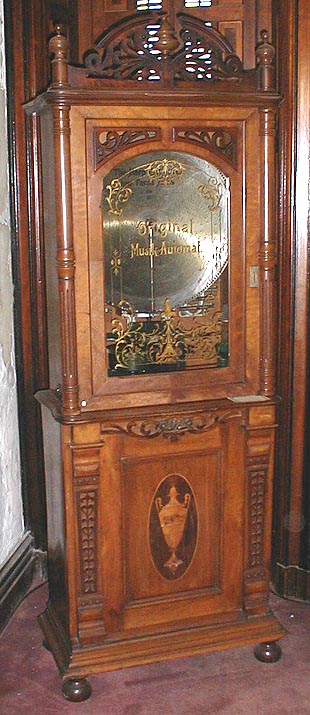 # 1189a - Large upright Disc-playing Musical Box by Lochmann of Germany,
featuring a set of Tubular Chimes accompanying the music, dating from 1890 !
---
24 October 2002