Music Box Rotating Base is Christmas Tree Stand
by Hauke Marxsen, Christian Greinacher, Ralph Heintz, Brian Walter
---
photos by Christian Greinacher (MMD 020112)
In reply to the query from Joy McNally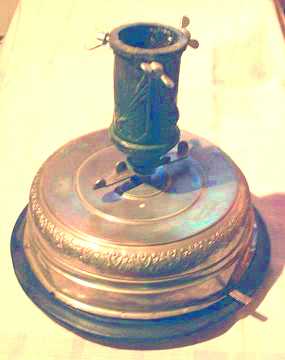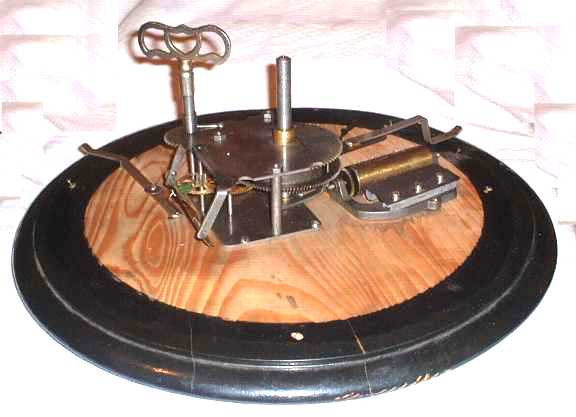 Hello Joy, maybe you will get many response emails from musical box collectors; they can tell you for what it is for. It is a Christmas tree stand. The tin dome is missing. The dome is affixed with a few screws onto the wooden base. Also the holder for the tree is missing. The tree holder is placed on top of the rod and lets the tree rotate.
Kind regards from
Hauke Marxsen
Germany
12 Jan 2002 09:35:29 +0100
--------------------
The picture provided by Joy McNally shows a rotating Christmas tree stand, from which the nickel plated cover is missing. From my point of view it seems hard to identify which firm has made it.
To my surprise I could not find a picture of a similar rotating stand in the Bowers Encyclopedia. So I will add a picture of such a stand which I have in my collection and, because I am just repairing another one, I am going to take a picture of that one uncovered, just for comparison. I could not identify the makers of these two rotating Christmas tree stands.
Christian Greinacher
Germany
12 Jan 2002 12:02:42 +0100
--------------------
From: mc707@rochester.rr.com.geentroep (Matthew Caulfield)
To: rolls@foxtail.com, joymcnally@hotmail.com.geentroep
Date: Sat, 12 Jan 2002 13:23:01 -0500
Subject: Music Box Rotating Base is Christmas Tree Stand
I referred the picture of Joy McNally's music box to Musical Box Society International's expert Ralph Heintz, because I knew Ralph would recognize it, if anyone would. Sure enough. Here's Ralph's reply:
"Joy McNally's instrument is what is left of a musical Christmas tree stand, after some of the vital parts have been lost or thrown away. It was probably made by J. C. Eckardt of Cannstatt-Stuttgart, late 19th-early 20th Century.
"In normal condition it would have a spun and embossed metal cover that extended almost to the edge of the base board, leaving about 3/4-inch of wood showing all round. In addition, it would have had a cast (usually iron) tree cup with three holding screws around the upper rim and a tapered hole that would just fit the tapered spindle driven by the spring motor. The tree would be rotated by the motor which could be turned on by one of the two levers sticking out from the base. The other lever enabled to owner to engage or disengage the musical movement.
"This particular instrument is the most primitive of the models they made. Others had up to four separate two-air movements that could be brought into play at will (See Bowers' Encyclopedia, p.77), while still others added a set of slip rings that would bring electricity up to the lights on the tree while still allowing the tree to rotate.
"These stands were quite common, and can still be found in flea markets, usually in similar deplorable condition. I believe Reuge was still making similar stands up until a few years ago.
"This is probably more than you or Joy cared to know about musical stands, but it's all part of the [MBSI] service."
Matthew Caulfield
12 Jan 2002 13:23:01 -0500
---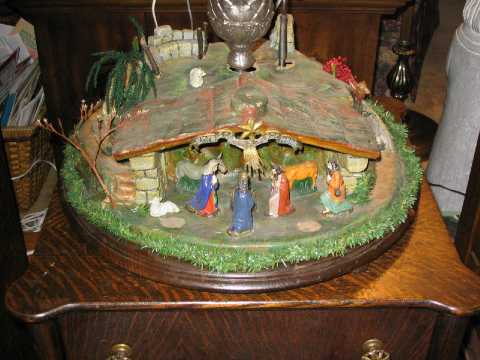 High resolution image: MBtreeStand4.jpg (275 kb)
Hi, Again this year I am looking for information on my musical Christmas tree stand. It is similar to the standard German stands that have the nickeled tops and holders. It plays two tunes.
The one I have has a mountain scene with a manger recessed into it. Most of the figures are there along with some original greenery. I have attached a picture for clearer description. Any help on identification would be appreciated!
Brian Walter, Muscatine, Iowa
bwalter@machlink.com.geentroep [delete ".geentreop" to reply]
9 Dec 2003 10:31:33 -0600
---
09 December 2003