Seeburg Sales Ephemera
by Mark Forer
Here are a few interesting pieces of Seeburg ephemera I just picked up and would like to share with MMDers. It's a letter with several enclosures addressed to a Mr. Garrett E. Bacorn of the Royal Doane Truss Company of NY. Mr. Bacorn seemed to be concerned about the cost of electricity eating into his profits with regards to the several Seeburg Automatics his firm was operating in various locations. (What I find fascinating is why in the world would a truss company be featuring nickel pianos in the first place. Didn't men wear trusses back then for "ruptures?).
The letter is dated November 1926, very late in the coin piano game, but the Seeburg Company gives no indication that the coin piano era is over, and encourages Mr. Bacorn to attend the upcoming "Annual Convention of Piano Merchants" ( and partake in their 'Stag Dinner') in June of 1927 to see and compare for himself the advantages and profitability of owning the Seeburg Line. The letter explains that Seeburg Reliability has been validated by "available government statistics" relating to manufacturers of orchestrions and automatics. (Are these statistics waiting to be rediscovered in some Library Of Congress Archive, or are they already common knowledge to die-hard piano buffs?)
It goes on to explain, with testimonial proof, that quite a few Seeburgs have played for years with only a few negligible repairs. It urges Mr. Bacorn's firm to pick up a few more of the new KT Specials, of which they already have previously purchased, and equip them with ten-cent slots, because the "class of people" enjoying them wouldn't mind paying extra. I'm curious as to what class of people are dropping their change into these machines, and where? Patrons of high-class speakeasies or...?
Last, Seeburg has furnished Mr. Bacorn with a chart of their own concoction, demonstrating their formula of profitability vs. electrical consumption as pertaining to their various instruments, I'm sure both math and electricity buffs will immediately try and figure out Seeburg's formula to see if they were "on the level" with this customer. I know I didn't attempt to work-out their calculations. Perhaps Mr. Bacorn was impressed enough to be flummoxed as well!
It seems that this late in the game, Seeburg didn't foresee the handwriting on the wall (or wasn't letting on) as they appeared to be selling every piano they could turn out at the time this letter was written. Perhaps a dramatic downturn in sales by mid-1927 made them cease piano production and proceed to go full-speed ahead with automatic record players.
Of interest also is the picture of a Seeburg G, on location in what could be a trade fair pavillion. Visible on each of the white columns behind the orchestrion are American Flags, and pennants addressing the event which are just too tiny to be read by a magnifying glass. The pavilion is roped off perhaps for listening demonstration and dancing pleasure. There are two art glass lamps flanking the piano atop Stickley style oak tables.
A tall electric panel with a meter is visible just to the left of the instrument. Below it, next to the machine, is a sign which says: "Mfg'd by J.P. Seeburg Piano Co. Chicago - Sold By C. A. Hohimer, 121 No. Wash St." (is anyone familiar with this locale?). The decal on the fallboard is very clearly of the late type. While the piano holds center stage, the photo is curiously devoid of people, making it a rather static testimonial to a bygone era. One wonders just exactly what this photo was actually taken for.
Speaking of photos on location, there are many taken of instruments of this era (1910-18) in use on location in saloons, restaurants etc. But one rarely sees photos taken of keyboardless types which were so "plentiful" during the so-called boom years of the mid-1920's when these pianos were supposedly omnipresent at all types of establishments, reputable and otherwise, where persons "of a higher class" would be encouraged to drop a dime into the slots of their pianos.
If anyone out there has some photos of automatics on location (especially of the keyboardless types) I'd like to see them posted. This era of automatic music, the so-called "Golden Era" seems to have vanished without a photographic trace!
Regards,
Mark Forer
Fri, 14 Jul 2000 01:53:50 -0700
These 200 dpi files can be downloaded and printed:
seeburgLet1.jpg (615 kb) J. P. Seeburg Piano Co., 9 November 1926, page 1
seeburgLet2.jpg (495 kb) J. P. Seeburg Piano Co., 9 November 1926, page 2
seeburgLet3.jpg (432 kb) Continental Novelty Co., 5 February 1925
seeburgLet4.jpg (525 kb) Liberty Theatre, 16 September 1926
seeburgLet5.jpg (460 kb) Creighton Theatre
seeburgLet6.jpg (556 kb) Power Consumption Chart
seeburgLet7.jpg (426 kb) Photo of Seeburg "G" at pavillion
The images displayed below are reduced to 66 dpi (33%).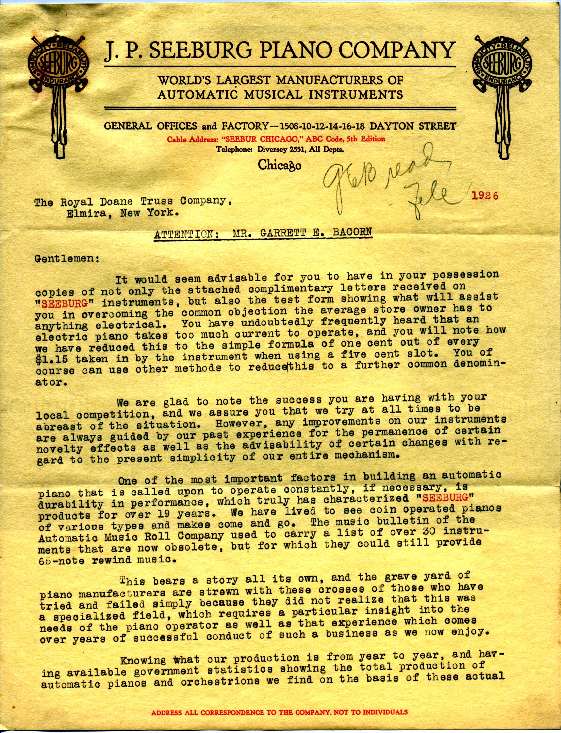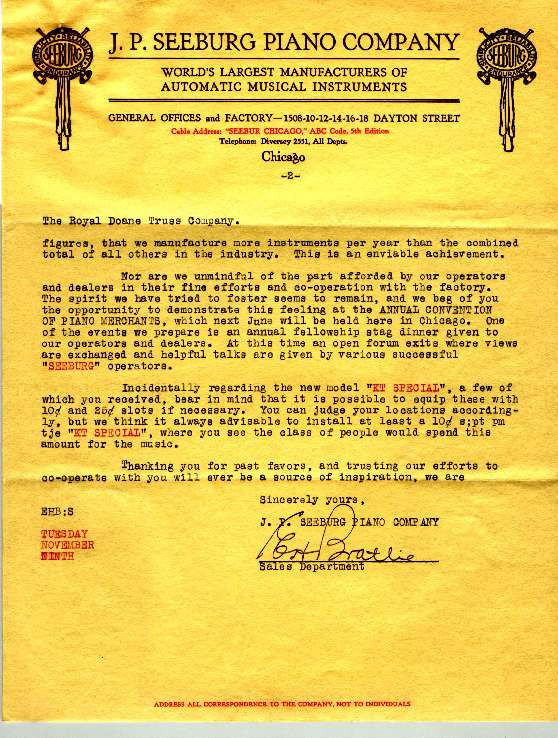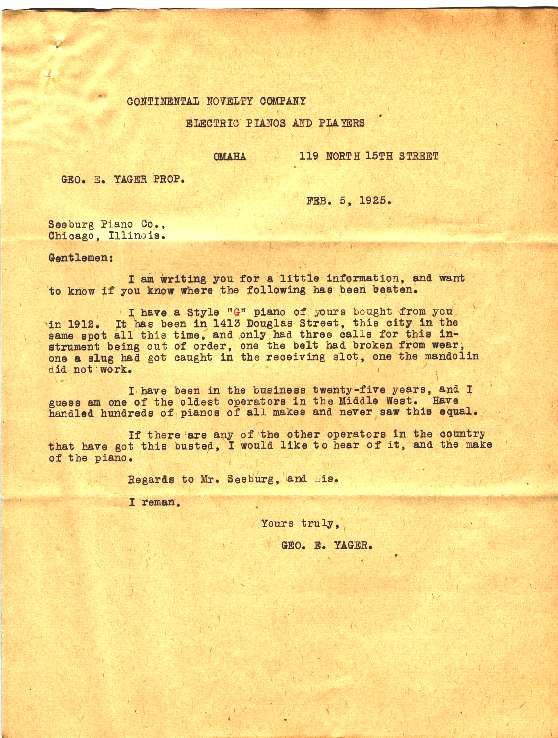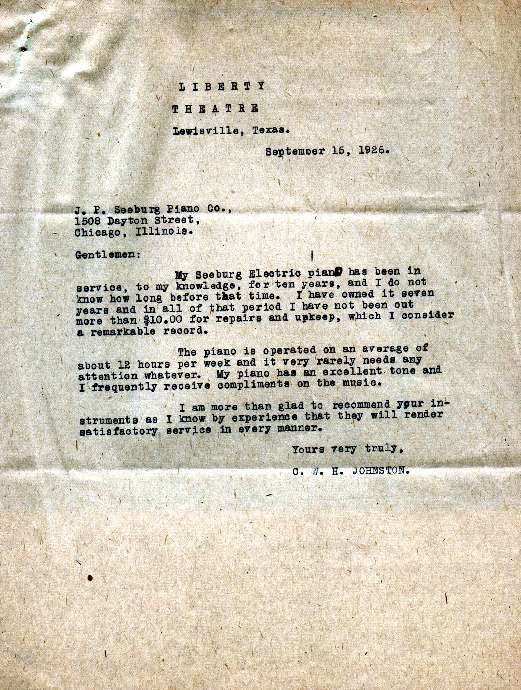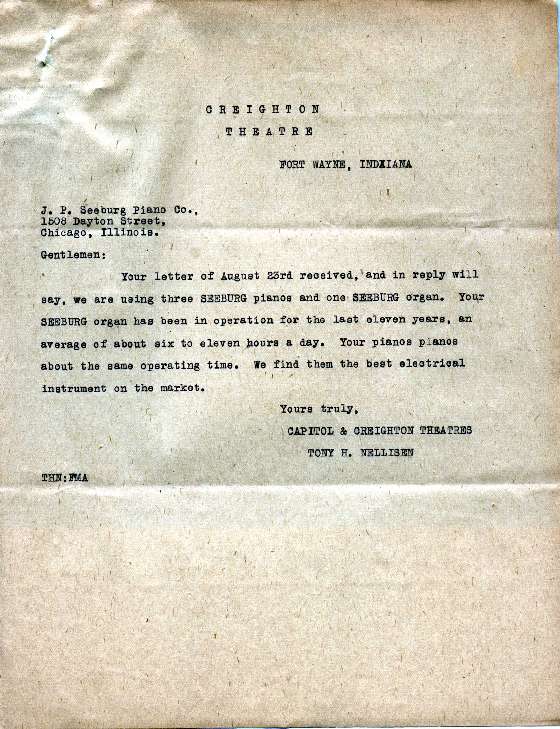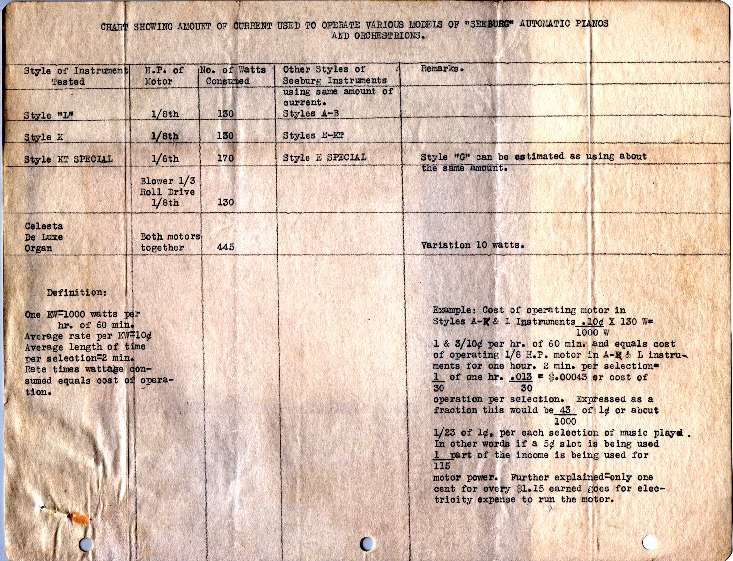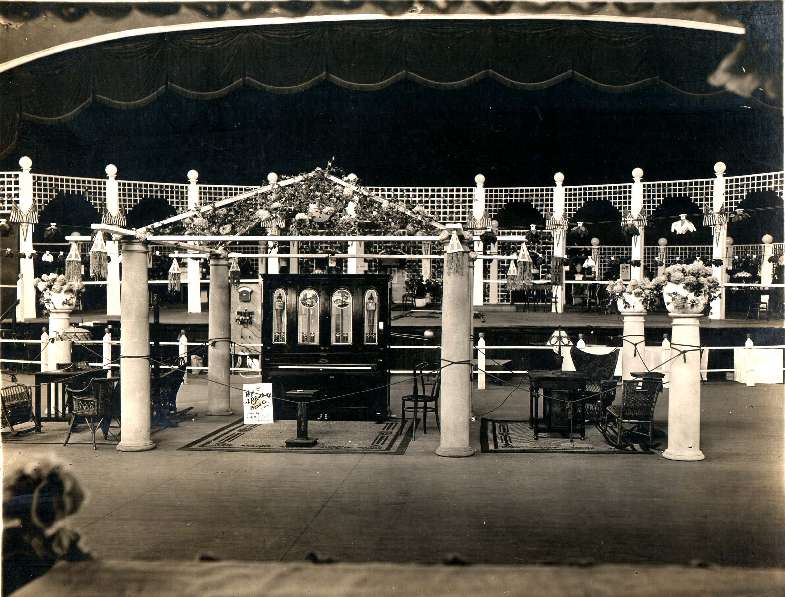 ---
14 July 2000