Standard Pneumatic Action Company
by Robbie Rhodes
Illustration: Saturday Evening Port, March 1921 -- Courtesy Damon Atchison
Text: The Music Trades, October 1926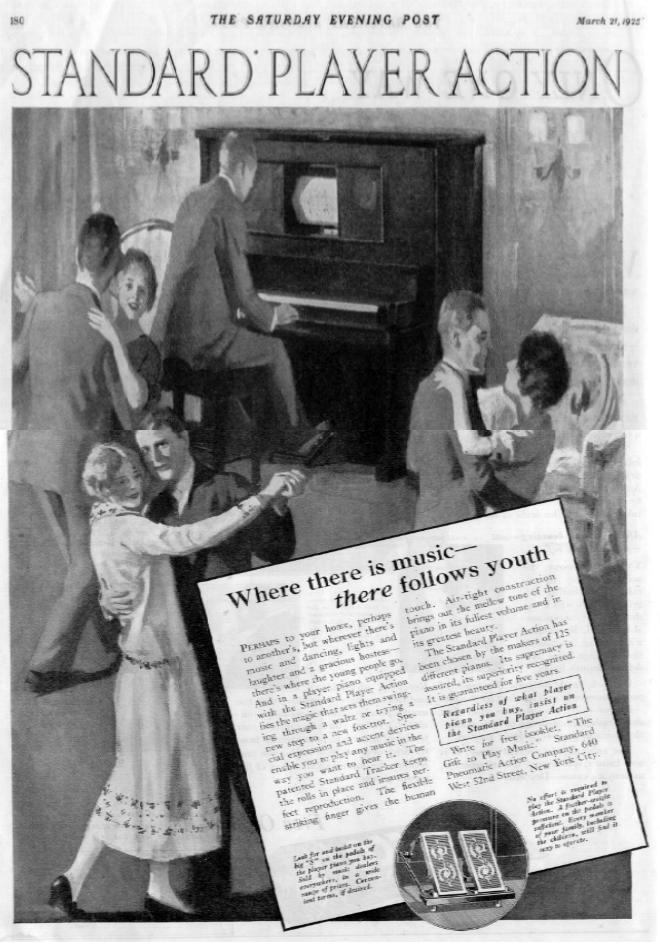 ---

October 9, 1926

Standard Pneumatic Action Co. Player Piano Playing Contest
Awakens Interest of Trade
___________________________________

W. Sinclair Duncan, Springfield, Mass." Tuner, Writes His Experiences
—Says Dealers Can Increase Player Sales by Proper Demonstrations —
One Player Owner Thought Bass and Treble Buttons Were Dummies

WITH the contest inaugurated by the Standard Pneumatic Action Co., New York, in which prizes were awarded at the Tuners' convention, Chicago, to tuners best able to demonstrate the player-piano, a matter of vital consideration to the music trade has been started, in the opinion of dealers and tuners. That this is recognized is evident from the following letter received by the Standard company from W. Sinclair Duncan, a tuner of Springfield, Mass.:
"If there is anything that I can say or do to help you in your campaign for better players and more business, you are at liberty to mention it in the manner you see fit," Mr. Duncan prefaces an interesting incident.

"A customer recently told me that the way in which I operated the player-piano was a revelation. She had never been aware of the wonderful effects that could be produced on a player, for no one had ever told her how to do it. She even thought that the soft bass and treble buttons were dummies.
"I told her that she had a technical musical giant at her command and that she could make it do her bidding. It was waiting for her to say how she liked to play her songs and dances. She must be the dictator, not it.
"Now, I have been on the selling end of the business, as well as the tuning end, and I will give you some facts and results from experience in this connection. I was at one time a tuner in a large piano department. The manager told me to see if I could adjust the stock of three players so they would stay right for a day. He didn't like them; said they were too mechanical—hurdy gurdies. He said nobody would buy them, and he had only sold two or three. There were a number of salesmen, but neither they nor the manager knew anything of music. When a prospect came in they put a roll of jazz or ragtime and ground it out—that was all there was to it.
"Of course, these players didn't sell. Customers had heard too often the tune of the jay with a monkey and organ.

"I remonstrated with these salesmen and told them they never could sell players with that kind of music and playing. They laughed when I put on a classic and broke up the tempo; but my playing drew people from all over the store. They thought there was some great pianist performing. They were very much surprised when they found the music came from a player-piano, and said they had never heard such good music from a player before. They asked what make of player it was.
"I told the manager that if he wished to do a player business he would have to let his players be heard and let them be heard in a manner to show the best they could do.
"After about three months' entreating I was permitted to move a player with a Standard player action and in fine shape onto a small balcony in the center of the store. It was a Saturday afternoon and a full house. I had a program of the best classical numbers to bring out the capabilities of the player, and I knew them and my player from A to Z.
"Very soon the interested ones came climbing up the steps to the balcony where there were seats, and I could hear their remarks as they got nearer:
" 'Why, it's a player-piano! I would not have believed it. I never heard one like that before. It doesn't sound the least bit mechanical.'

"There they sat, stood and crowded around the whole afternoon, and I frequently had to stop playing and answer questions. I handed likely customers over to the salesmen in waiting, and the department had the good fortune to book three good sales from that experience. Needless to say, we have had recitals on many afternoons since that time; and having been made manager of the department, I was careful to see that no one should be allowed to demonstrate a player unless he were thoroughly competent.
"I collected fifty of the most attractive selections produced and kept these rolls ready at all times. They were rolls that would show the wonderful possibilities of a player and which the novice would make to sound attractive when he was shown how.
"Now, tradesmen, this is the player question multiplied to its greatest drawing capacity. The experiment has grown into an immense reality today."
---
14 March 1999