Homemade 'Pistonola' Player Action
by Steve Bentley (000226 MMDigest)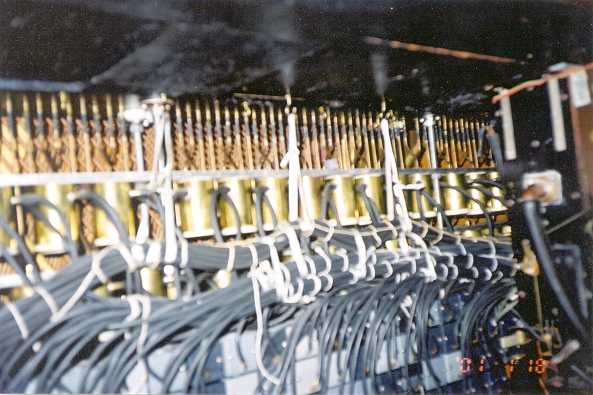 There two racks of pistons. At the extreme right you can just see the roll frame and governor
behind. The roll frame is hung under the keyboard. The 'Pistonola' 88-note piano was built
in 1973 when I had access to a lathe on board ship. It's a project I would never do again!
I have a 'Pistonola' of my own design. When I bought my piano it was not a player, so to do something different (I had heard of the Pistonola) I made my own, using two racks, each one offset .
The pistons are 1-1/2" diameter brass and have "O" rings for the seals. The pistons are Delrin. 20" water gage suction gives approximately 3.2 pounds force. I am thinking of featuring this in the AMICA magazine if they so desire, plus my perforator.
Steve Bentley
Vancouver BC
26 Feb 2000 14:40:15 -0800
---
28 February 2003