List of Tunes for Capital Cuff Music Boxes
by Kevin McElhone (050206 MMDigest) & Lelland Fletcher (050207 MMDigest)
photos by Lelland Fletcher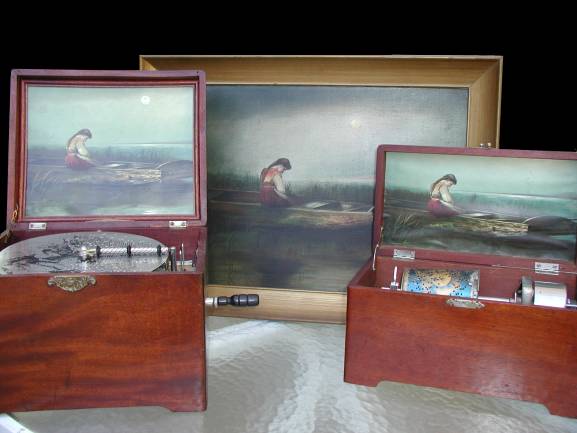 There have been only _three_ postings in the last 5 years about Capital Cuff boxes! One was a request for a valuation, a single response. I would like to compile a tune listing of the cuffs. I need to know the size of cuff -- A, B, or C -- the number and the title.
I would also be interested to hear from people who have seen instruments to know the serial number of the instrument, e.g. A157, which should help indicate how many were made. (The serial number is found underneath the case and is also stamped into the cast iron bedplate.)
Does anyone have a scan of the lid picture? It's damaged on one that I have access to.
Sincerely,
Kevin McElhone
6 Feb 2005 07:43:32 -0000
---
In reply to Kevin McElhone's request. I have an "O" model Capitol Cuff box, which has the same movement as the "A" model. The serial number is 07 on the baseplate. The dimensions of the cuffs are 4-1/4 x 3-3/8 x 2-1/4 inches, which is the same as the "A". (See Bowers, p.140.)
I have 12 cuffs and the titles and numbers are listed. However, some numbers or words are non-decipherable.
? Wine, Women and Song
#10 ? - March
#31 ?
#34 The Darkie's Dream
#41 Sweet Marie
#63 Dainty - Caprice
#71 Push De Clouds Away
#73 Ting a Ling Ting
#96 Isabella Waltz
#102 Marguerita
#123 She May Have Seen Better Days
The picture inside the lid is the same as shown on page 137 of Bowers' Encyclopedia. I will send a photo of it along with the same picture in an Olympia box I have and also an oil painting of the same picture. I have been trying for some time to find out more information on the picture. Hope someone can identify the artist and the subject. I think it is a young lady harvesting wild rice, perhaps on a lake in Minnesota, eh? Maybe some MMD'ers can help.
Hope I have been of assistance.
Cordially,
Lelland Fletcher, San Diego, Calif.
7 Feb 2005 01:10:27 EST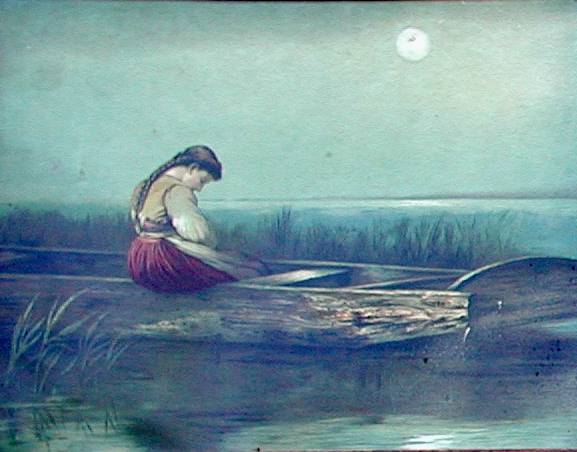 ---
7 February 2005