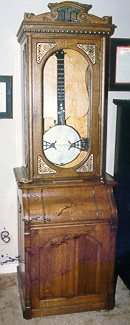 Encore Automatic Banjo
courtesy Don Teach
The Encore Automatic Banjo was marketed from 1897 until about 1907, largely by the American Automusic Company of New York City. This company, controlled by W. Scott O'Connor of the Connorized Music Co., also provided the music rolls for the instrument.
The photo shows an Encore Banjo machine made by David C. Ramey of Lynwood, IL. Dave is a noted restorer of coin operated music machines. Several years ago a garage full of Encore Banjos was discovered. Dave bought what was literally boxes and boxes of parts, as the machines had all but rotted to the floor. Dave then proceeded to replicate the Encore Banjo. Everything was made new. He has made close to thirty of these replicas.

---
30 August 1999