Rolmonica Player Harmonica
photos by Ingmar Krause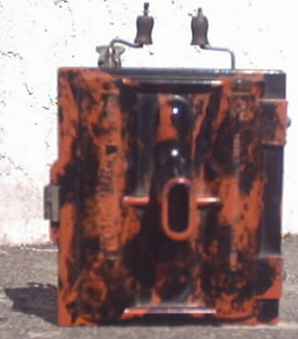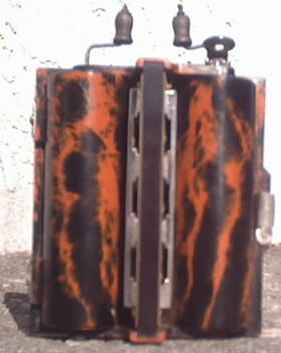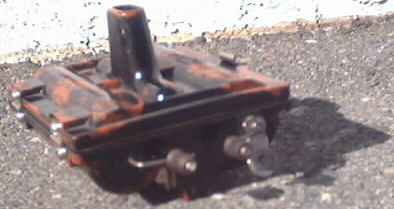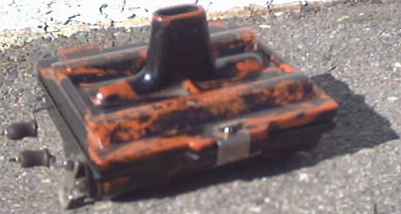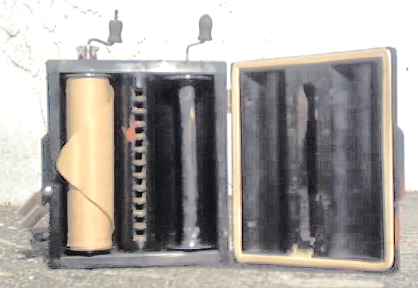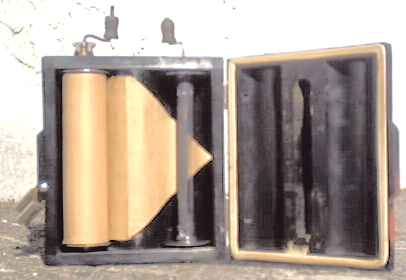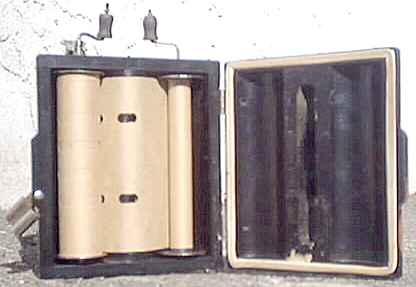 --------------------
Date: Sun, 17 Feb 2002 21:53:25 -0800
Subject: Rolmonica Repair and Seek Rolls
I have been checking the Archives but, besides someone saying that he'd set up the production of Rolmonica rolls, there is nothing much to be found.
I'm currently trying to help a friend. I have his Rolmonica in my hand. He says it must be way old, as his grandfather used to play it when in his 40s and his dad just passed away a few years back in his 90s. It is one of the 12 reed models.
It had a problem with one of the cranks which had been bent; I carefully re-adjusted that, but now I still have a few more problems:
- I need rolls for him (he only found one, which I broke during testing. :(( He thought he had like four more, but can't find them.)
- The rolls must be _with_ spool, as the only spool with a roll on it seems to be of the wrong format and therefore doesn't roll smooth enough -- not to speak of rewinding! Impossible!
- It doesn't seem to seal properly, but as the instrument is in mint condition I wouldn't like replacing the rubber ring.
- On the opposite side of the tracker bar there are two pieces of cardboard: one on the left end and one on the right end of the trackerbar. Both have a rather rough surface, which -- along with my moist blowing -- caused the rather aged roll to break. I'm not quite sure of the purpose of those and I also wonder why it doesn't cover in an "O"-shape all around the trackerbar, which would make the seal much much better...? The shape it looks like now is:
"n"
u
Odd...
- As I'm not positive if this red-marbled piece is made from wood or plastic, I wonder if a tiny drop of oil on the cranks will do any harm...
greetings by(e) A_InK - Ingmar Krause
Victoria, BC, Canada
Erlangen, BY, Germany
--------------------
Date: Tue, 19 Feb 2002 18:44:35 -0000
Subject: Rolmonica Player Harmonica
Ingmar Krause asks about the Rolmonica, which is the sort of instrument that all collections should posses, if only for novelty value rather than musicality!
The red marbled case is typical of the Rolmonica made in early 1928 in Baltimore and made out of Bakelite, an early type of plastic. The words 'Genuine Bakelite' are moulded into the back of the front piece. The flange around the rear face of the front piece is fitted with a white rubber seal, which even if perished, as mine is, will still seal effectively and should not be replaced.
The main body contains the roll and take-up spool, and the harmonica which is fitted behind the tracker bar and is held in place by a small pin at each side. The two pieces of card mentioned by Ingmar are not part of an original instrument, if he means that they are in the main wind cavity. If they are behind the tracker bar then they may be intended as some sort of seal onto the front of the harmonica, but even so should not be visible through the note holes, and therefore not susceptible to spit. The harmonica should make a tight seal against the back of the tracker bar with a single gasket.
The rolls have a width of 83 mm and are _very_ thin, as Ingmar has discovered to his cost. The roll is mounted onto a metal-ended spool with cheeks of 24 mm diameter and an outside width of 85 mm. The ends are female with a cross slot on the right hand drive end. The roll runs off the bottom of both roll and take-up spool. A spring in the left hand end of the take-up spool ensures a small degree of back tension whilst re-rolling.
I suggest Ingmar checks the fit of the harmonica behind the tracker bar and that all the reeds are present. This should ensure a leak free instrument. I've seen rolls for sale on eBay, but beware damaged rolls, as this easily occurs if the instrument is not in perfect condition. I think Ed Schmidt was cutting the 16-note rolls so it may be worth a try in case he can supply the 12-note size as well.
Even well known tunes can be difficult to play well enough that they can be recognised by the listener, but it is still a fun toy to play to your guests!
Kind regards from Great Britain,
Nicholas Simons
--------------------
Date: Tue, 19 Feb 2002 09:14:47 -0500
Subject: Rolmonica Repair and Rolls
Ingmar Krause asked about Rolmonica rolls and repairs. Currently I have 110 different Rolmonica rolls available. They are all copies of the original rolls. They can be purchased with or without new spools and boxes. Individual titles are printed on each box. A listing of the titles can be found at http://www.music-rolls.com/
In regards to the Rolmonica questions, the Rolmonica was made of Bakelite. A drop of clock oil at the cranks and on the spring-loaded pin that holds the roll will definitely help and will not harm the instrument.
There should be a rubber gasket completely around the edge of the case and not in a 'D' or 'U' shape. I am not sure what the cardboard end pieces are. I have not seen them on the Rolmonica I have had.
Ed Schmidt
Schmidt's Music Rolls
http://www.music-rolls.com/
--------------------
Date: Tue, 19 Feb 2002 11:14:29 -0800
Subject: Rolmonica Repair and Rolls
Hello Edward, on 19-Feb-02 you wrote, "There should be a rubber gasket completely around the edge of the case and not in a D or U shape. I am not sure what the cardboard end pieces are. I have not seen them on the Rolmonica I have had."
I was writing about the rubber gasket and that I do not intend to remove it, but to keep it as original as possible. The cardboard is at the inside of the instrument on the inner side of where you blow into.
There, on opposite side of the trackerbar, it is in that shape "with a gap". See the gap between the "n" and the "u":
n
u
If there is usually no cardboard on opposite side, I'll consider removing those two pieces for good.
Thanks so far! I will make a picture and send it to you, and I will let you know about the titles. What is the price for rolls with spool and box?
greetings by(e) InK - Ingmar Krause
Victoria, BC, Canada
Erlangen, BY, Germany
--------------------
Date: Wed, 20 Feb 2002 20:21:57 -0800
Subject: Rolmonica Repair Parts
There is absolutely no reason for you to continue using 70-year-old gaskets on your Rolmonica. Unless you have unlimited lung capacity, you will wear out playing it. It will be leaking all over. Besides gaskets, the other main reason for it being so leaky is the reed flaps. Make your Rolmonica play like new with very little work.
As some of you know, I had a die made to make replacement gaskets for the Rolmonica out of coroprene or cork/neoprene gasket material much like the original. I also had a roll of rubber tubing specially made to exactly duplicate the door gasket. I am offering a complete "gaskets only" set for the Bakelite-enclosed Rolmonica for $12.00.
For this you get not one but two 1/16"-thick tracker bar gaskets along with two of the rectangular gaskets, as well as the white natural gum rubber tube gasket that glues all around the Bakelite door.
In back of the metal tracker bar is the gasket with the holes, and the harmonica is behind that. This gasket is sometimes 1/16" thick and sometimes 1/8" thick, so I send two 1/16" thick gaskets. For the thick gasket glue the two together.
The back side of the metal tracker bar has a rectangular gasket that seals around the back of the harmonica. I will send two of these just in case that gasket is also thicker.
The white gum rubber tubing gasket is identical to the original. You get well more than is needed. Just clean off the old rubber and glue the new one on in one long piece with burned shellac or plastic glue ('Tacky Glue'). Splice the ends together just like the original.
Or, just send me a whole $20.00 and I will send you the gaskets above plus the flap valve strips to rebuild the two brass reed frames. I will send you more than you need so you can mess up or drop a few and still get the job done. Once again, they are glued on with burned shellac or Aleens Tacky Glue. These I have to make up for each job.
The metal Rolmonica unit, which is later and painted green or brown, also uses the tracker bar gasket but does not need the tubing gasket since there is no door to pressurize. That one also needs the flap valves as well.
I only sell one set which will rebuild any of the Rolmonicas I have seen. I have heard about a larger version but that one is rather rare. My gaskets are not made for that one.
Gaskets only: $12.00
Gaskets and Flap valves: $20.00
Postage is included. It will be shipped by US mail in a brown padded envelope. At these prices I only need to sell 450 sets to make back the money I spent on the special made items. <LOL> Email me if interested.
Natural gum rubber is known to last over 50 years but it won't last forever. Rebuilding the Rolmonica just got much easier.
D.L. Bullock
St. Louis
http://www.thepianoworld.com/
--------------------
---
05 March 2002