New Edison Cylinder Recording of Street Organ
by Philip Jamison (030409 MMDigest)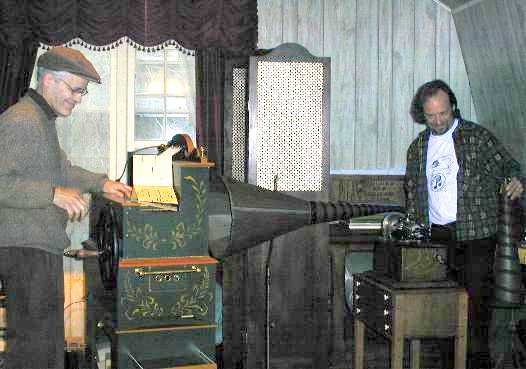 Last weekend, I participated in an unusual recording session. Peter Dilg of New York recorded my 27-key Odin street organ (with me singing along) on an Edison wax cylinder. This occurred at Chet Ramsey's music box/phono showroom in Coatesville, Pennsylvania, in advance of the Delaware Music Box & Phonograph Show produced by Paul Baker. Twice a year, Chet has a pancake breakfast and flea market in advance of this show.
Peter had a special cutting machine assembled from various old parts. The principal difference from a regular cylinder record player was the large iron flywheel to keep the speed even. An octagonal horn, about two feet long and ten inches diameter, was placed about two feet from the organ pipes. The recording was cut onto 2-minute brown wax cylinders, carefully pre-warmed under an infrared heat lamp. I knelt between the organ and horn, singing the French music as clearly as possible. Peter watched the setup closely while brushing away little slivers of wax. A separate machine was used for playback. I was surprised at the sensitivity of the apparatus.
Comments (positive, of course!) after the song from those in the room were clearly recorded. A listening tube "headset" provided an amazingly sharp reproduction of the original sound. After a few trials, an acceptable recording was made and presented to Chet. Nice to know old technology is still being preserved.
Philip Jamison
9 Apr 2003 19:05:53 -0400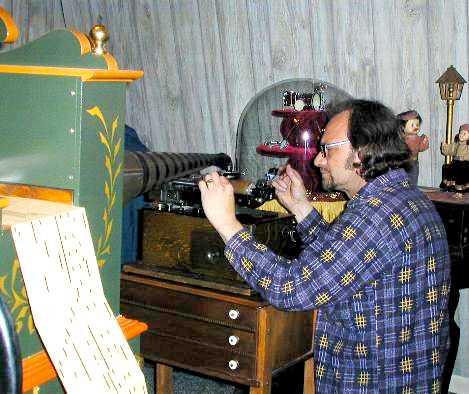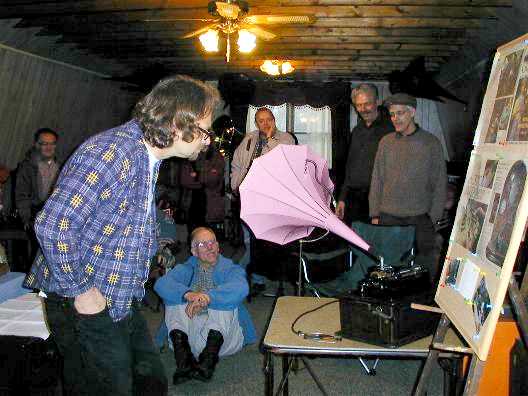 ---
09 April 2003