International Karakuri Contest
by Kazuo Murakami (041207 MMDigest)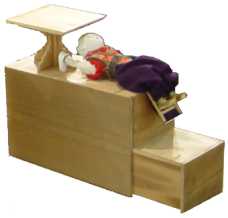 Subject: Seek Contestants for International Karakuri Contest
Dear MMDers, I think there are many automata enthusiasts or makers of the mechanical devices among MMD readers who will be interested in the first-ever International Karakuri Contest, to be held during the 2005 World Exposition -- EXPO 2005 -- in Aichi, Japan.
The staff members of World Karakuri Contest asked me to inform foreign people, in order to gather excellent contestants, so I will write the information here in the MMD discussion board.
This is the first time world-wide contest of the karakuri. "Karakuri" means some kind of mechanism in Japanese, and the definition of the karakuri for this contest is as follows:
Karakuri are contraptions borne of unique imagination and creativity, as well as an impish sense of fun, that are made to move by some kind of mechanism or systems. The point of karakuri is not to compete with other devices to see which has the superior or higher precision mechanism, but rather for its workings to cause enjoyment, surprise, laughter and fun among people (i.e., the audience).
You foreign makers who are interested in this contest, please see the schedule of the contest. The URL is http://www.karakuri2005.com/en/data/a05_01.html
There are two points of the above schedule:
1. Primary examination will be conducted in June, 2005. A production assistance grant of 100,000 Japanese yen will be paid to those who successfully pass the primary examination.
2. The deadline for submitting secondary exam material is July 31, 2005, and the secondary examination will be conducted in mid-August.
Those who successfully pass the secondary examination will demonstrate their entries on September 18 and 19 at the Expo venue in the public examination part of the contest. Further details will be provided at a later date. Organizers will arrange airfares and accommodation.
I think that this is a good chance for foreign makers who would like to show their excellent works to people and get the prize to fly to Japan!
Murakami Kazuo, Otsu, Shiga prefecture, Japan
(Kazuo is my first name)
Date: Tue, 7 Dec 2004 12:27:27 +0900

More about the International Karakuri Contest at http://www.karakuri2005.com/en/index.html and subordinate web pages.
See photos at the Japanese site, http://www.karakuri2005.com/jp/index.html and http://www.karakuri2005.com/jp/data/a01_01.html
Other interesting web sites about karakuri: http://www.karakuri.info/ (English expanation of karakuri), http://www.karakuri.info/dashi/ , http://www.csuohio.edu/history/japan/japan06.html , http://www.csuohio.edu/history/japan/karakuri.html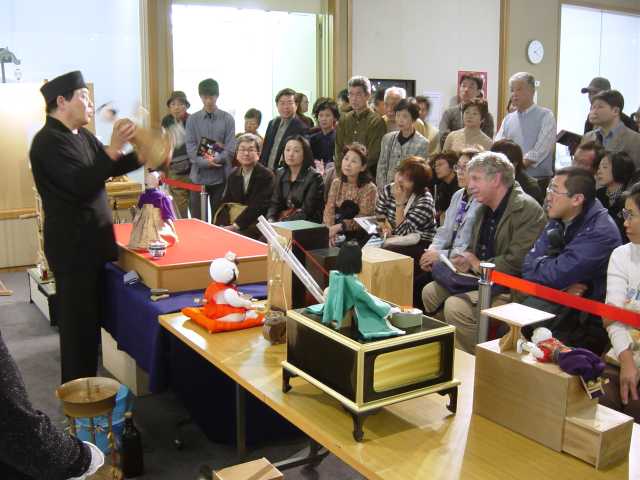 I took this photo in the small exhibition hall in the National Bunraku Theater (Japan's National
Puppet Theatre), Osaka, Japan. The man who is performing his karakuri to the audience is my
friend Mr. Minesaki. The event was held from November 6th to December 4th, 2004, and
displayed Mr. Minesaki's works and his karakuri collection. He performed his karakuri on
Saturdays, Sundays and holidays during the exhibition period.
high-resolution image karakuri01.jpg (595 kb)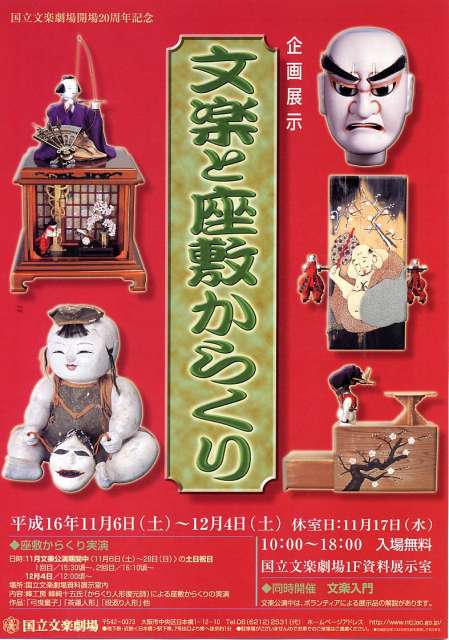 Flyer advertising the karakuri exhibition at National Bunraku Theater,
November 6th to December 4th, 2004.
high-resolution image karakuri03.jpg (230 kb)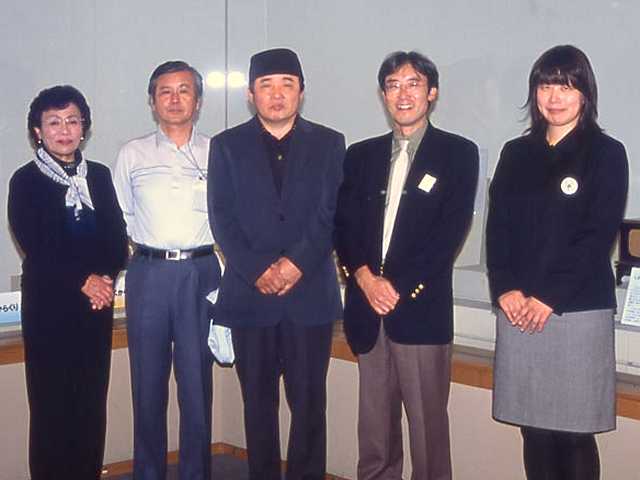 The man who stands second from the right is me.
---
07 December 2004