Wurlitzer Style 148 Band Organ Brass Pipes
by Bill Klinger (090411 MMDigest)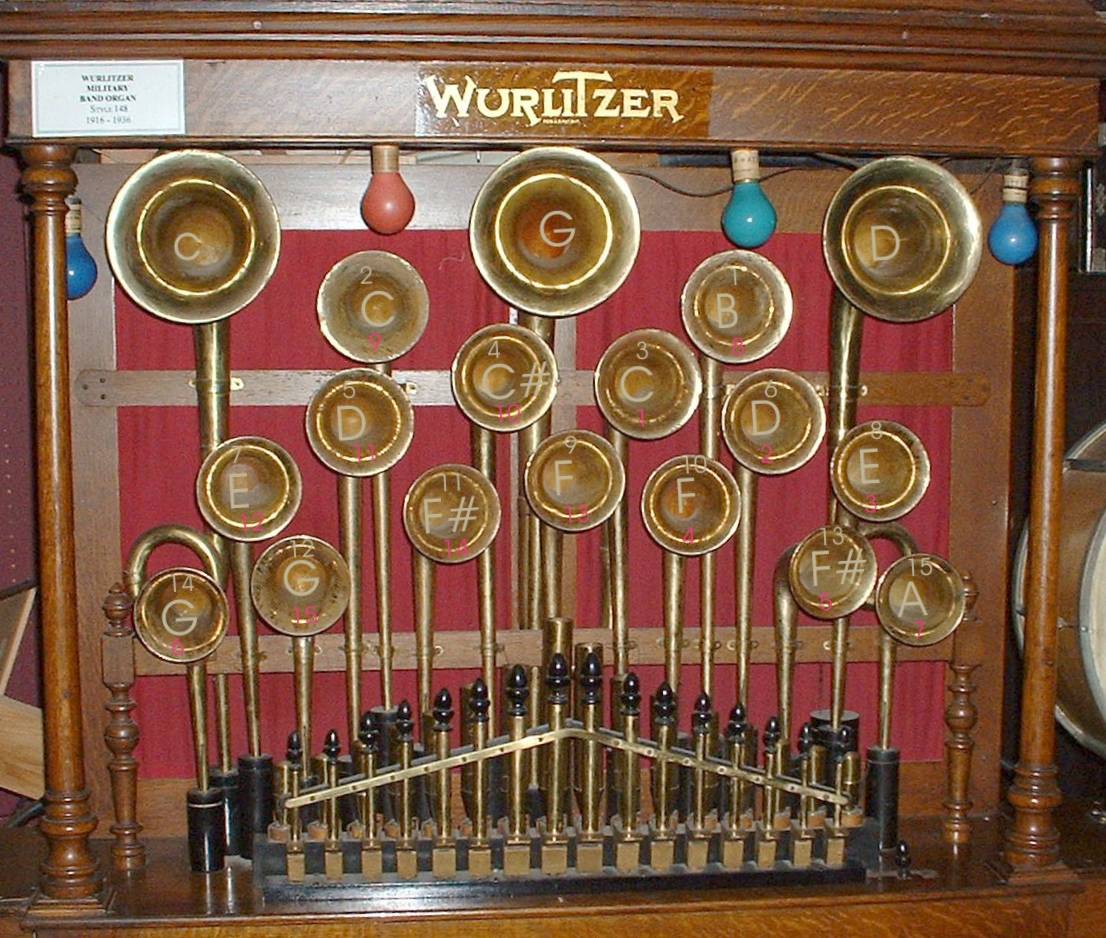 In 090410 MMDigest, "Tuning North Tonawanda Band Organ", Alan Erb wrote: "A set of brass has some half-length resonators, and it is imperative to get correct resonators assigned to their proper note and octave."
To further an understanding of the resonator length of the Wurlitzer and North Tonawanda brass resonators, here is a photo of the Style 148 Wurlitzer Military Band Organ displayed at DeBence Antique Music World in Franklin, Pennsylvania. I used PhotoShop to overlay the note name, note number and position on each bell. As you can see in the photo, the two longest, smaller resonators are actually in the middle of the range. In organ terms, these are 'harmonic' or double length resonators. It is quite common in church organ trumpet and tuba ranks to go double length on the treble pipes.
In the Wurlitzer and other band organs, to get the nice symmetry in the display, the length of the foot sticking out of the reed boots are a variety of lengths. This aligns the fronts of the bells into the nice display. If you were to lay out the boots in order, the shallots continue from large to small without any apparent break where the resonators go from full length to double length.
Bill Klinger
Flippin, Arkansas
11 Apr 2009
See Blll's earlier article about his brass trumpet resonators at http://www.mmdigest.com/Archives/Digests/200803/2008.03.28.05.html
For further reading see the technical article by Johan Liljencrants at http://www.mmdigest.com/Archives/Digests/200004/2000.04.18.06.html
Other related articles about resonators and brass trumpets are indexed at http://www.mmdigest.com/Archives/KWIC/R/resonators.html
and http://www.mmdigest.com/Archives/KWIC/T/trumpet.html
-- Robbie
---
13 April 2009