Wilcox & White Recording Piano
by Dave Krall (030807 MMDigest)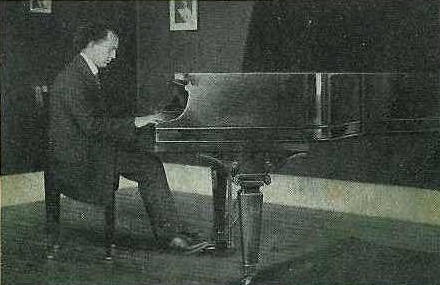 Here is a photo of pianist Gottfried Galston at the Wilcox & White recording piano (in the original recording studio on the top floor of the Wilcox & White factory in Meriden, Connecticut) which was used to record the Artrio Angelus and Artrio Voltem rolls.
Can anyone identify the make of piano based on the architectural elements of the case? I am guessing the piano itself dates from around 1910. From this picture it appears that the piano was of fairly decent size, perhaps close to 7'? Wilcox & White player mechanisms were installed in Janssen, Bradbury, Emerson and Knabe (and perhaps other) pianos.
Dave Krall
06 Aug 2003 22:47:04 +0000
---
15 August 2003