Wilhelm Bruder Soehne Model 79 Organ in UK
by Andrew Leach (010307 MMD)
A picture is attached of my Wilhelm Bruder Model 79 48-keyless organ. I am very keen to try and trace its history. It is exceptional as it came to me in virtually original condition -- the only things that appear to have been done were some crude repairs to the bellows, and some of the pipes were taken out at some time in its history and put back in the wrong order! (It must have sounded awful!)
Anyway, I am restoring it completely and being very careful not to alter very much of its originality. It is extremely rare to find such an original instrument of any make these days. Everything is there, nothing is missing. There is about one hour of original Wilhelm Bruder music with it also.
So far I have restored the case work, the pipework that resides under the case, and I have finished the bellows, which were particularly difficult due to their poor state but they are like new now. The crank shaft is away being reground and new bearings being made. I am now working on the windchest.
There are some beautifully made pipes in this organ, in fact some of the best I have ever seen, and I have been restoring and building organs for 40 years. But they are very dirty and will need a lot of careful cleaning. Also some wonderfully large-scale trombones and a lovely looking wooden trumpet, which sits on the Forte chest with a very complex looking mixture of 2 ranks of many different pipes including quite a few harmonic pipes (i.e., with nodal holes).
I don't think there are any other Model 79's in the UK, and the only other Wilhelm Bruder Soehne organs have all been butchered in some way or another. Mine is completely original! By the way, the recent message from Joe Stey on MMD about the Ruth barrel organ was interesting to me; apparently my organ was owned by a Mr. Stey in East Germany, from a circus.
Andrew Leach
<aleach@easynet.co.uk>
Date: Wed, 7 Mar 2001 13:30:42 -0000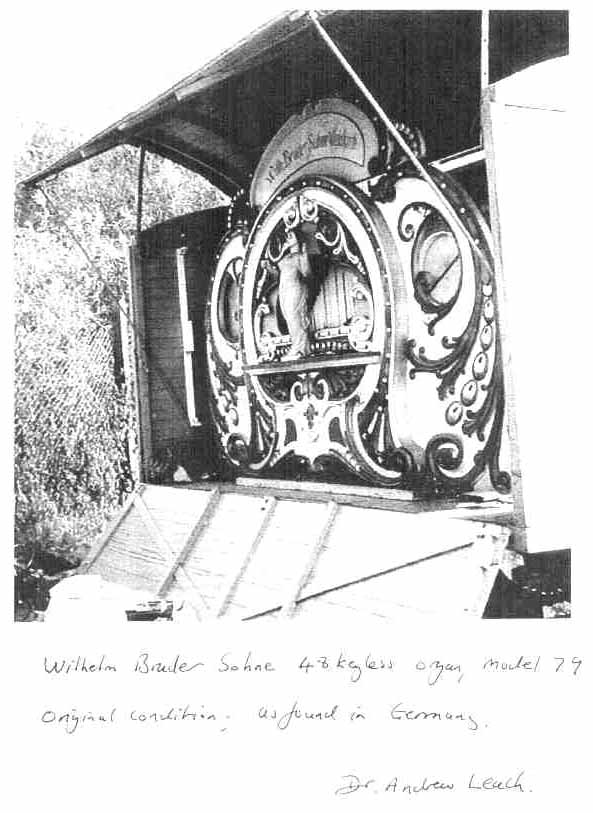 ---
7 March 2001