Mills Violano-Virtuoso
"Eight Greatest Inventions" Card
courtesy Don Teach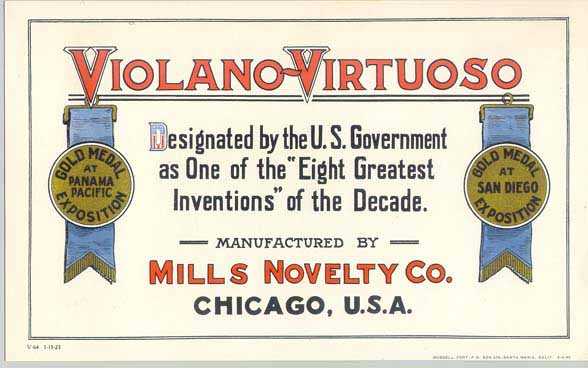 (High-resolution image: mills8Greatest1_LZW.tif
TIFF LZW image format 1,633 kb)
In the lower right corner of the image is this tiny legend bearing a date of 1966:

The story at http://www.tomsdomain.com/travel/short/mussell.htm explains that printer and publisher Elwin Mussell of Santa Maria, California, built a personal showplace named "Mussell Fort" and reminiscent of Ghost Town at Knott's Berry Farm, Buena Park, CA. The story says, "The road into the fort was originally a trail blazed by Douglas Mussell using hand tools on weekends and during vacation from junior high school."
Although a Mills Violano-Virtuoso isn't mentioned, the story says that "The Board & Room house has a brass double bed and 1924 Hamilton Manuelo player piano. This latter was the first player piano Douglas Mussell obtained for his now extensive collection of player pianos."
---
3 April 2002