Nelson-Wiggen Decal
by Monica Jones (130916 MMDigest & subsequent)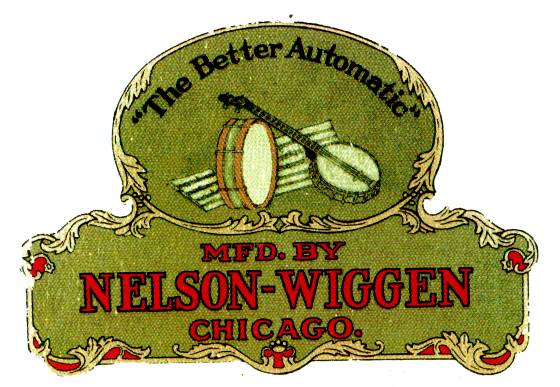 Click here to view the high-resolution image (1,953 kb, 600 dpi).
A recent discussion about Nelson-Wiggen labels lead me to suggest that I should be able to photograph the label on my 4X, clean it up with Photoshop, and then print it on inkjet printable decal paper (used often for model railroads, etc). As I started working on this, I realized that our scanner was a much better tool than the camera, and that the decal I have is so sheer that I can see the brass screws of the xylophone through it. I'm sending the scanned decal (no clean-up editing yet).
I also wondered what was available on-line, and I have found nothing at all that looks like mine. There are no copyright or trademark marks on the decal, so I have no idea how old my decal actually is. I am betting it isn't original, but who knows! One old message on this list did mention decals that sounded a lot like mine, but it was from 1997.
I would like to know: (1) What era or style or whatever is my current decal? (2) Is this artwork still under copyright?
I will happily share my Photoshop results if I won't violate someone's copyright.
My biggest goal here is to be able to clean up the image and save it for later, since at some point I may need a new decal! Having done that, it would also be nice to know what I have and if I can share it with others.
Thank you in advance for your help,
Monica Jones
mjones@orbitaltransit.com.geentroep [delete ".geentroep" to reply]
Date: Sun, 15 Sep 2013 23:08:45 -0700
--------------------
Nelson-Wiggen Decal Colors
by Don Teach (130918 MMDigest)
Several restorers of nickelodeon pianos have been working on having the Nelson-Wiggen decal reproduced. The first problem was getting art work done for a water transfer type decal, as we all wanted to make a decal that was as close as possible to the original. We now have the art work, done by a professional graphics artist.
We have talked with one old-time water decal manufacturer in the USA only to learn that a minimum run of 100 decals is rather costly.The decal is at least a four-color [printing] process plus the back color to mount it on a piece of glass.
We are close to having these done and there is one small problem: half of us think the primary background color is a green color and the other half thinks it is blue. What is your vote and why?
Don Teach - Shreveport Music Co
Shreveport, Louisiana
Date: Wed, 18 Sep 2013 18:06:56 -0500
--------------------
Nelson-Wiggen Decal Colors
by Art Reblitz (130918 MMDigest)
From: orchestrion@comcast.net.geentroep (Art Reblitz)
To: editor-1201@mmdigest.com, mjones@orbitaltransit.com.geentroep
Date: Wed, 18 Sep 2013 19:55:58 -0600
Subject: Nelson-Wiggen Decal Colors
The problem isn't identifying the color of one original decal. Different original decals exist in different colors, so the problem is deciding which one to reproduce.
Is it that hard to make two different decals, some with a pale pastel green tint, and another batch with a pale pastel blue tint?
Art Reblitz - Reblitz Restorations
Colorado Springs, Colorado
Date: Wed, 18 Sep 2013 19:55:58 -0600
--------------------
Nelson-Wiggen Decal Colors
by Monica Jones (130918 MMDigest)
So much information has come from my simple request! First, I should explain in more detail how I obtained my image.
Removing the glass from the nickelodeon allowed it to be scanned. However, it's sheer nature required a backing to be put behind it. Having done this sort of thing before, I did it with both black and white backing paper. I found that one method clarified the edge damage, while the other made the fine lines "pop", such as on the banjo. Then, using my Photoshop skills, I found that overlaying the two images gave me a very good indication of what the decal on the machine actually looks like! The color in the image you have all seen is, perhaps, just a bit darker green than what I see in real life.
Laurence Leonard kindly sent me a photo of his Nelson-Wiggen label in place, and it looks much whiter than the label on my machine does. I realized only just now that his machine has a white item (the music roll?) _behind_ the sticker. Between that and the possibility of camera flash, etc., causing whitening of the label, I am now more certain that my label is the color it was supposed to be, but I cannot rule out yellowing from light exposure or age.
Finally, that color is green -- not a common green, but more like a cross between lime green and mustard yellow. The gold edging is also a muted gold, more mustard yellow or golden tan than gold (and also not shiny). The pixelation you see in my picture is on the actual decal. It is not an artifact of the scanning, and is doubtless an artifact of the [half-tone screen] process that made it originally. It almost looks like they obtained the color they desired by using dots of both a green and a gold or yellow. I was going to remove that in Photoshop as well.
My intention was to use this material to make proper decals: http://www.micromark.com/clear-decal-paper-for-ink-jet-printers-5-sheets,7942.html
I've used it before (granted, it's smaller and simpler on an HO model train), but it would be worth a try before you went so far as to pay for expensive custom decal printing. (It also comes in a white version which would block light on a glass-mounted decal, but would require a lot of very careful trimming.)
I don't need a new decal now, but if I ever do, I want to have one I could use.
Monica Jones
Date: Wed, 18 Sep 2013 19:11:15 -0700
---
18 September 2013