l'Odeola Piano Pneumatique
par Lorraine Aressy (010125 MMD)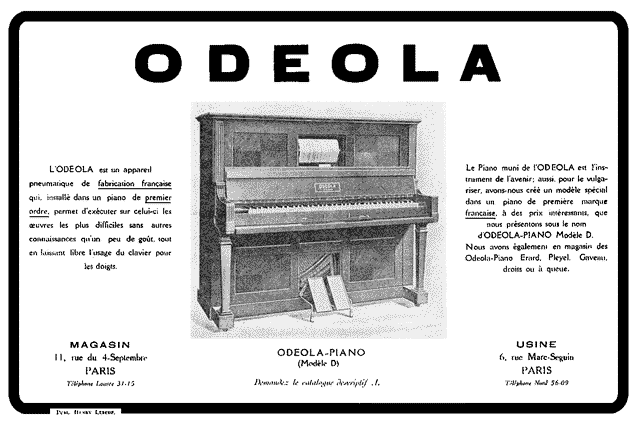 The ODEOLA is a pneumatic device of French manufacture, installed in a first-class piano, which enables performance of the most difficult works with no other knowledge than a little taste, while leaving the keyboard free to use the fingers.
Ask for descriptive catalog A.

The Piano provided with the ODEOLA is the instrument of the future; also, to popularize it, we have created a special model in a piano of a premiere French brand, at interesting prices, which we present under the name of ODEOLA piano Model D. We also have in store the Odeola piano Erard, Pleyel, Gaveau, uprights or grands.
Advertisement from the French journal "L'Illustration", circa 1919.
Here is some information about the player piano Odeola which has recently been discussed on MMD.
Odeola player piano advertisements may be found in the deluxe French journal "L'Illustration" from about 1919 (upright players) to 1929 (large and beautiful instruments), with an avertising peak during 1923-1924. In 1930, they advertised no longer about player piano but instead record-playing machines.
The 88-note player mechanisms equipped either Odeola pianos or great French makes, such as Erard, Pleyel and Gaveau, which were well-appreciated by the middle class folk of the time. The commercial shop was in Paris, at 11, Rue de Quatre-Septembre, and the factory was at 6, rue Marc Seguin. About 30 agencies were to be found in important cites (Lyon, Bordeaux, Nice, Monaco...), also in African colonies at Alger, Oran or Tunis. Branches were in Bruxelles and London.
They sold a large choice of rolls under their Odeola name but these rolls were punched by l'EMP (l'Edition Musicale Perforee), so the catalog numbers are the same for the two editions.
Attached to this message you'll find several pages from a booklet about "How to play the Odeola", and two advertisments dated 1919 and 1923.
In conclusion, many Odeola player pianos survive today, kept by families because of their good quality. Their trade logo was a cockerel crowing the phrase, "Je chante et tiens bon" ("I sing and hold up well"), for their musical quality and sturdiness ("solidite et robustesse" in French). And I submit these words which accompanied another advertisement:
"L'Odeola est au piano ce que l'Hispano-Suiza est à l'automobile!"
Amities de France
Lorraine Aressy
Perforons la Musique
Date: Thu, 25 Jan 2001 15:00:32 +0100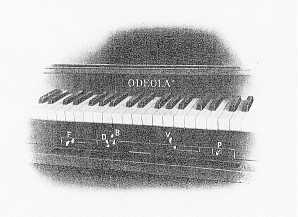 High resolution images:
odeoAd1.jpg (226 kb)- 1919 advert
odeoAd2.jpg (212 kb) - 1923 advert showing pedal grand piano
odeoCocq.jpg (502 kb) - the Odeola cock & piano roll leader
odeoFas01.jpg (95 kb) - user's manual, cover
odeoFas04.jpg (270 kb) - user's manual, pg. 4 & 5
odeoFas06.jpg (250 kb) - user's manual, pg. 6 & 7
odeoFas08.jpg (264 kb) - user's manual, pg. 8 & 9
odeoFas10.jpg (255 kb) - user's manual, pg. 10 & 11
odeoFas12.jpg (216 kb) - user's manual, pg. 12 & 13


ODEOLA
11, Rue de Quatre-Septembre, Paris
------------
"The ODEOLA is the only player piano on which everybody
can express their musical feelings as precisely as with the hands."
------------
"The ODEOLA is to the piano as the Hispano-Suiza is to the automobile!"
------------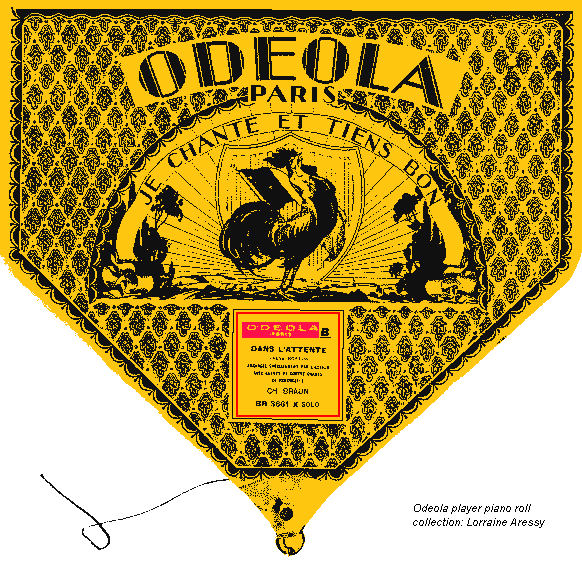 "I sing and I hold up well"
---
le 25 janvier 2001, le 07 février 2001