Symphonion (Leipzig) Musical Box Disc Case
by Karl Petersen (091124 MMDigest)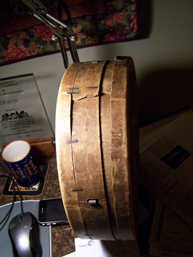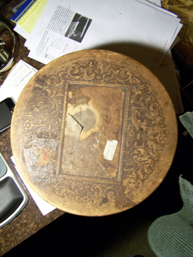 My Symphonion Nr. 4, a 27 cm disc playing musical box, came with two discs so I acquired more at auction from the collection of the late Ralph Heinz. These came in a pressed cardboard band box. Not being immersed in music box lore and hardware, I had never seen a box for discs, before nor since.
It is of 1.5 mm pressed cardboard, 32 cm diameter, 8 cm high. The side wall is a simple band wrapped with a narrower band. The top and bottom are lipped over like jar lids, butting against the narrower band. The two bands and the bottom are combined permanently with flat staples about 4 mm wide and 13 mm long. Four handle or cord sleeves are at quarter points. The lid is embossed on top with an ornate pattern including a panel for 105 x 170 mm label. The back and sides are flat, not embossed. It appears it had a light coating of shellac or varnish.
I can just see the neat Reichspost carrier bringing this cord-wrapped glossy package to the door and someone untying the cords, opening the lid to be amazed at the shiny shellacked discs -- perhaps a present from a proud father, in Leipzig on business, to the whole family.
I am curious about two things for which I would appreciate replies.
(1) The label has a printed border with a narrow block at the top for "Absender" and the rest seems to be blank. The sender was Bernhard something and the recipient Leo something in Posen which was in Prussia. It would be good if someone who is better at recognizing place names and old script could decipher the remaining smudges and tell me what the names are.
(2) The second thing are three labels which are about 40 to 70 mm squarish and seem to have been on translucent paper. They bear large numerals in bold print. Two use black ink and one a bright red-orange. The largest has a place name of Posen ... below the number 722, one is smaller and reads 113, and the orange one is partly covered by the one for Posen. I am guessing these are postal routing stickers. I suppose Prussia was pretty well organized one hundred years ago and could have had a postal routing scheme. They could have been little else!
Yes, I guess there is a third thing. How would cord be threaded through the bands to secure and carry this box? They certainly would not have gone to the trouble of installing the loops if the cords were just to dangle from them.
I include photos of the box and its labels, and hope this piques the curiosity of German speaking historians.
Karl Petersen
Boise, Idaho
24 Nov 2009 13:23:06 -0700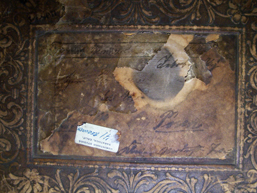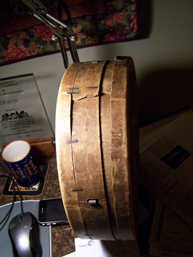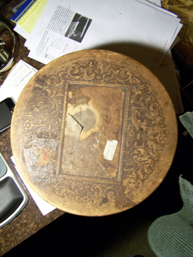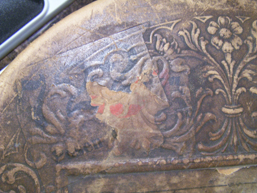 ---
25 November 2009