Early Wurlitzer Pianino Has Wind Motor
by Don Teach (060708 MMDigest)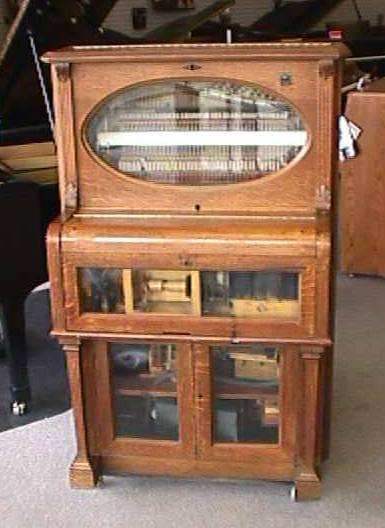 The Pianino as I received it. It is serial number 9485, the oldest Pianino
I have seen. It is missing several key parts that I am wanting to find.
I just bought a Wurlitzer Pianino that has been for sale for some time. It appears that it is true that a sucker is born every minute. I wanted this Pianino for two reasons. First reason: It had rolls with the machine. Second reason: It's a very early model and perhaps the only one known with oval shaped glass and legs on front of the case.
There is a picture of this very early model in the Q. David Bowers book "Put Another Nickel In", on the bottom of a page showing a showroom. The picture is reversed in one instance with the bass strings on the right side. There is also a twin to this machine in "The Encyclopedia of Automatic Musical Instruments" on the bottom of page 669 that I do not know the location. The one I just bought has an oval window.
Does anyone know anything about this early Pianino? It is missing the pump and the motor. It may have been worked on in Minnesota or Michigan. This early model has a wind motor roll drive that is original, the later models used belts from the pump.
There are many other differences in the various pneumatic components that changed over the years of production. The pump bellows were moved with a gear standard in most Wurlitzer coin pianos with the very early ones using a crankshaft with two offsets.
This is a very early model of which I know of only one in existence today. According to the Ron Bopp book on band organs, "The American Carousel Organ", the deKleist Music Instrument Company sold $28,952 in 1904 and in 1905 sold $100,313 worth of Pianinos. That is a lot of Pianinos and one should wonder where they are today. I am amazed that so few of these early machines seem to exist today.
If anyone has knowledge of these early Pianinos then please write to the MMD, and photographs of any Wurlitzer Pianino are welcome so we can make a MMD page of Wurlitzer Pianinos. I currently have a Race Horse Pianino at home. Does anyone know of another race horse model?
Thanks for reading this plea,
Don Teach
8 Jul 2006 10:49:12 -0500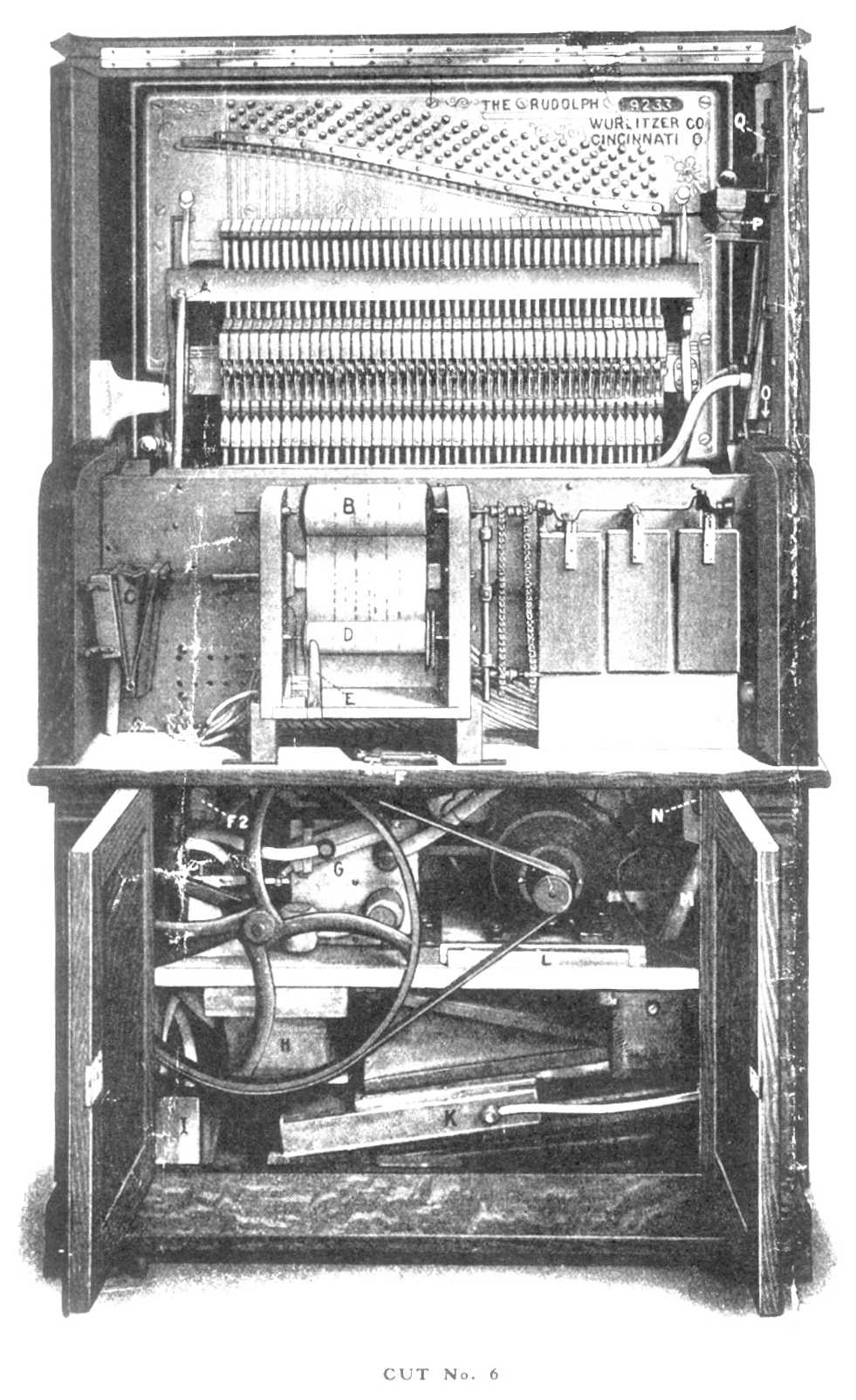 ---
8 July 2006, 27 July 2006