Cast Valve for Player Piano
Resembles a Locomotive
by Robbie Rhodes (020325 MMDigest)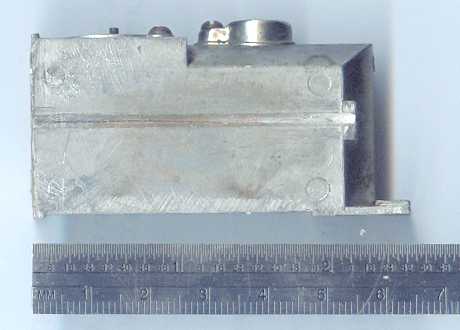 John McClelland found a handful of these cute cast metal valves in someone's junk box in Texas. Now they're in John's junk box in California, still awaiting identification. They look like little Diesel locomotives; molded in the casting is "Patent Pending".
Viewed like a locomotive, the casting measures length 2.530", width 1.065, height 1.340 to the top of the "smokestack".
The rear face is clamped against a wood manifold which supplies vacuum to the lower chamber and provides a passage from the upper (valve) chamber through the wood to a pneumatic. Inside, at the far end of the wood pouch block, is a bleed cup between the pouch chamber and the vacuum chamber in the middle. The visible hole in the wood block is for the tracker bar connection. The valve core assembly is reminiscent of Standard Pneumatic valves.
The width of the casting is such that it would have been used in a two-tier pneumatic action. On on side you can see where the sprue has been cut and filed, so it's either an elegant sand casting or else an injection molding. After painting they might make cute locomotives for an HO scale model railroad.
Robbie Rhodes
25 Mar 2002 15:47:37 -0800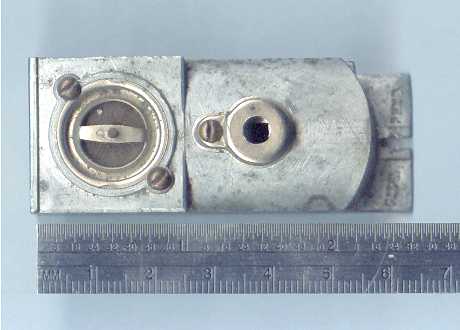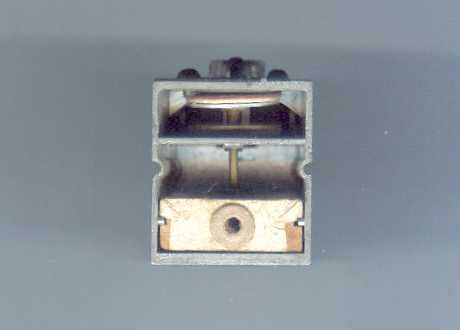 ---
25 March 2002