Music Roll Perforator
by Dave Saul, Precision Music Rolls
From: saul.d@ix.netcom.com.geentroep (Dave Saul)
To: rolls@foxtail.com
Date: Sun, 9 May 1999 12:40:41 -0500 (CDT)
Subject: Precision Music Rolls' Perforator
Thanks to Richard Tonnesen for sharing the pictures of his perforating
machine and reader.
Richard and Janet have advanced the art of roll making to a high
state of perfection. They are indeed a hard act to follow for anyone
aspiring to enter the roll making field. All of us owe Richard and
Janet a debt of gratitude for the great job they have done, and con-
tinue to do. And to say that they are kind and gracious people would
be an understatement. They've been very helpful to us in getting our
Precision Music Rolls operation started and up to speed.
Since the Tonnesens were kind enough to share photos of the Custom
Music Rolls perforator, I thought it might be reasonable to do the same
with ours here at Precision Music Rolls. Two JPEG digital images are
attached.
This machine has an interesting history. The perforating machine,
along with a pneumatic reader no longer in service, was built in the
1970s by Jim Winslow, a former AMICA member and an expert machinist and
toolmaker. About five years ago, I acquired it from him. Extensive
rework was performed to enhance reliability and bring everything up to
modern standards.
The machine is now fully computer operated and set up to perforate
rolls directly from Wayne Stahnke's proprietary WEB files. Each of
these contains an exact electronic image of an original roll's punching
pattern. These are functionally equivalent to masters used for factory
roll production. Copy degradation is not a factor when a master is
used to make new rolls.
Precision Music Rolls is now offering a selection of popular Ampico
music from the 1930s, and will be happy to e-mail a list of available
selections to anyone who requests it.
We are also fortunate to be perforating rolls for Karl Ellison of New
England Music Rolls, including the rediscovered Jelly Roll Morton
performance of "The Pearls". Check out Karl's web site for this one,
it's Morton at his best. (Please don't contact us for any of Karl's
rolls, they're available exclusively through New England Music Rolls.)
Dave Saul
Precision Music Rolls
[ Right-click or shift-left-click to view image full size.]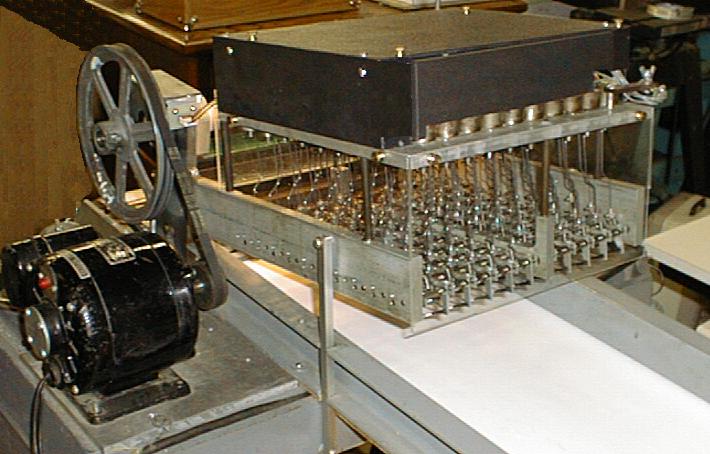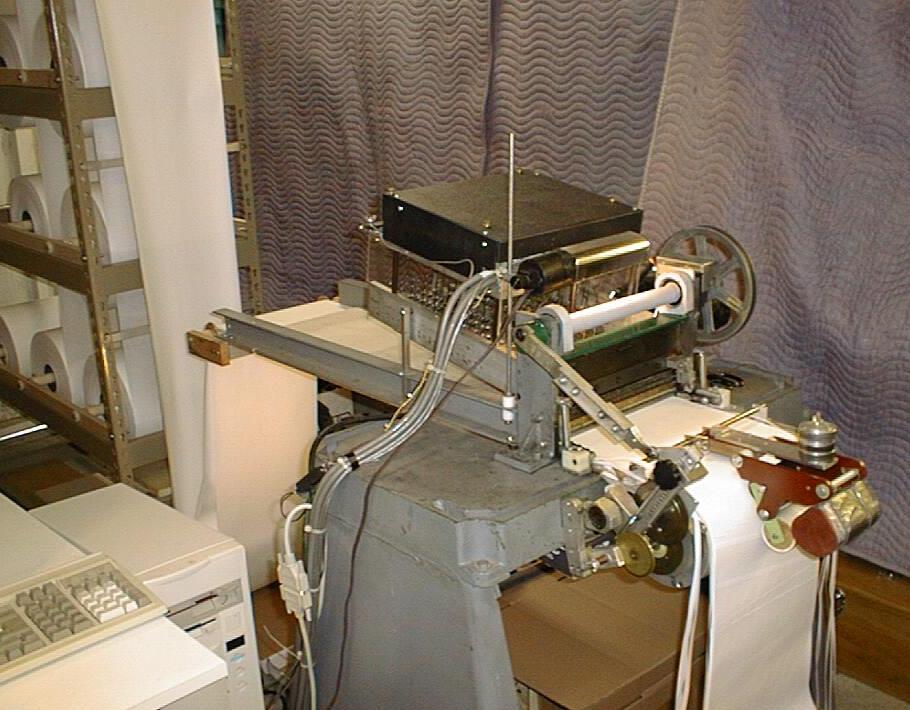 ---
11 May 1999