Seabreeze Park Carousel Organ
by Rick Inzero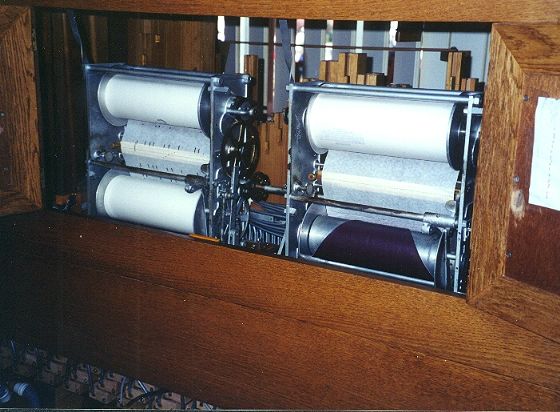 In summer of 2000 I met Matthew Caulfield at Seabreeze Park, Rochester, N.Y., and he happened to have the back of the Verbeek band organ open. I snapped these photos of the lower and upper guts that are visible when the wood cabinet panels are open. The Verbeek organ is loaded with two rolls at a time, one plays while the other rewinds, allowing for uninterrupted music.

(The images are displayed at 50%. Right-click and "View Image" for full size.)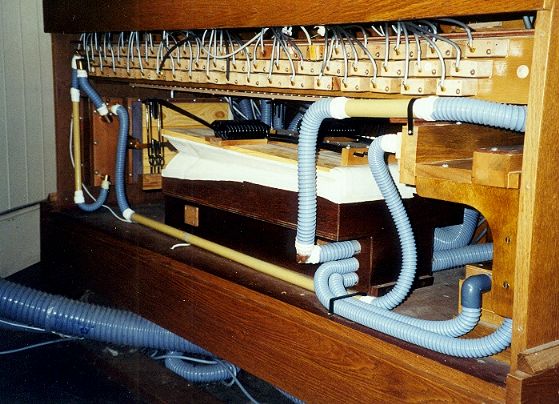 I was amazed at what a large vacuum source it takes to run a large organ like this. The vacuum supply hose is on the floor and it's almost as big as a clothes dryer hose! The vacuum source is in an adjacent room so you don't have to hear the noise it makes over the organ.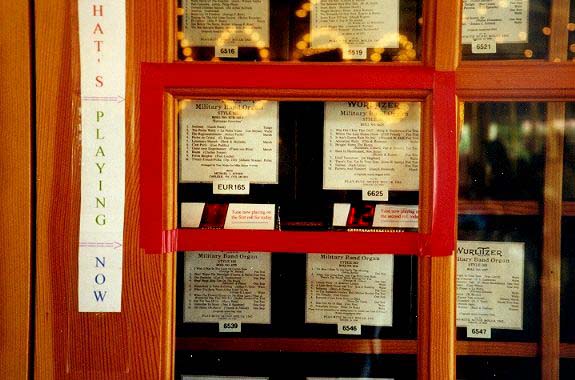 I also took a picture of the clever digital song counter that Matthew has rigged up to indicate to passers-by which song on what roll is currently being played. It sits in two slots of the big cabinet near the organ that holds the roll collection.
Matthew puts the boxes for the two music rolls that are currently loaded in the organ into the two slots behind the border of red tape. The labels on the box ends show the titles, and if you look closely, just under each of the two roll boxes are two light emitting diode (LED) number displays. He has hooked up a small pneumatic on the organ that trips when each song starts so a counting circuit increments to automatically indicate the song number that is being played. The display on the right (under roll 6625) currently says "12", indicating that the 12th tune is playing. The one on the left is blank because that roll is waiting to be played.
Rick Inzero
18 Mar 2002 07:51:02 -0500
See also "Seabreeze Park Carousel Organ" by Matthew Caulfield
---
20 March 2002