The Seeburg G, America's Definitive Orchestrion
by Tim Trager trager@idt.net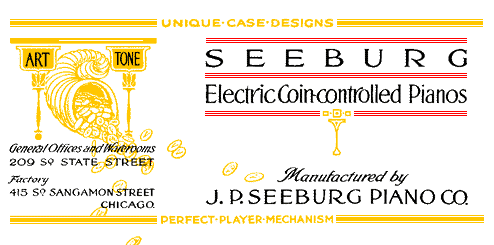 At collector gatherings, such as at the recent MBSI Convention in Philadelphia, I often get asked my opinion as to what is the "best" band organ, "best" dance organ, "best" disc music box, or "best" orchestrion. These questions are usually asked by people who are looking to purchase an instrument for their collection. They often have space and budget limitations. Thus the word "best" becomes relative to these limitations.
On the other hand, some mechanical instruments just intrinsically rise to the top. When you hear a finely restored example of such an instrument you just have to sit up and take notice! One such instrument is the Seeburg style G orchestrion. In my opinion, the Seeburg G is the definitive American orchestrion. It is a true American classic!
Many attributes put the Seeburg G on top. First, it is a very attractive instrument. The first words, inside J. P. Seeburg's first catalog, Art and Music, were, "Unique Case Designs". The catalog stated, "Experience has fully shown that a fine appearing instrument is a powerful factor in attracting people to the piano and consequently in swelling the revenue".
J. P. Seeburg was a student of art and the beautiful cabinet and art glass design of the Seeburg G proves this. Over the years, the cabinet and glass designs varied but all were beautiful from the earliest design with the birds and hanging lamps to the latest design with torches. For the MMD gallery I have included catalog pictures and photos of instruments from the Trager Collection.
The second attribute that makes the Seeburg G great is that for its size it has extensive instrumentation. The orchestrion has a piano, one large rank of violin pipes, another rank of flute pipes, a bass drum with additional tympani strikers, a mandolin rail, a triangle, and a cymbal. The violin pipes are crisp and nicely voiced. There is nothing quite as good as a G's harmonic flutes. Also a well-regulated G will have great percussion expression.
The third attribute that makes a Seeburg G superior are the spectacular arrangements found on the Automatic and particularly the Capitol "G" rolls. These rolls utilize the full range of the Seeburg G's instrumentation. There is a potential library of literally hundreds of G rolls. The arrangements are full, snappy, and cleverly done. In fact, the excellent syncopation can almost wear out your toe!
Everything that is wonderful about vintage American 1920's music comes forth when you listen to a well restored Seeburg G! I have spent many enjoyable hours listening to my late style Seeburg G. I have over 150 G rolls, and each and every one is very entertaining. I especially like the 700 series Automatic rolls and the Capitol rolls. Each time I listen to these rolls I hear something new. Consequently the novelty never wears off!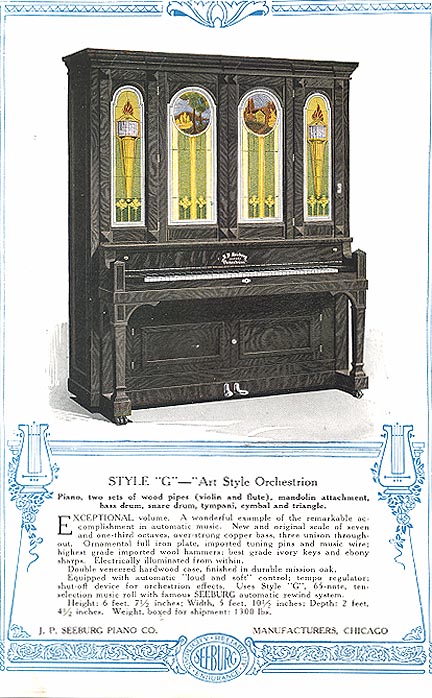 I still remember the first Seeburg G that I heard when I was just six years old, in the Bale of Hay Saloon in Virginia City, Montana. The instrument was captivating -- the snappy G brought the old saloon to life. The music spilled out of the swinging doors and down to the board sidewalk and street. Until I purchased a Seeburg G, I wore out several Virginia City records which featured the Bale of Hay Seeburg.
Later on I visited Svoboda's Nickelodeon Tavern in Chicago Heights, Illinois. Svoboda's was a paradise to anyone who liked nickelodeons. Al Svoboda was a Seeburg G fan and over the years he owned several. He even offered to sell me one. In those early days, Svoboda's was more fun than any toy store! Later on Seeburg G enthusiasts such as Art Reblitz and Dave Ramey shared their knowledge with me on great G rolls as well as how to best regulate a G.
I encourage all MMD'ers to make an effort to experience a Seeburg G, America's definitive orchestrion! There are about 40 Seeburg G's in existence including about 18 in the Chicago area alone. Nearly all are in private collections. Unfortunately I only know of two on public display. One is in Clark's Trading Post in Lincoln, New Hampshire. The other is in the MBSI Western Reserve display in Cleveland.
Also I do not believe that there are any currently available recordings of a Seeburg G. You can see such instruments by attending MBSI or AMICA events. For example attendees at the recent Philadelphia MBSI convention got to see three Seeburg G Orchestrions!
Seeburg G Orchestrions are still coming out of the "wood work". Collector Bill Harris recently found a gem in California. And just last week I saw pictures of clean original one that just surfaced in Utah.
I am always happy to discuss Seeburg G's with collectors. Also don't hesitate to contact me if you find a box full of unwanted dirty old original G rolls in your basement, local saloon, or antique mall!
Tim Trager
Trager@idt.net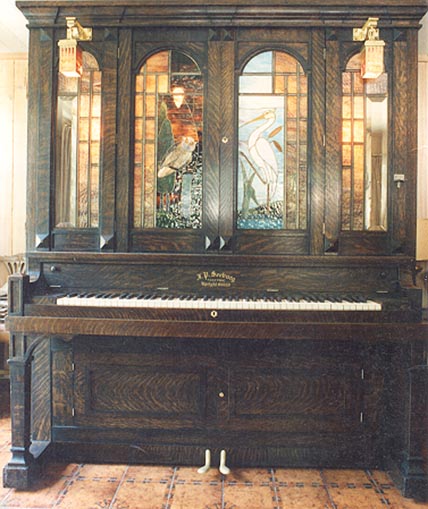 This early Seeburg G with birds and hanging lamps was originally in
the Sawmill Saloon in Virginia, Minnesota. (Tim Trager collection)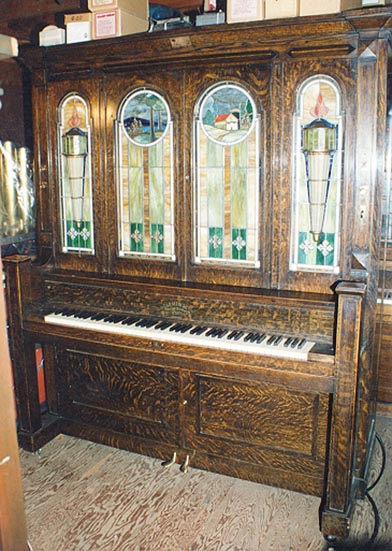 For many years this late Seeburg style G with the torches was part of
the Hamilton Collection of California, and for a while was on display in
the historic ghost town of Jerome, Arizona. (Tim Trager collection)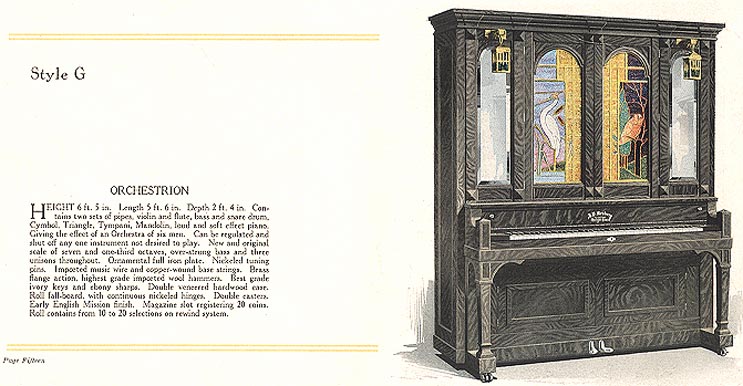 ---
Wed, 13 Oct 1999 21:16:53 -0500