Seeburg Mortuary Organ
photos courtesy Randolph Herr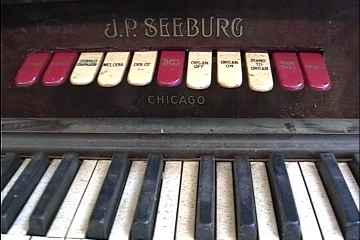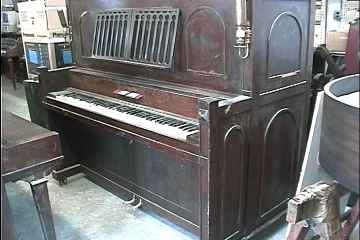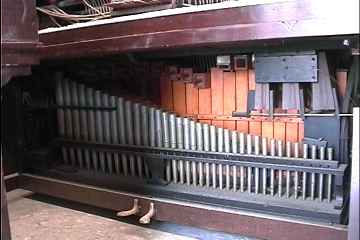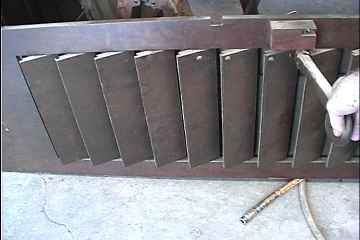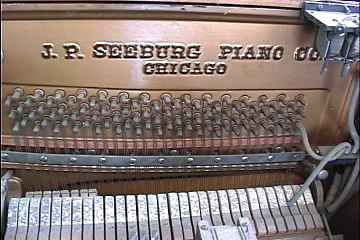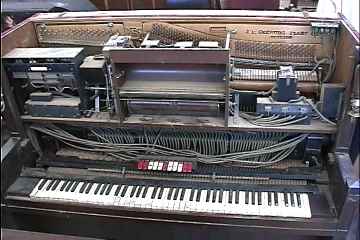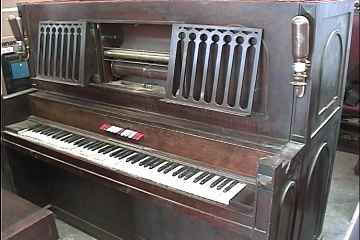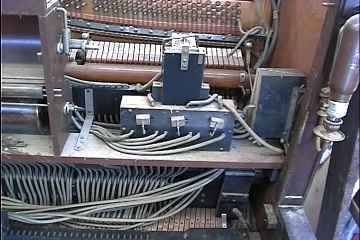 --------------------
From: rhayno@aol.com.geentroep (Randy Hayno)
To: rolls@foxtail.com, skgoodman@mindspring.com
Date: Thu, 4 Jun 1998 18:05:26 EDT
Subject: Seeburg MO Pump for Reproduco
My Seeburg MO has the identical pipework as the Reproduco. The rotary
pump is there to provide suction for the pneumatic system that reads
the roll and plays the piano. There should be a separate blower for
the pipes.
In the Seeburg both of the pumps are in a remote box about two feet
wide by four feet long by two feet high. Inside there is a rotary pump
and a blower both powered from a twin shaft motor. Mine is located in
my workshop under a work bench about 75 feet away from the organ and
works perfectly with no loss in pressure. I have a 3" and 1-1/2" PVC
pipe connecting the two. They are hidden outside along the side of
the house and come in through the wall.
Randy Hayno
--------------------
From: nlnatl@mindspring.com.geentroep (Norman Narmore)
To: rolls@foxtail.com
Date: Fri, 18 Sep 1998 20:19:48 -0400
Subject: Seek Seeburg MO Wind Chest
[snip]
Bowers' Encyclopedia says "The Style "MO," "Celesta," and "Celesta DeLuxe"
organs were made with one or two keyboards and were primarily intended
for the mortuary trade... These instruments use MSR rolls." (Basically an H roll
without the percussion and traps.)
--------------------
---
02 March 2002