Calliope at New York Museum of Transportation
by Craig Smith (090120 MMDigest)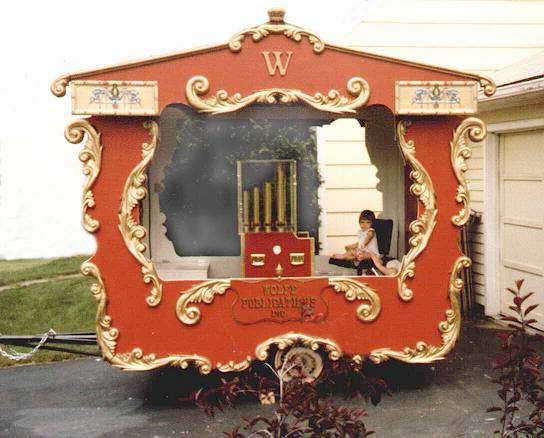 Oh Matt, While you were toiling away at the Library of Congress [before retirement!] I was busy building a calliope wagon for a local businessman, Andrew Wolfe, to use as a trade attraction for his business. Andy published the many local papers in the area around Rochester, New York, as well as things like the "Antique Trader".
Wolfe's calliope played 'A' rolls, most of them recuts from the Clark Orchestra Roll Company. That's fortunate because it allowed me to "play" it in parades for many years. I got pretty good at faking it so most people didn't suspect that it was really a player calliope.
I tried to arrange it so that the calliope was the last item in the parade. That way I could wait near the beginning of the route and watch the whole parade and then jump in the calliope as it went by and start "playing". This worked pretty well until I played in Honeoye Falls and the parade stopped for about five minutes on a narrow street where people could watch me from about eight feet away. I had quite a time convincing them that I was really playing the keyboard when they were watching that closely. As we finally pulled away, I waved to them with both hands so I could see the expression on their faces when they realized that I wasn't really playing at all.
Over the years I got Mr. Wolfe to buy quite a few 'A' rolls so I could play things the spectators and I liked. I hesitate to mention the time I forgot my earplugs and "played" for 1/2-hour with only tissue paper in my ears.
When Mr. Wolfe died, his family wanted to sell the calliope. They advertised all over but they wanted too much money for it. I suggested that they donate it instead, so it's been at the New York State Museum of Transportation, along with the trains and trolleys, for quite a few years. Unfortunately, they don't use it so the trailer is slowly dying outside, but I got them to bring the calliope itself inside so it is still in pretty good shape. I don't have a recording of my calliopedic artistry, but I'll send a picture of the Wolfe Calliope with me tickling the ivories (or in this case, plastics).
Regards from Upstate New York,
Craig Smith
20 Jan 2009 20:47:02 -0500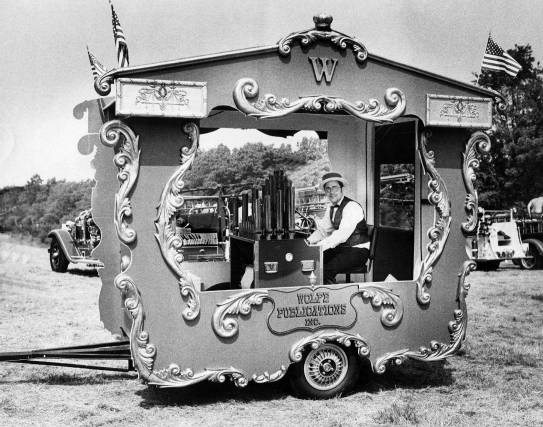 ---
31 January 2009