Carousel Organs at
Tilden Regional Park, Berkeley, California
compiled by Robbie Rhodes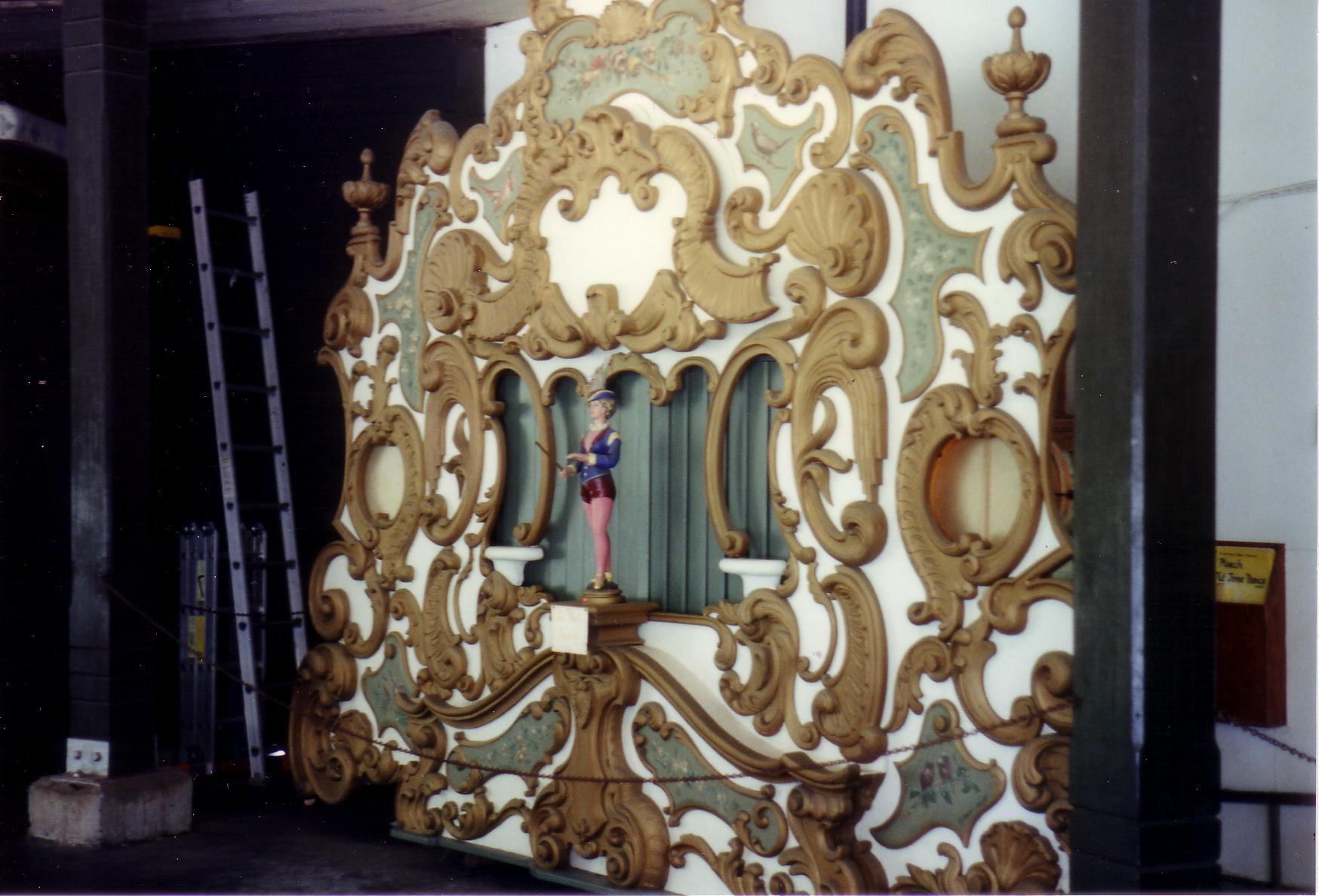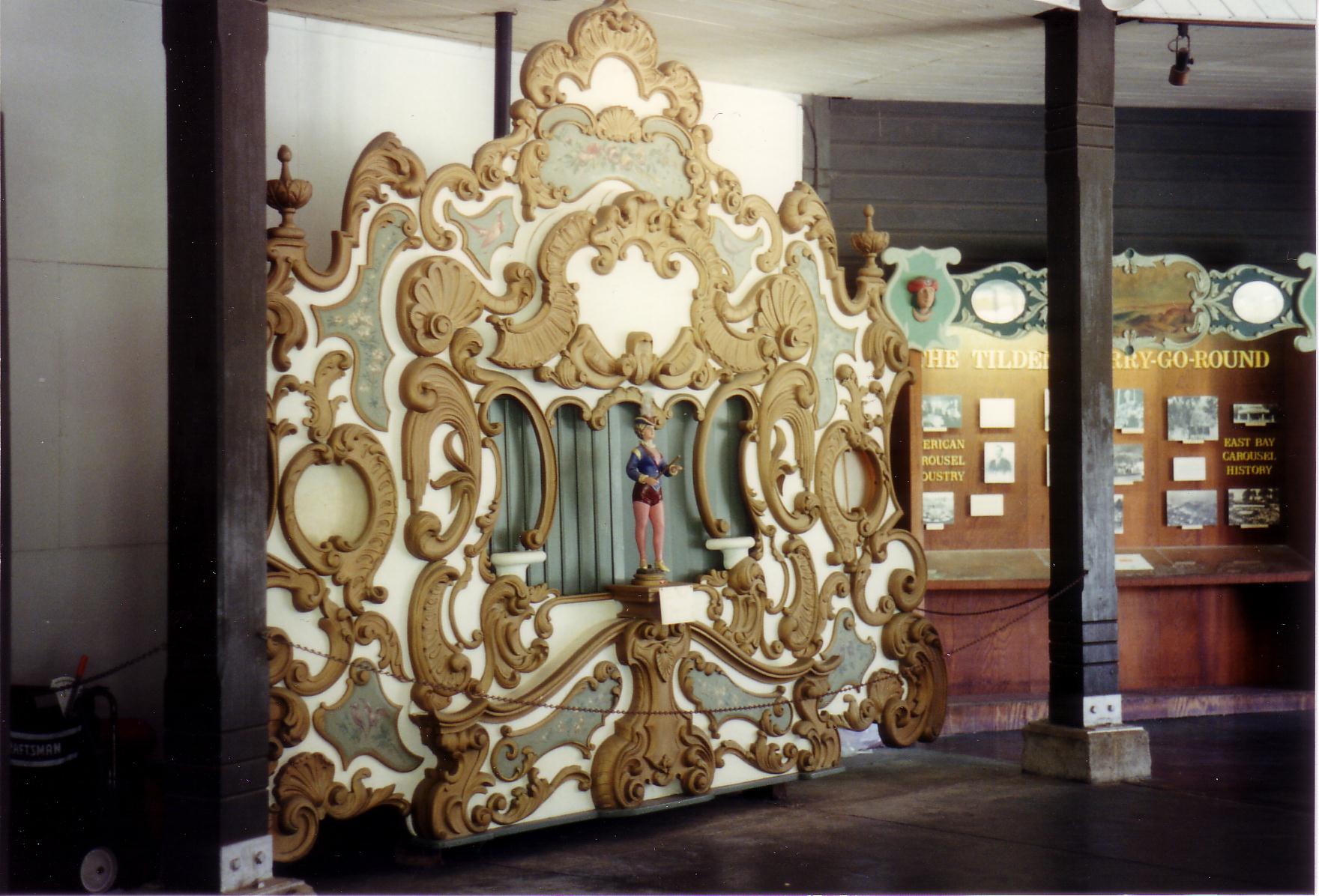 The larger (Ruth?) organ in 1991. Photos courtesy A.B. Bonds, who writes,
"When I lived in Berkeley, California, I would regularly make a Sunday pilgrimage up to
Tilden Park to watch the merry-go-round and listen to the organ. There are two in the
pavilion. The smaller one (runs on Saturdays) is in the middle of the carousel and is,
I believe, a North Tonawanda unit. The larger one is outside the carousel. The facade is
about 14 feet wide and 8 feet high. The pipes are contained in a shuttered swell chamber,
with percussion on top. All of the pipes are wooden."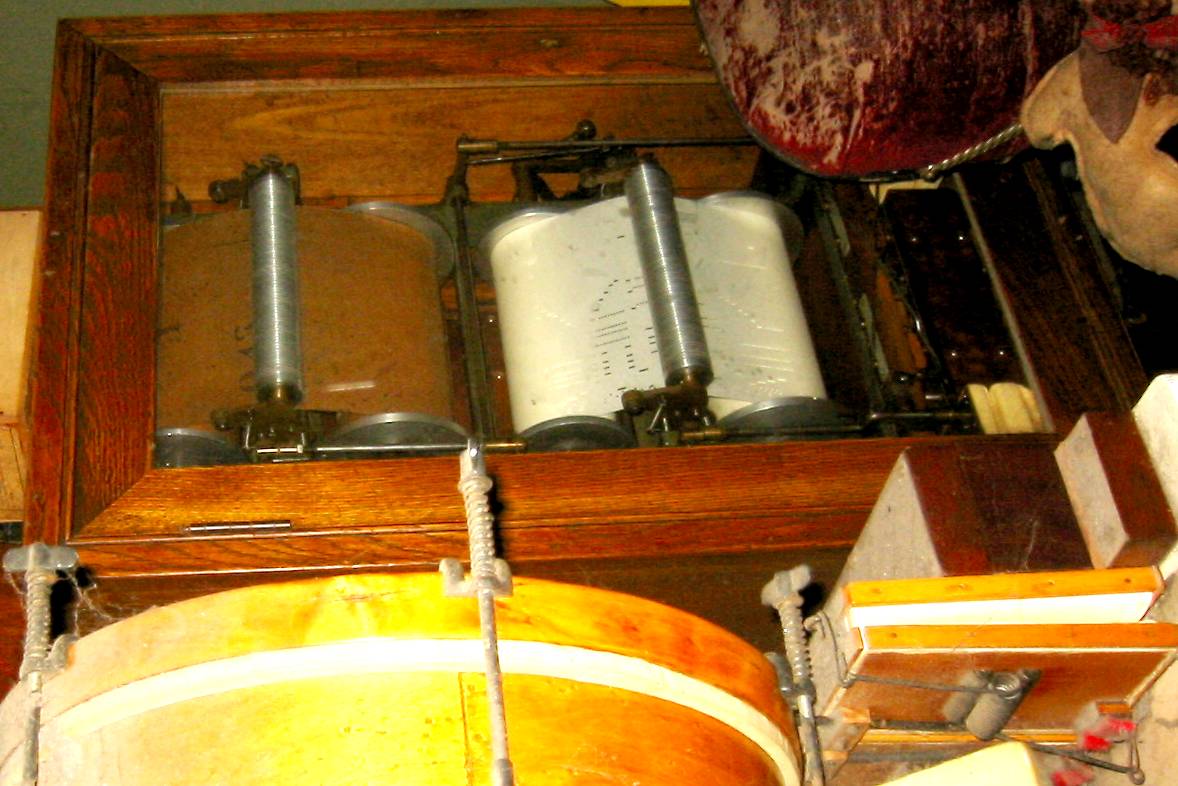 The glass-front pressure box encloses two B.A.B. roll frames.
The larger organ is situated adjacent to the carousel. Organ builder Ed Schmidt, of McFarland, Kansas, says the organ was originally built to play 90-key Ruth book music. When Harold Perry purchased the organ, in 1956 or 1957, he had the B.A.B. company convert it to play B.A.B. music rolls. Russ Doering says they are
87-key B.A.B. rolls.
On page 230 of his book, Waldkircher Dreh- und Jahrmarkt-Orgeln, Herbert Jüttemann gives a somewhat circuitous description of a Ruth Model 37 90-keyless organ, announced in 1901, based on the instrumentation of the Model 24 (cylinder) organ but with added notes in each division. The pipe ranks included stopped flutes in Bass and Accompaniment, Violin, Spitzflute, Trumpet, Bombardon and Mixtur. The organ probably was furnished originally with a cabinet-style facade and later with a carved ornamental facade.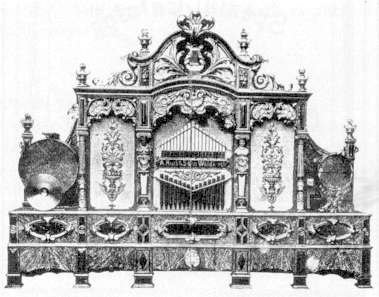 Bild 11.8 (Seite 225).
Concert-Orgel mit Faltkarton und erweiterter Schrank-fassade der Firma Ruth. Nach einem Katalog-Einzelblatt der Firma Ruth gehört die Fassade zu Modell 35 und 36. Die Fassade ist wohl nur ein Stilbeispiel, mit dem auch das Modell 14 ausgeführt sein konnte.
Concert-Organ by the Ruth Company with book music and expanded cabinet facade. According to a single-sheet catalog of the Ruth Co., the facade could be furnished with Model 35 and 36 organs. The facade is probably of only one style pattern, with which the Model 14 also could be furnished.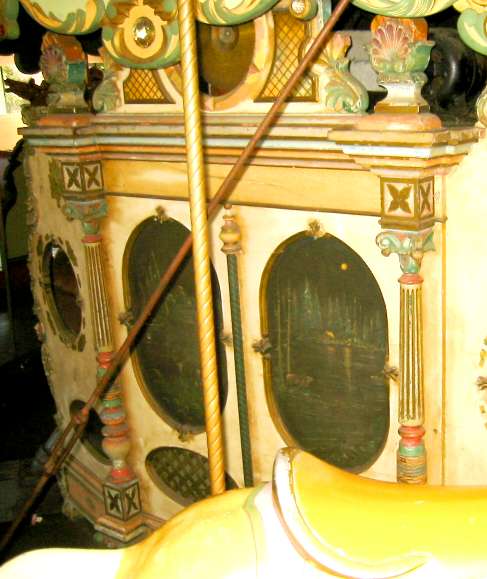 The smaller organ standing within the carousel, pictured above, is probably a North Tonawanda Style 187 or similar that has been fitted with a Wurlitzer duplex roll player mechanism to play Wurlitzer Style 125 or Style 150 music rolls. Its cabinet is quite similar to the Style 188 in the illustration below.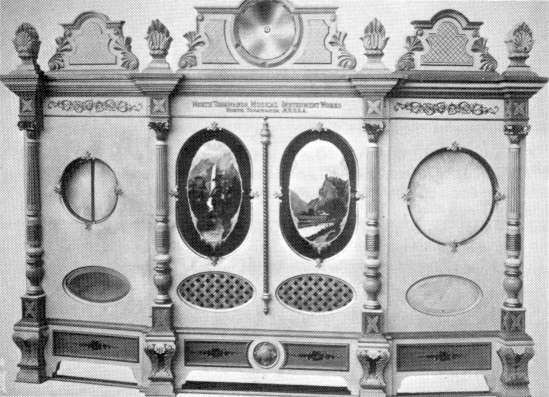 North Tonawanda Style 188
(From illustration reproduced in Encyclopedia of Automatic Musical Instruments,
by Q. David Bowers, page 911.)
• Tilden Park Merry-Go-Round •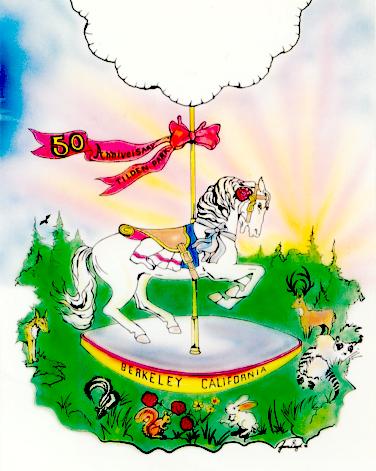 The beautiful menagerie carousel was built in 1911 by the Herschell-Spillman Company of North Tonawanda, New York, for Ross Davis. It's first tour of duty was 1911 to 1916 in Urbita Springs Amusement Park, a trolley park in San Bernardino, Calif. It then visited San Diego from 1916 to 1928 whereupon it was dismantled and stored until 1935. Griffith Park in Los Angeles became its next home, but after two years a larger carousel was installed at the site and it was once again relegated to storage. In 1948 it arrived in Tilden Park and there found it's permanent home.
John and Janet Davis (Ross Davis' son and daughter-in-law) owned and operated the business until 1953, at which time they became partners with their cousins, Jeanette and Harry Perry, who remained in Tilden Park for 39 years.
In 1976, circumstances threatened the continued existence of the merry-go-round in Berkeley. However with much public support to "save the carousel", the East Bay Regional Park District arranged to purchase the ride from the Perry family, and negotiated a concession contract with them to continue managing the operation. In 1978, the Tilden Park merry-go-round was added to the National Register Of Historic Places. After the Perry's retirement in 1992, the Park District selected Terri Holleman Oyarzún and her family as caretakers of this wonderful piece of history.

Drawing from and text based on the "thank you" card published 1998 following the Save the Carousel campaign, plus information in the National Carousel Association 2000 Census.
Tilden Regional Park, operated by East Bay Regional Park District, is located in the hills east of El Cerrito and north of Berkeley, California. It is roughly 1 mile wide and 4 miles long (1.6 x 6.4 km) and includes many environmental, historical and recreation activities. Public transportation to the park is provided by Alameda County (AC) Transit (route #67) and Bay Area Rapid Transit (BART).
---
22 March 2005, 27 July 2006