Temecula CA Organ Rally 15-16 May 1999
text and photos by Robbie Rhodes
Until recent years Temecula was a sleepy village on U.S. Highway 395, somewhere between San Diego and San Bernardino, California. The old town is now restored and entertains a brisk tourist trade, especially on weekends. Henk van Gaale organized the organ rally in cooperation with AMICA So. Calif. chapter. A front-page article in the Temecula newspaper drew appreciative crowds on Sunday, and Henk hopes the rally will become an annual event.

In this photo the sign high above Front Street announces "Doc's Temecula Trader" & "Laura's Antiques" & "House of Jerky". Frank & Shirley Nix, of Woodland Hills CA, brought their 49-key Limonaire organ to entertain pedestrians and antique autos passing by. That's Frank at the right talking with volunteer Leora Sear; volunteer helper Roy Baltz is not pictured.
| | |
| --- | --- |
| Henk van Gaale and his father, Jan van Gaale, operate Dutch Mill Trading Company in the village of Winchester CA, nearby Temecula. This lovely 52-key Limonaire street organ, named "Hollandia", came from Holland to join the giant Dutch windmill with 75-foot-long blades at the Van Gaale farm. Henk calls the windmill "the bean cutter." | |
| | |
| --- | --- |
| Accompanying Henk's big Limonaire is this tiny 20-key book music organ named "Volendammertje", which is Dutch for "the little one from Volendam." In the photo above it is dwarfed by Henk's huge yellow wooden shoes. | |
| | |
| --- | --- |
| Bill Whitney turns the crank of the Nix's G. Perlee organ. The small crank organs performed on the sidewalks (actually, boardwalks), while the larger, louder organs were positioned at the rear of parking areas or vacant lots bordering the main street. Hopefully there were no complaints of noise by the shopkeepers! | |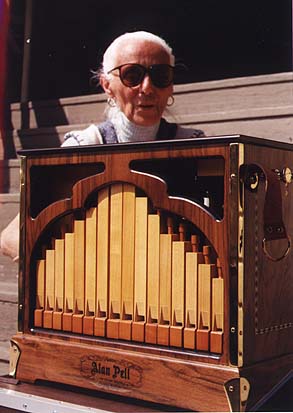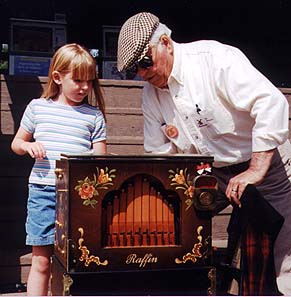 Dodie and Ed Richmond came from San Rafael CA, to join the rally. Dodie is operating an Alan Pell organ, while Ed explains to passerby Sydney how to crank the Raffin 20er. The Richmond's like the small organs "because they travel easily, even on airplanes!"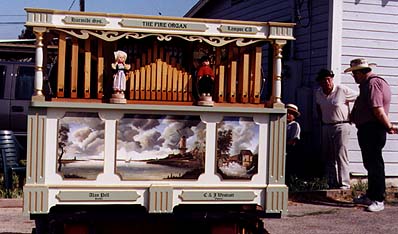 Jim Westcott traveled from Lompoc CA to display his custom-built Alan Pell 20er with electronic Harmidi player system. The organ is mounted on the rear of a small golf cart, and at the front of the cart is a rotating red light and a giant siren from a fire engine. Jim calls it "The Fire Organ", and he even has miniature ladders and a tiny fire ax aboard. David Wasson is seated to the right of the organ, while Jim Westcott (in the middle) talks with Charlie Porter of San Diego.
| | |
| --- | --- |
| Owner Ron Wolf of San Diego (wearing the comic hat) listens to a question while Mike Ames cranks the Verbeeck Model C organ. The 40-key scale controls automatic stop registration and 35 playing notes, organized as three divisions with 79 pipes in all. Some of Ron's book music was arranged for him by Tom Meijer in the Netherlands. This photo was taken at the AMICA/MBSI Organ Rally in Sierra Madre CA, June 1998. | |
| | |
| --- | --- |
| This van-mounted organ, named "Spirit of San Diego", was built by Charlie Porter of San Diego. He makes his own music arrangements for the instrument, and cuts the holes in the music roll with a knife. The organ is modeled on a Wurlitzer, but it's not a Wurlitzer band organ -- it sounds like a Wurlitzer theatre organ and it plays favorite songs associated with the theatre! | |
| | |
| --- | --- |
| The facade is barely large enough for Mike Ames' 70-key Decap Dutch street organ. Mike and David Wasson recently restored the instrument to perform at rallies. The original book music player still operates, and the organ can also play by electronic control from a floppy disc system. | |
| | |
| --- | --- |
| David Wasson built everything in his 98-key concert band organ, including the Ferris wheel roll changer which is based on the Wurlitzer and Hupfeld changers. Its four fully chromatic divisions contain over 400 pipes which are based upon scales from Mortier, Gavioli, Decap, Ruth and Wurlitzer, plus a few of David's own design. He arranges the music and perforates the music rolls himself; of song styles ranging from circus marches to big band swing. | |
---
18 May 1999