Rattlesnake Pete & The First American Nickelodeon Piano
by Tim Trager (011101 MMDigest)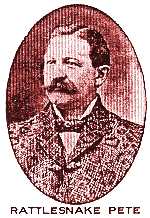 Here you thought it was the Peerless D in 1898, or the de Kleist Tonophone that debuted in 1899, that was the first American nickelodeon piano. Peter Gruber, the Rattlesnake King, aka Rattlesnake Pete, claims the prize for the nickelodeon he built in 1894! Who was Peter P. Gruber?
Some think he was the founder of the Cracker Barrel Restaurant chain, which is false. But he certainly did hang a lot of stuff from old guns to saddles, rope, old bones, and other oddities from the ornamental tin ceiling of his eclectic restaurant and museum located at 8 to 10 Mill Street in Rochester, New York. The walls too were festooned with mementos of his rattlesnake hunting days including numerous rattlesnake skins. In addition there were mechanical toys, a pipe that belonged to John Wilkes Booth, a stony corpse of a petrified female, and the "first" electric chair!
Peter Gruber was born in 1857 in Oil City, Pennsylvania. His parents immigrated from Bavaria and his father, Joseph, ran a saloon in Oil City. In 1893 Rattlesnake Pete and 25 of his hissing "pets" arrived in Rochester from Oil City where he opened up a combination restaurant, although some called it a saloon and a museum of curiosities. It was billed as the Greatest Curiosity in the City.
On a regular basis, Rattlesnake Pete would invite the curious to accompany him on snake hunts. In later years he would set out dressed in his rattlesnake skin vest in his red Rambler which featured two brass snakes as hood ornaments! He also claimed to treat a number of ills with snakes from boils to goiters. The most curious treatment was performed with a black snake that would curl around the neck of an unfortunate individual suffering from a goiter. The constriction of the snake would massage the goiter and bring relief!
Peter Gruber appreciated mechanical musical instruments and claimed to own a number of them over his career. Most important of all, he claimed in a 1912 Wurlitzer testimonial that in 1894 he constructed the _first_ nickel-in-the-slot piano in the country -- an American mechanical music milestone! And how fitting that he be an attraction owner.
Later he purchased a Wurlitzer C Violin-Flute orchestrion and even touted the fabulous Wurlitzer PianOrchestras; see the attached pictures. It can be said that Rattlesnake Pete was a pioneer in understanding that mechanical music enhanced the novelty value of his attraction. He even advertised the fact that he had a NEW electric piano. He was followed later by notable attraction owners such as Walter Knott and Walt Disney, among others.
Regarding Rattlesnake Pete's claim of the first nickel piano, I am sure that Peerless may have grumbled. Wurlitzer certainly did not. But then who would dare doubt the veracity of a man holding a pair of hissing and rattling rattlesnakes!
Tim Trager
P.S. Special thanks to the Rochester Public Library.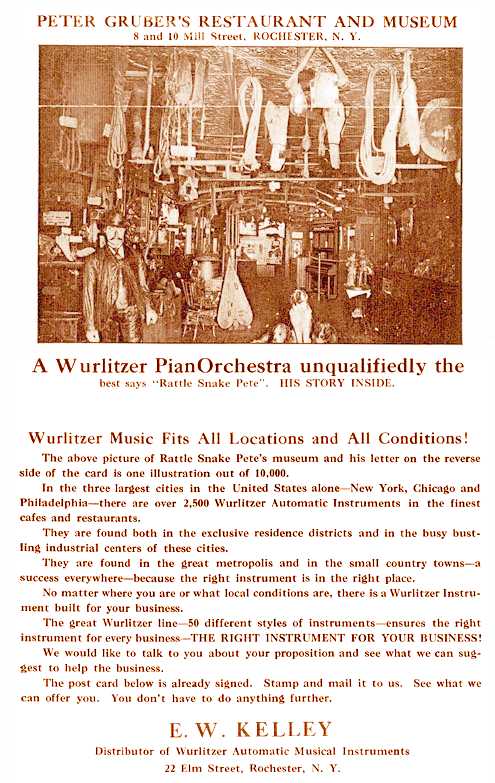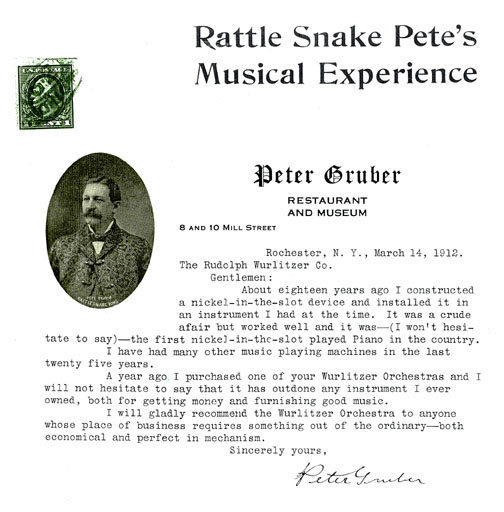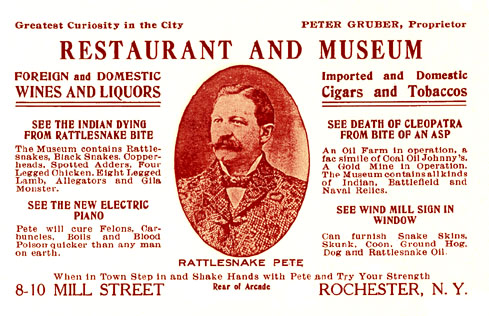 ---
01 November 2001