Mechanical Music in Vintage Postcards
courtesy Tim Trager (MMD 990713)

For a number of years I have had a side hobby of collecting old
postcard views which show mechanical musical instruments from
nickelodeons to band organs.
This hobby started when I was asked to give a workshop on band organs
for the 1983 AMICA Convention. In order to make my talk more interest-
ing I thought I would look for "on location" postcards. A new world of
collecting opened up. Since then, I have attended many local postcard
shows and have spent quite a few hours pawing through thousands of
cards!
The heyday of postcards matches the heyday of mechanical music so you
can have fairly good luck in finding such cards. The one problem is
that most postcard dealers do not know what a nickelodeon or band organ
is, and thus usually do not have a category for them. On the positive
side, you can usually find a real gem for a low price.
I have submitted the following three card views for the MMD Gallery.
All these cards were bought at a local postcard show for reasonable
prices.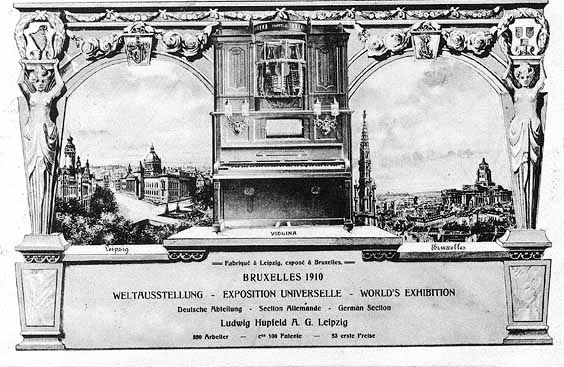 The first card is the rare Hupfeld card celebrating their display
at the 1910 Brussels World's Exhibition. The card shows Hupfeld's
fantastic Phonoliszt-Violina. What is pictured could actually be a
Dea-Violina: note the extra wide roll. Also note the extra-fancy lamps
on the cabinet.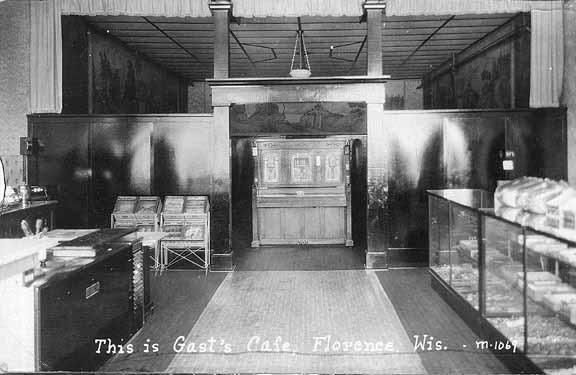 The second card shows Gast's Cafe in Florence, Wisconsin. The
instrument shown is a Cremona Style G with special art glass. What
happened to the Cremona G? Could it still be there but pushed into
a back room?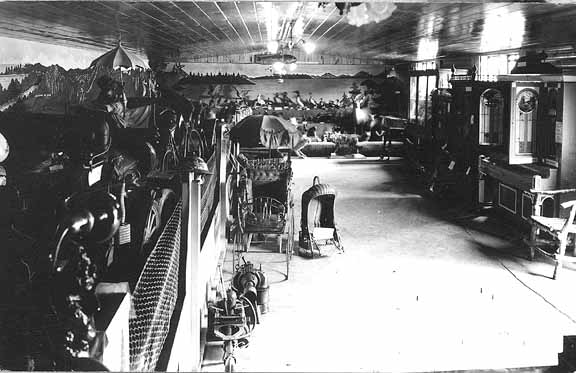 The third photo shows the interior of the Cloverland Museum in
Michigan's Upper Peninsula. Note the interesting items in the museum,
from antique cars to outboard motors to old bicycles, not to mention a
Seeburg G, an upright disc music box, and a double Mills Violano
Virtuoso!
Where is this stuff today? Maybe these treasures are still there!
Anyone know?
Tim Trager
---
13 July 1999