1923 Kimball Player Action with Fast Forward
by John A. Tuttle (070207 MMDigest)
Hi All, I'm trying to help a customer who has a 1922-1923 Kimball player action that is nothing like the 1915 version. He says there is a control box of some sort with six connections on the exhauster assembly. He also says that the unit has auto-tracking and that the only way to get the player to play is to disconnect the vacuum supply to the tracking device.
It seems fairly obvious to me that something is not tubed up properly, but I don't have any references about an early Kimball player action with auto-tracking. Also, there are four buttons in front of the keyslip where you would normally find the three for Sustain, Bass Soft, and Treble Soft. Something tells me that this fourth button is part of the solution to the problem.
I've asked him to send me a number of pictures which I can post in the Archives or at my web site. If you've worked on one of these units, or have any info about the tubing, I would appreciate hearing from you.
Musically,
John A Tuttle
Player-Care.com
Brick, New Jersey, USA
07 Feb 2007 22:19:02 -0500
---
The fourth button is a silencer and, most likely, part of the problem. The intended use for the fourth button is to skip over parts of the roll as it is playing, advancing it ahead silently. The button is cutting off the supply to the pneumatic stack.
Somewhere this has device has been erroneously connected. I do not have any tubing diagrams, but suggest one starts at the stack cut put and work their way back.
First, does the silencer button work? If not, it probably has been connected incorrectly.
Bruce Clark
8 Feb 2007 07:32:43 -0500
---
A long time ago I repaired a Kimball player with the exhauster system under the keyboard and, if I remember correctly, the player had the equivalent of a "fast forward" button which would cut off the stack vacuum and send it all to the roll motor, which would race the roll past a section the listener didn't want to hear.
If this piano is so equipped, I think there are opportunities in the design for it to be cross-tubed somehow, or for cross leaks to form in the valve box under the keyboard. Maybe the tracking supply tube is hooked up to the "fast forward" nipple.
Also, if there is no "fast forward" feature, and the cutout for the stack is controlled by a pouch and valve instead of a rod-controlled sliding valve, maybe the tracking and cutout tubes are switched.
Hopefully, food for thought.
Tim Gautreaux
8 Feb 2007 10:29:35 -0500
---
Hi All, First, a big 'thank you' to Bruce Clark and Tim Gautreaux for their responses to my inquiry. I also had the same feeling about the 'fourth' button -- which I think is the fourth button from the left (or the first button). Unfortunately, the name tags are missing from the buttons... :-(
Secondly, I've sent three pictures of the piano/player mechanism to Robbie. Hopefully, he will reference them in this posting. :-)
Musically,
John A Tuttle
Player-Care.com
Brick, New Jersey, USA
09 Feb 2007 09:09:43 -0500
---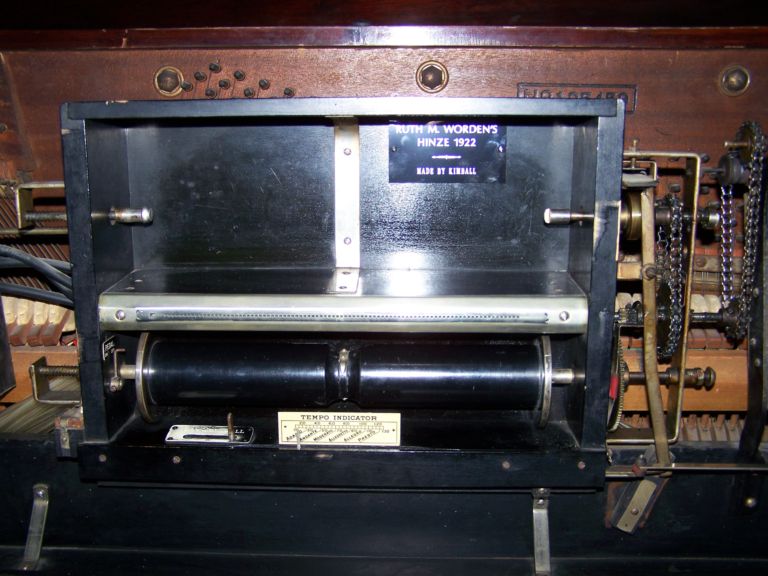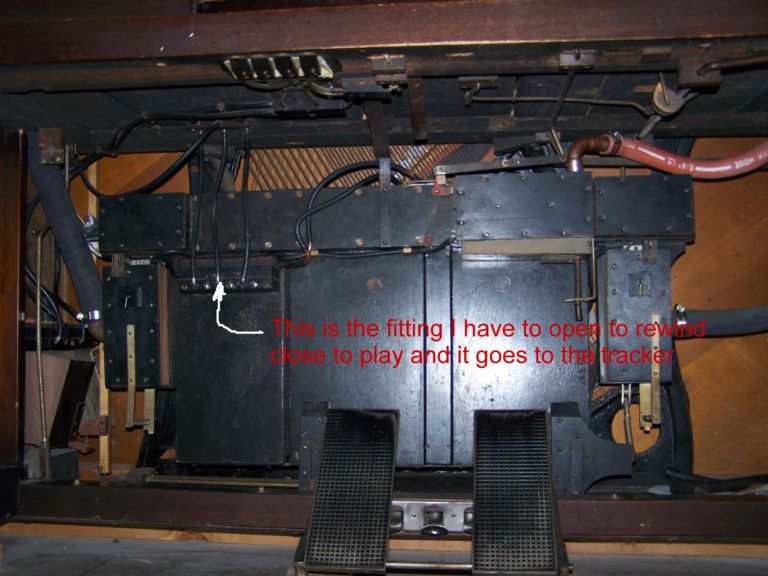 ---
9 February 2007