Wurlitzer 125 Band Organ Plays on Canada's Independence Day
by Ken Vinen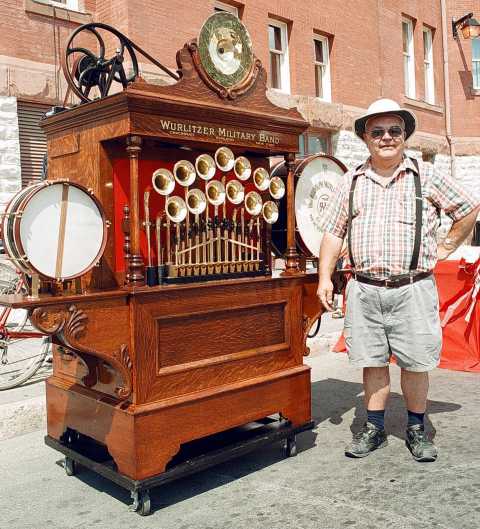 The very first time I ever took my Model 125 Wurlitzer Band Organ out in public was this past July First, 2003, Canada Day, for its debut performance in Stratford's Market Square. The local newspapers made a big deal about it. As well as loads of good typical band organ music, I have an original copy of Wurlitzer Roll #3104 from February of 1925 called "Canadian Music."
The instrument was built in 1923 and shipped to Montreal, Canada, June 25th, 1924. Its serial number is 3701. According to the list, page 932, Encyclopedia of Automatic Musical Instruments, 1972 Edition, this serial number is dated to 1924.
The organ was discovered in the 1960s, stored in a building in Montreal, Quebec, that was being demolished to make way for road improvements for Expo. It was then moved to another location in Drummondvilla, Quebec, and again sat unused in storage until I recently acquired it. It is now totally restored.
After fifty ears, this hobby/interest still offers up pleasant surprises: 18 rolls of music came with the instrument, all were originals on the green Wurlitzer paper. All the rolls date from 1924 to 1926 -- none newer than 1926! Was this organ only used for a few years?
Among the collection of original rolls was one that is not in Matthew Caulfield's "Catalog of Music Rolls for the Wurlitzer Military Band Organ Style 165". Fortunately, the original box and label are intact, and they show tunes that were not released on other roll numbers. This newly discovered roll is now on its way to Mike Grant for duplication to share with other organ owners.
Now, if only I can find a easy way to take it out of the house, I would enjoy going around making happy music.
Ken Vinen
Stratford, Ontario, Canada (Land of the metric dollar!)
---
19 August 2003