Michael Welte Flute Clock
by Gerhard Dangel-Reese
photos courtesy Augustinermuseum, Freiburg
MMDer Gerhard Dangel-Reese is technology curator at Augustinermuseum in Freiburg, Germany, and he also is caretaker of the Steinway Welte-Mignon reproducing piano and other memorabilia donated by the Welte family to the museum.
In the museum's recent annual report (to the taxpayers of Freiburg city!) Gerhard describes a rare flute clock, recently acquired by the museum, which was built by Michael Welte. Historian Charles Davis Smith wrote about Welte in his book, "The Welte-Mignon -- Its Music and Musicians":
"In 1827, at the age of twenty, Michael Welte became an apprentice to Johann Blessing, ... a noted maker of musical clocks. During the next five years, Michael learned his trade well from Blessing and from an uncle, also a mechanical clock maker. Michael then opened his own business in Vöhrenbach, his birthplace. This move in 1832 marked the beginning of the future firm of M. Welte & Söhne."
Here, translated from Augustinermuseum Jahresbericht 1997-99, pages 44-45, is Gerhard's description of the grandfather clock with Michael Welte's musical clock movement.
---

Selected acquisitions : Flute clock

Mahogany case; clock face of iron sheet metal with oil painting; clock and pipe work of soft woods, hardwood, brass, steel and iron; height 261 cm [103 inches], breadth 95-72 cm [37-28 inches], depth 52-40 cm [21-16 inches]; inventory number 1998/175. Clock and flute works by Gebrüder Welte, Vöhrenbach, Schwarzwald, 1839; clock face made in Scotland circa 1839; case made in Great Britain circa 1839.

In this grandfather clock with flute pipes, the museum in 1998 acquired a very special work from a private museum in England, for which no comparable piece can be found in the literature.

The pipe works, 42 pipes fitted in two registers, is autographed on the upper side: "Gebrüder Welte / Vöhrenbach 1839". Therefore we have here one of the very few preserved famous flute clocks from the workshop of Michael Welte.

The flute clock is controlled by brass pins inserted into a wood cylinder and it plays eight tunes, among them Scottish airs. The clockwork is of turned wood in the Black Forest tradition, with a separate weight for the clock movement and the striker; a third weight drives the pipe work.

Various different signatures are written on the rear wall of the clockwork: penciled notes about repair and cleaning from 1849, 1853, 1945 and 1982. Centered on the rear wall is the ink signature (not dated), "Ulrich Winterhalder / Edinburgh", apparently from the hand of the Edinburgh importer and clockmaker who came from the Black Forest.

The case and the clock face inscribed with "Barr. Edinburgh" were obviously made in the British Isles. Across the top of the oil painting on the clock face is a scene of a Parforcejagd: a hunt employing hounds and horses. At the lower left is a domestic scene with a lady playing the piano and a man standing behind and singing; at the lower right is a Scottish bagpiper in uniform striding alongside Scottish soldiers.

The mahogany case is built in three sections: the base, the mid-section with columns and a glass door, and the gabled top section with ornamental fretwork and sound holes above.

After restoration and technological study the story of the clock will be extensively published.

Gerhard Dangel-Reese
Augustinermuseum
D-79098 Freiburg im Breisgau
Germany
Wed, 28 Jun 2000 14:57:19 +0200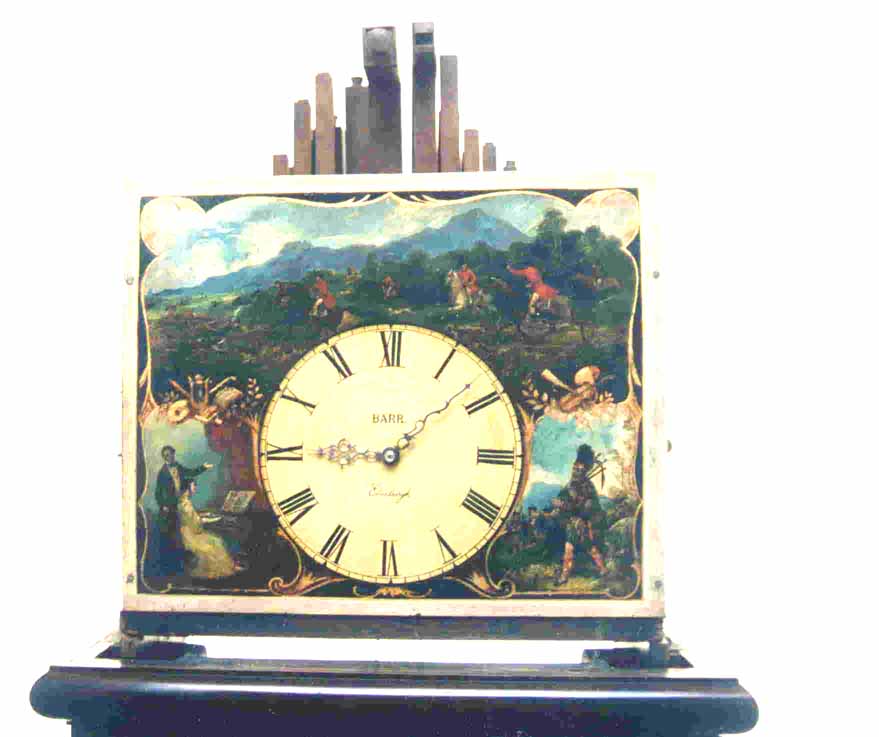 ---
28 June 2000