Welte Style 2 Cottage Orchestrion
formerly at Callart House in Inverness-shire
by Jonathan Holmes (000710 MMD)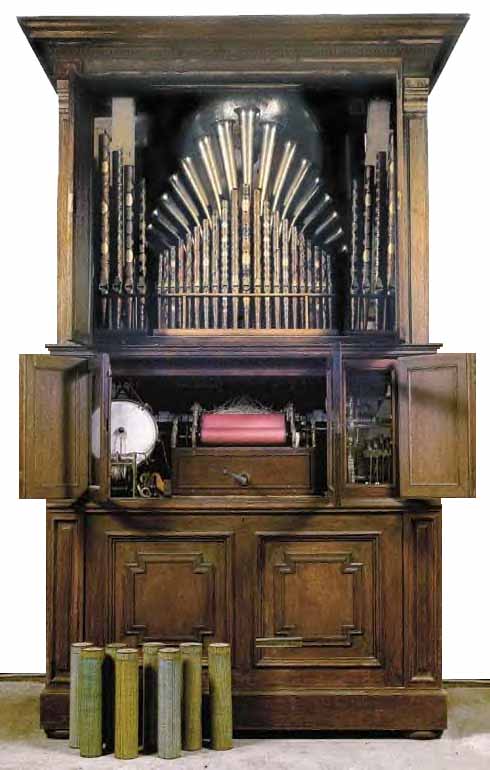 [Click for 2x image]
Just thought the MMD readers might be interested. I think that it is amazing that such an instrument has laid unknown for so many years. You never know perhaps a No 10 or a large Helios might turn up next! Let's hope that this instrument stays within the UK and doesn't end up in the States or Japan. So many have already been lost to the States. It is the first Welte orchestrion that I have seen with such ornamental metal pipes. Sorry I don't have access to scanner; can anyone else post the images in the catalogue? The catalogue entry is as follows :-
Mechanical Music and Technical Apparatus
Thursday 27 July 2000 at 2.00 PM
Christies - South Kensington
85, Old Brompton Road
London SW7 3LD
Tel 020 7581 7611
Lot 122 A Welte No. 2 "Cottage" Orchestrion
with 146 pipes including eighteen trumpets and thirty three metal pipes (twenty nine with red blue and gilt stylised flower decoration), large drum, cymbal and triangle, gravity motor main drive with ratchet winding crank and separate gravity motor for snare drum. 75 hole tracker bar and swell shutters in each side door, in oak panelled case with glazed central front, the side pipe displays and motor and roll drive sections further enclosed by oak panelled doors -- 107-1/2 inches (272 cm) high, 67-1/2 inches (171.5 cm) wide at cornice, 39-1/4 inches (99.5 cm) deep, with fifty-seven red rolls in printed tinplate canisters, the majority housed in an oak chest.
The Welte roll playing orchestrions are often considered the most desirable of the type, offering a far wider and more convenient choice of music than the older, barrel operated orchestrions. This example was formerly at Callart House in Inverness-shire; this house was inherited jointly by the two younger sisters of Lady Fairfax-Lucy of Charlecote (Warwickshire); the family name was changed to Cameron-Lucy in 1898, and in 1902 the middle sister, Constance Linda, married Major General Sir John Secker. The Seckers and the youngest sister Joyce Alianore, who never married, lived at Callart until the latter's death in 1948, after which the house and its contents were sold. The house remained uninhabited ever since, and the Orchestrion accordingly shows all the signs of 50 years of neglect, with surface rust showing on bright parts of the mechanism and woodworm attack in parts of the case. The pipes appear to be in excellent condition.
It's unclear exactly when the sisters inherited the house, but extensive additions were built around 1900 including the billiard room in which the Orchestrion was housed, and the 1902 marriage could well have occasioned these works and the acquisition of the Orchestrion.
Estimate GBP 20,000 - 40,000
As another point of interest I wrote about the sale of the Whites 98-key Gavioli and that it would be disastrous if it was lost to Britain as it is part of our history. Great news! It was sold to an English collector for an undisclosed sum. May the orchestrion be also bought by a UK collector.
Jonathan Holmes
Mon, 10 Jul 2000 13:11:42 EDT
---
This photo of a restored Welte Style 2 Cottage Orchestrion appears in the article "Welte Orchestrions at Atlantic Garden".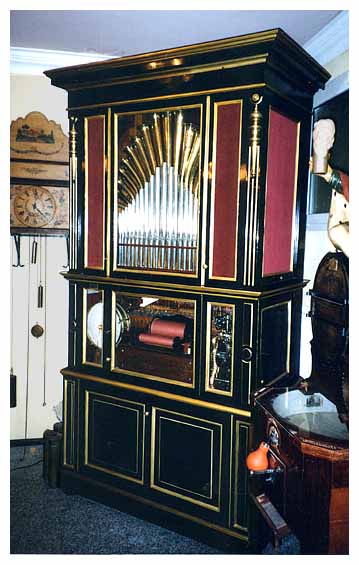 ---
19 July 2000