Welte Remote Pump
by Vicki Webb
[ From 990324 MMDigest ]
From: vicki.webb@worldnet.att.net.geentroep (Vicki Webb)
To: rolls@www.mmdigest.com
Date: Wed, 24 Mar 1999 18:04:00 -0800
Subject: FS: Welte Remote Pump
During my travels I came across a complete Welte remote pump unit.
The veneer on the case is pretty bad but the works are complete and
working! It had a "modern" motor in it which has already gone to
the junk pile. There was also a box with the original motor!
I do not know for sure which instrument this pump was used with.
It is definitely a large unit, with four bellows moved by a double-
reduction crankshaft assembly. This is a much larger unit than
the one in my Welte player piano. It may be for an orchestrion
or other larger instrument. It is fully restorable.
As we have ample wind, I do not need this pump and would sell it
perhaps as a donation to Old Town Music Hall. It came from a family
here in town that was cleaning out a garage that had not seen daylight
for many years. I took it along with some machinery that I needed.
I am including some pictures that you can pick and choose from. There
is more detail of the motor including the oil trays and timing adjust-
ments for the commutator. Neat! There are also some shots of the case
with a 36" scale included. It is a neat source of quiet air. I can
sit and watch mechanical actions all day !
Victoria Webb
Seventails Productions / Pooker Organ Division

---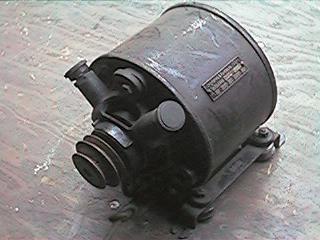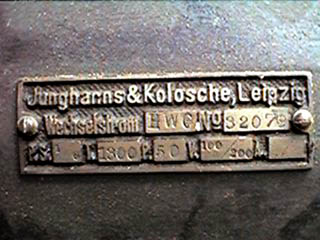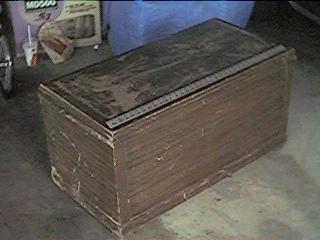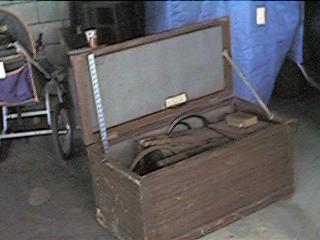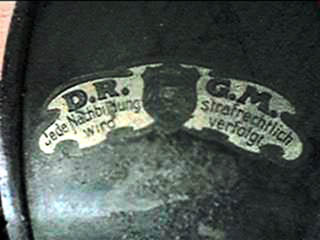 The German text above says,
"Any replication will be prosecuted criminally."
Everybody was patent-happy in the 1920s !
---

24 March 1999