Polyphon Horror Story
by Michael Woolf (MMD 000902)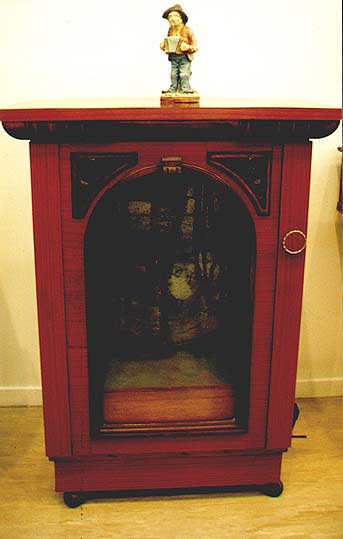 MMD has run piano horror stories; thought you might like a Polyphon horror story:
"An innocent 19-5/8 inch Polyphon Model 104, brought right up-to-date -- 1960s style. Covered in horizontal wood-grain laminate with a tasteful gilt edged knob. An interesting recessed base, cleverly designed as a kickboard, and with useful ball castors. Most of the dust-catching Victorian gingerbread has been stripped and of course the old-fashioned clockwork motor has been discreetly hidden from view by a solid wooden cover."
The Polyphon recently became the property of a friend here; fortunately it didn't cost him any real money. I was so horrified when I saw the photo that I thought other enthusiasts might like it. This animal surfaced recently in New Zealand.
Michael Woolf
Date: Sat, 2 Sep 2000 11:09:15 +1200

---
03 September 2000