Wurlitzer APP Rolls Unknown Tunes #2
by Jack M. Conway (150404 MMDigest)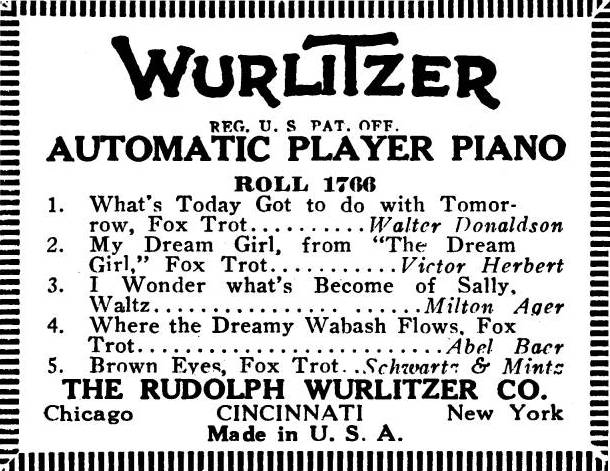 Hi Group, I am helping with the Wurlitzer Automatic Player Piano Roll rollography that Terry Hathaway is compiling. He is converting Julie Porter's Excel spread sheet information to a relational database.
Terry kept finding "JC" notations in the Excel spreadsheet and asked Julie what they meant. She told him that she had asked me ["JC"] to send all the APP information that I had.
Terry then contacted me and asked me to send the information to him to help answer questions that he had about the Excel file. I sent him what I had sent Julie and then scoured my files for everything I could find on APP rolls. I have been sending Terry material for months and I sent the last of it today.
In my collection of rolls I have four unidentified APP rolls: numbers 644, 750, 2666 and 20798. Of course, none of them show up in the database; maybe someday. They can be heard at http://www.mmdigest.com/Gallery/Sounds/APP/unknown01.html
But I just now bought three more original Wurlitzer APP rolls without labels (numbers 1670, 1675 and 1677) and I would ask again that you give them a listen and see if you can identify or confirm the missing titles in the new list below.
After seeing the phenomenal job that Terry has done, I would like to ask anyone that has any 5- or 10-tune APP rolls in their collection to send the roll numbers to me and I will let you known if the roll is not in the database. If it is information that is needed I would then ask that you a scan of the label or copy of the information that is on the label and send it to me. I really enjoy helping to fill in the blanks. The entire Wurlitzer APP database is on line at http://www.mechanicalmusicpress.com/registry/wurlitzer/mr_wapp65.htm
Thanks,
Jack M. Conway
Los Angeles, California, USA
3 Apr 2015 17:07:30 -0700 (PDT)
Roll 1670
1670-1.mp3 (472 kb) (2:01)
1670-2.mp3 (720 kb) (3:04)
1670-3.mp3 (791 kb) (3:22) Mama's Got The Blues
1670-4.mp3 (549 kb) (2:20)
1670-5.mp3 (415 kb) (1:46)
Roll 1675
1675-1.mp3 (690 kb) (2:56) I've Got The Yes! We Have No Bananas Blues
1675-2.mp3 (546 kb) (2:19)
1675-3.mp3 (583 kb) (2:29) Mocking Bird Blues
1675-4.mp3 (542 kb) (2:18)
1675-5.mp3 (493 kb) (2:06)
Roll 1677
1677-1.mp3 (613 kb) (2:36)
1677-2.mp3 (542 kb) (2:18)
1677-3.mp3 (668 kb) (2:50)
1677-4.mp3 (539 kb) (2:17)
1677-5.mp3 (611 kb) (2:36) Stavin' Change
Please reply via MMD Editor using the web page form at http://www.mmdigest.com/Contact
---
4 April 2015