Unknown American Songs on 67-keyless Book Music
by Robbie Rhodes (140324 MMDigest)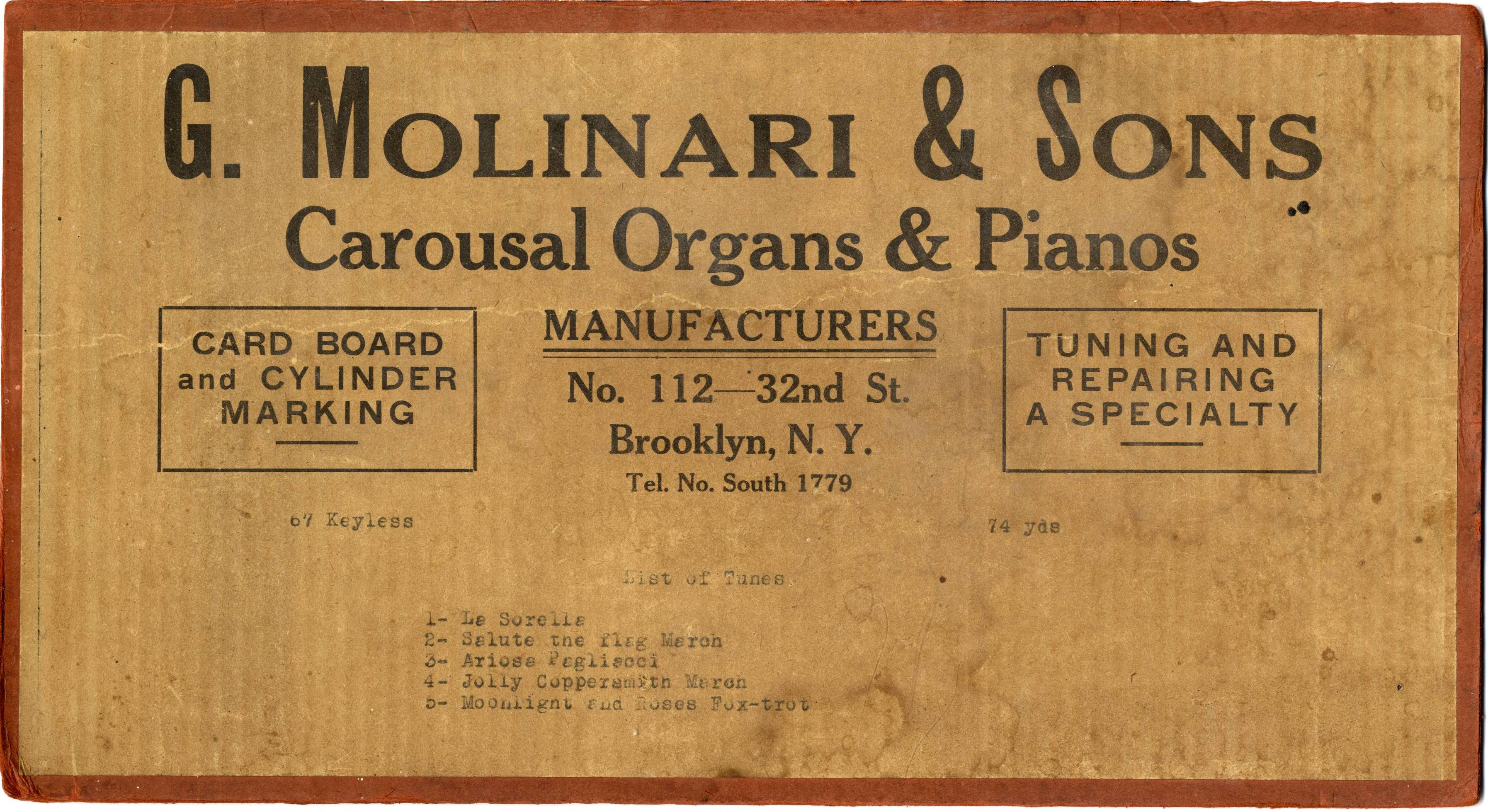 "Moonlight and Roses", tune 5, was a big hit song in 1925.
Jerry Pell's restored Gebrüder Bruder Model 103 fair organ, previously owned by Steve Lanick, came with many boxes of 67-keyless book music. A few of the music books were still playable but many needed major repairs and copying.
Virtually all of the music books apparently were arranged and perforated by unknown musicians working for firms such as Berni, Molinari and B.A.B. The folding media was assembled with (aniline?) red cardboard stock until the late 1920s when B.A.B. changed to green cardboard stock.
The holes of the 67-keyless system are spaced exactly 6 holes per inch, just like Aeolian Pianola rolls. The width of the cardboard travelling through the reader is nominally 304 mm, or 11.97 inches. The width of each page of the book is 165 mm, or 6-1/2 inches. Historian Fred Dahlinger believes that Jerry's organ and a sister organ owned by Wil Markey were built in 1912 or 1913, just before the start of the Great War in Europe.
The song titles have disappeared from many of these books and book fragments and so Jerry hopes that the tune experts reading MMD can identify them. Please listen to the music at the MMD Sounds site, http://www.mmdigest.com/Gallery/Sounds/
Robbie Rhodes
rrhodes@LinkLine.com.geentroep [delete ".geentroep" to reply]
24 Mar 2014 19:00:00 -0700
1. 12F002.mp3 (459 kb 0:29)
2. unkMarch3.10.mp3 (755 kb 3:14)
3. unkWaltz1.04.mp3 (261 kb 1:07)
4. unkWaltz2.44.mp3 (334 kb 1:22)
5. unkWaltz3.24.mp3 (390 kb 1:38)
6. unkOnestep2.58.mp3 (452 kb 1:56)
7. unkOnestep1.42.mp3 (414 kb 1:46)

Thanks to Paul Baker, Andy Park, Adam Aceto, Bob Hodge, Mark Chester and Mikey Mills for their help indentifying the tune titles.
1. 12F002.mp3 poss. "Made in the U.S.A. March" by J. Santos, 1915
2. unkMarch3.10.mp3 "America Forever," by E. T. Paull, 1898
3. unkWaltz1.04.mp3 poss. by J. S. Zamecnik
4. unkWaltz2.44.mp3 "A Bundle of Old Love Letters" by Nacio Herb Brown, 1930
5. unkWaltz3.24.mp3 poss. by J. S. Zamecnik
6. unkOnestep2.58.mp3 "All Aboard for Dixie Land" by Geo. L. Cobb, 1913
7. unkOnestep1.42.mp3 "This is The Life" by Irving Berlin, 1914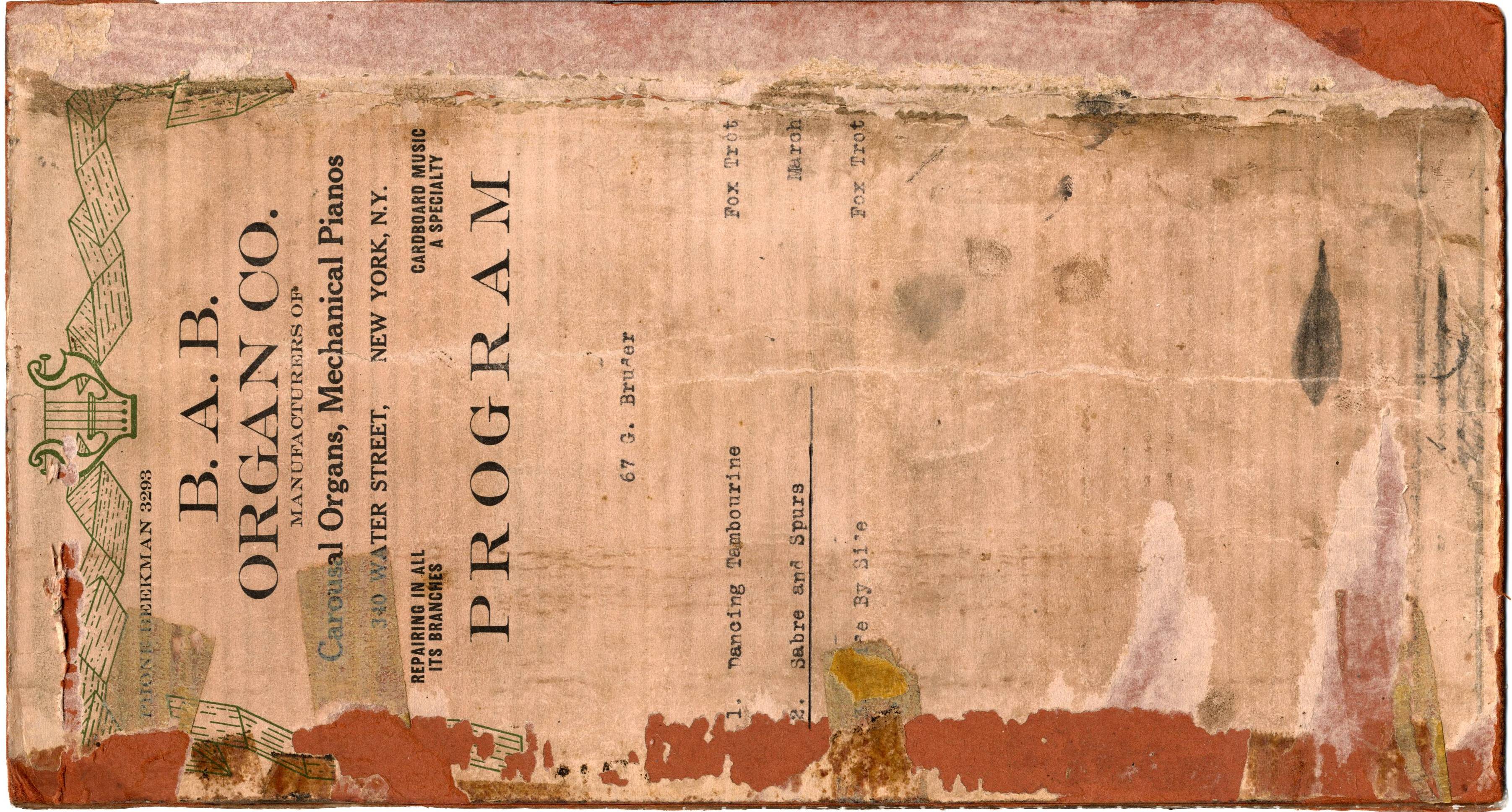 "Dancing Tambourine", tune 1, was a hit song of 1927.
---
25 March 2014