Unknown Tunes Played by Debain Antiphonel
by Dale Dohler (110201 MMDigest)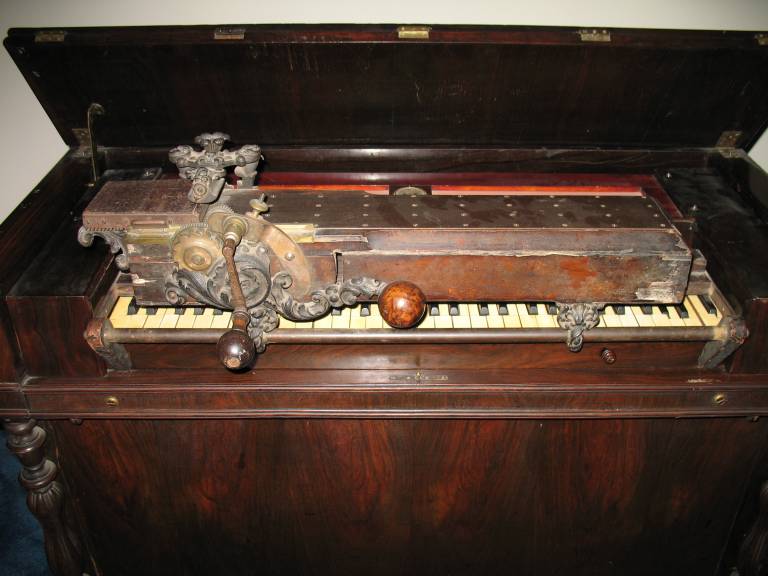 Debain Antiphonel mounted atop a Debain Harmonium of circa 1850s.
Some of you may recall that I asked for information about a Debain harmonium and Antiphonel key-top player some time ago. Those of you who were able to attend the MBSI Dearborn convention and our open house got to hear a little bit of the organ with its player. We've now recorded all the songs we own, but except for three we have no idea what these tunes are. I'm sending the recordings and a few photos in hopes that someone might recognize a few of them.
You will all know tune 7, God Save the Queen/My Country 'tis of Thee, which is sadly just a fragment of the entire piece.
Tune 14 has been identified as Coronation March from Le Prophete by Giacomo Meyerbeer, and tune 243 has been identified as the Hunter's Chorus from Der Freischütz by Carl Maria von Weber. Some of the other tunes we think are complete, but many are just partial. We still have much work to do to get the organ and player back to "factory" condition, but it was a thrill to listen to music that has been silent for who knows how many years.
Enjoy!
Dale Dohler
Ann Arbor, Michigan
dohler@mich.com.geentroep [delete ".geentroep" to reply]
dohler007.mp3 (520 KB) Anon.: God Save The Queen
dohler014.mp3 (920 KB) Meyerbeer: Coronation March from Le Prophete
dohler076.mp3 (1,434 KB)
dohler092.mp3 (594 KB)
dohler110.mp3 (1,601 KB)
dohler167-1F.mp3 (423 KB)
dohler167-2F.mp3 (505 KB)
dohler167-3F.mp3 (408 KB)
dohler167-4F.mp3 (620 KB)
dohler167-5F.mp3 (253 KB)
dohler243.mp3 (802 KB) von Weber: Hunter's Chorus from Der Freischütz
dohler267.mp3 (1,236 KB)
dohler269.mp3 (902 KB)
dohler294.mp3 (572 KB)
dohler351.mp3 (1,032 KB)
dohler393.mp3 (534 KB)
dohler454.mp3 (284 KB)
---
1 February 2011